How to host the best virtual meetings
In this quickly ever-evolving new remote workspace most companies have needed to transition into, navigating the new world of video communications and remote working can be a difficult task.
Online meetings can seem fairly daunting or limiting at first, but there are many ways to host successful virtual meetings, that will not only keep everyone engaged, but it won't just feel like a one-way video conference. While all meetings are different, check out our tips for your best online meeting yet.
Whether you're looking for the best virtual meeting tools to download, how to keep people feeling engaged while in remote work mode, or to just use virtual meetings as a tool for some team bonding, check out all the best tips and tricks for a successful virtual meeting.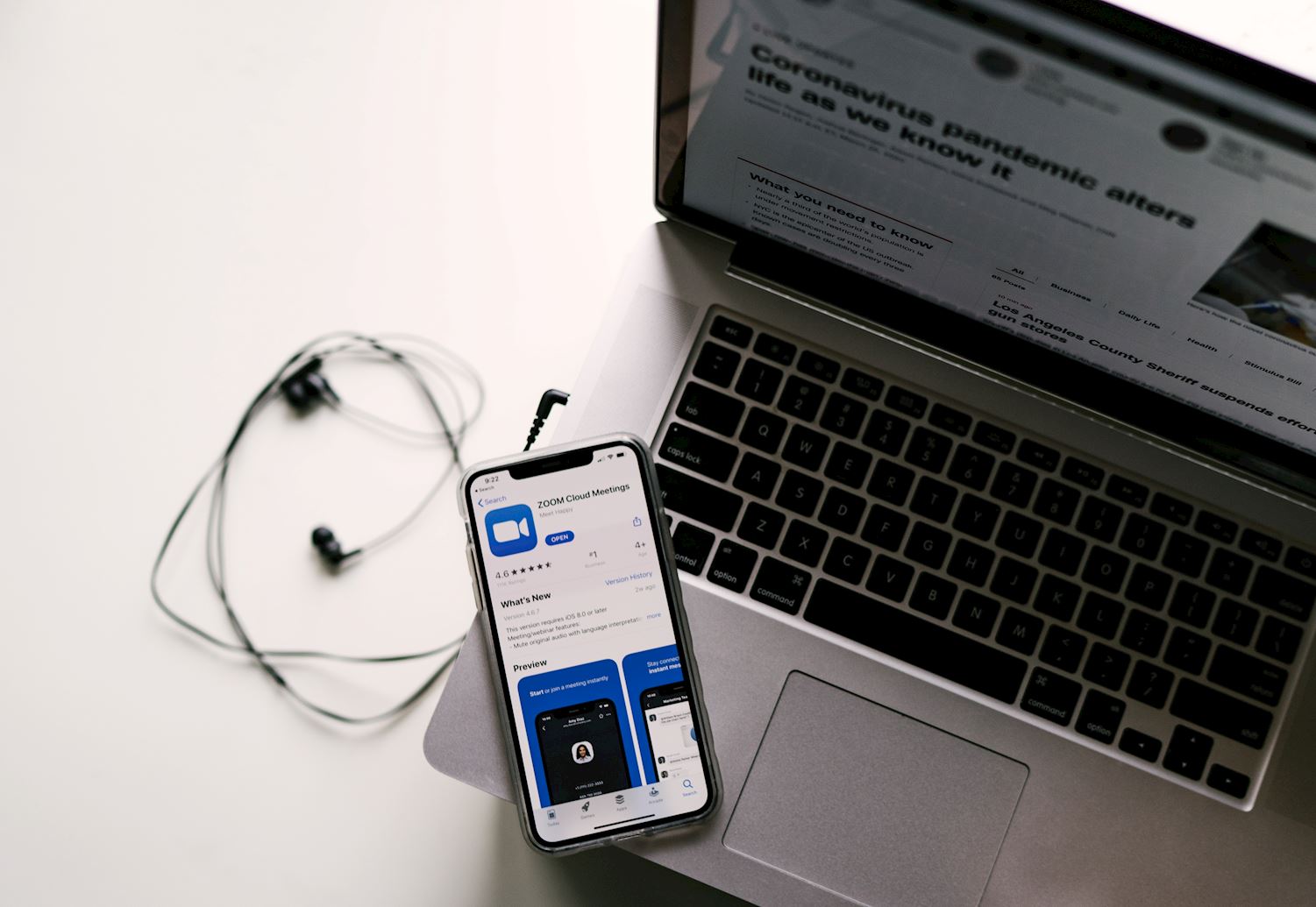 Tips for virtual meetings
Pick your favourite virtual meeting software
Decide on what platform or meeting software works best for your team ahead of time, and make sure you communicate this so others can downoad all the needed software and get it up and running prior to the meeting start time.
Ensure your technology is ready to go
Whether your meeting is audio only, or you are setting up a Zoom chat with screen sharing, make sure your app is up to date, your mic is working and your webcam is ready to go. This will not only get the meeting kick-started fast, it will also help make sure you don't need to run overtime to compensate for set-up times.
Set an agenda and stick to it
Just as it's an important step for face-to-face meetings, virtual meetings need an agenda too. When sending your invite ensure to pop a description that includes your agenda, discussion topics or even what people may need to prepare.
Try to send invites in advance
While there's always occasions for impromtu brainstorms sessions or urgent meetings, try and give people time to prepare for your virtual meetings. For now, the days of quickly pulling someone into the boardroom are gone, and you need to ensure they receive your online virtual invite and are free to accept.
Collaboration is key
If you're the leader in your meeting, be sure to encourage input from all members. Now is the time to encourage problem solving, new and fresh ideas and seeking opinions from your entire team. While we are all learning to navigate this new online world, it's a great chance to seek some innovation from your team. Screen sharing is the perfect way to get ideas flowing, show examples of what you're talking about, just as you would in physical meetings.
Fun virtual meeting ideas
Make it themed
For Order-In's weekly wrap ups, our lovely HR manager decides on a fun theme. Even something as simple as "wear stripes" can turn what would be a run of the mill catch up, into something more to look forward to.
Virual meeting theme ideas:
Pajama party- adorn your very best (work appropriate) PJ's nd turn your Zoom catch up into a PS paradise.

Fancy dress contest- Turn your Friday catch ups into a formal affair and hold a competition for your best dressed employees!
Pizza party anyone?
Order some home-delivered pizza to your team's homes and all enjoy it together while you do your Friday afternoon catch up. Maybe even throw in a bottle of wine or 6 pack with your delivery and turn it into Friday night drinks from a distance.
Show and tell sessions
Does someone in your team have epic work from home set up? Or maybe an adorable pet everyone would benefit from seeing? Hold a show and tell session! Give them the chance to pick something to show off in your weekly catch ups with your team. This not only will bring something fun and interesting to your meetings each week, it will keep everyone feeling close and bonded as a team, sharing something from their home.
Crib tours
Let people show off their awesome remote work offices (their homes) in a fun cribe tour session. For the folks that feel comfortable to do so, allow them to give the team a tour of their space (house-plants, pets and children included). This is a fun and different way to keep people feeling connected.
The Do's and Don'ts for Virtual Meetings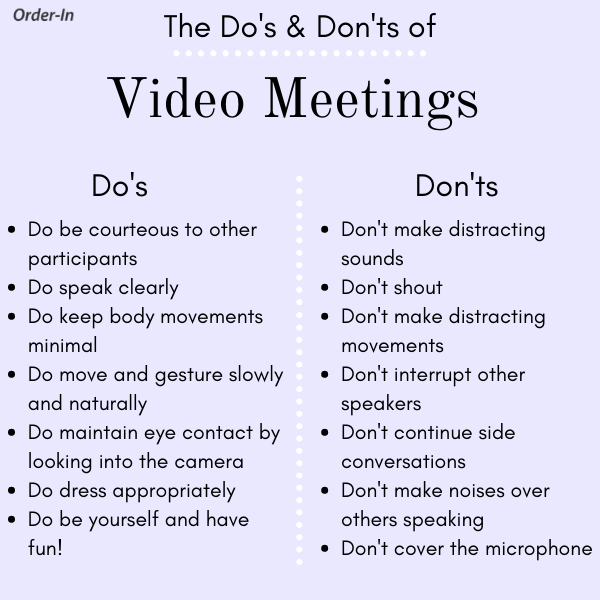 What are the best apps for virtual meetings?
Zoom Video Communications- a go-to for wokring from home veterans, but if you're new to WFH an not sure where to start, Zoom is a pretty great place. Also great for screen sharing and brian storm sessions.
Slack- you're probably used to using this in your office, but Slack is one of the best tools to use for video meetings and beyond! A definite must download for your new home office.
FaceTime- perfect if you need to do a quick 1 on 1 session with a team member, and just want to pick up your phone for a quick chat. Plus it's free for those with an iPhone or Mac!