Traditional Indigenous catering for Reconciliation Day
Spice things up for your next corporate catering order with some traditional Indigenous food. If you're bored of classic catering ribbon sandwiches, it's time to mix it up. Often, we look overseas for some cuisine inspiration, but why don't we look to those around us. The traditional custodians of Australia, who really do know how to prepare a good meal.
Australian food goes above and beyond the classic pie and sausage roll, you may associate our country with. There is actually a dense and exciting Indigenous cuisine to discover and fall in love with, all while supporting Aboriginal-owned business.
Whether you are ordering for your NAIDOC Week, Reconciliation Day, your next morning tea, or you are just trying to expand your culinary horizons, try some Indigenous flavours.
Reconciliation Day Catering
NSW
SA
VIC
QLD
Or consider donating to our Meal Support Program; providing nutritious meals straight to Indigenous communities and at-risk Elders.
---
Looking for something local? Enter your address on here and see the 100's of epic caterers right next door. Alternatively, grab yourself a quick quote online.
---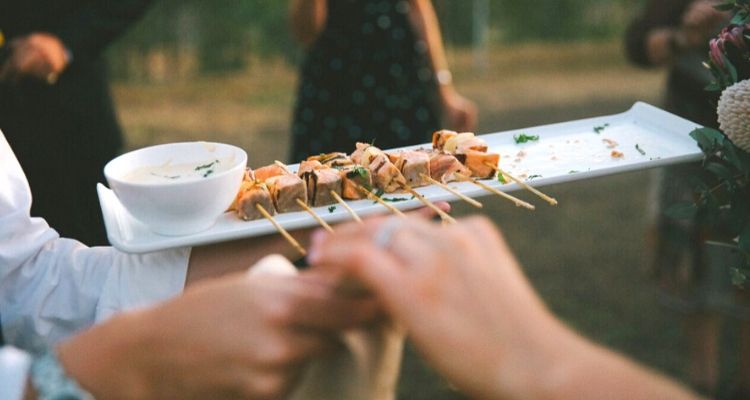 Picture: Figjam & Co
What are some traditional native foods?
The nature of bush tucker or traditional food and Indigenous flavours varies throughout the country. In the coastal regions and tropical north, a large variety of plants and animals provide plenty of bush tucker options. While in the desert and hot central Australia, Indigenous people embraced the harsh environment and sourced excellent food options.
Some example of classic Indigenous bush tucker & food sources:
Emu & kangaroo meat: both high in protein and low in fat.
Davidson or Kakadu plums: both contain 100 times more Vitamin C than an orange!
Gooseberries: often compared to blueberries for their small size and high antioxidant content.
Witchetty grub: a nutrient-dense grub is an excellent source of calcium and were often included in Indigenous people's well-balanced diets.
Wattle seeds: sporting a complex nutty flavour, wattle seeds can be eaten whole or milled into flour.
Lemon mrytle: reminiscent of lemon, lemongrass and lime, this spice can be brewed into tea or used to flavour other foods.
Honey: found in the honey ants nests under mulga trees or from native bees.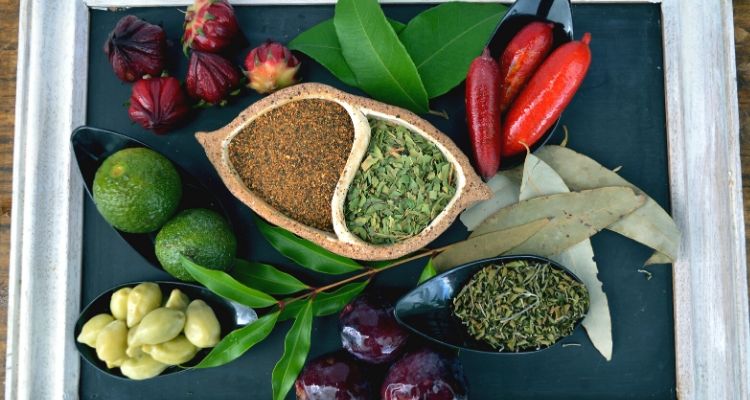 Picture: First Food Co
Indigenous caterers Melbourne
Pawa Catering & Events menu has you covered for all your office events and occasions. From a traditional morning tea spread to an Indigenous cuisine grazing board, using native Australian herbs, spices and gourmet meats.
If canape catering is what you are after, Charcoal Lane will go above and beyond with their catering menu. They have both hot and cold finger foods ready to inspire at your next corporate event or function. Why not add some charcuterie and cheeses grazing platter, complete with Australian charcuterie and gourmet cold cuts.

Picture: Pawa Catering & Events
Indigenous catering Sydney
Kallico Catering serves up contemporary Australian cuisine, with some bush tucker foods for the more adventurous palate. Enjoy something classic or unique with their mix of contemporary and traditional Indigenous corporate menu options.
Indigenous caterers Brisbane
Inspiring Indigenous caterer in Brisbane Birrunga Gallery & Dining is your go-to if you have ever wanted to try a crocodile hot dog, or beef and saltbush charcoal burger. Classic damper scones served with fresh cream and jam will surely satisfy your cravings for a tasty morning tea.
Figjam & Co is an outstanding certified Indigenous caterer, serving the people of Brisbane and Ipswich. Wholesome and delicious bush tucker, always served with a smile.
An Aboriginal-owned business, First Food Co was established under the leadership of Aunty Dale Chapman, an Indigenous woman and fully qualified chef. Their menu is vast, including kangaroo sausage rolls, to wattleseed ice cream, there's an Indigenous Australian flavour for all tastes here. Rest assured knowing their menu goes above and beyond when it comes to quality.
Indigenous caterers Adelaide
An Indigenous-owned company, supplying traditional Indigenous produce. Huge promoters of ethical and environmental practices, Something Wild has delicious grazing platters on offer, all made with Australian native ingredients.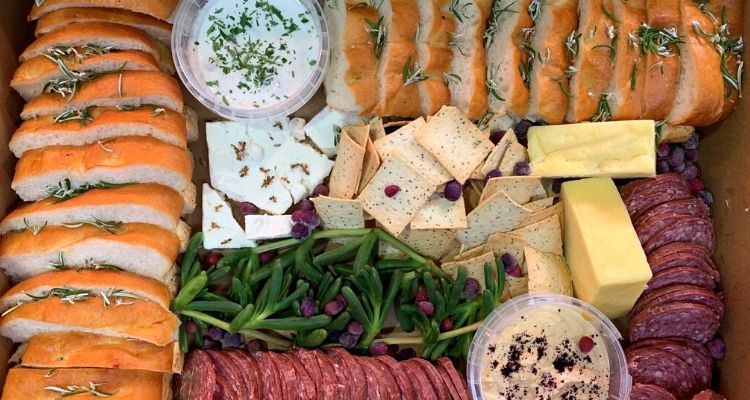 Picture: Something Wild
---
Can't see your city listed above? Simply enter your address here to see the 100's of awesome catering options all over Australia.
Get all your catering services sorted through Order-In. From working lunch, morning & afternoon tea and even your corporate event catering. Browse online, order and get delicious food delivered on time, every time.