Celebrate Best Friend Day on 8 June! 5 reasons having a work BFF is the best!
Full-time workers spend majority of their waking hours in the office, so having a work best friend can make all difference. Not only does it help the time fly by, your work bestie gives you that extra boost of motivation for the working day.
Whether it was an instant connection, a shared look in a team meeting or some serious bonding at Friday night office drinks, today is the day to show your work BFF some love, show them how much you appreciate their friendship and give them the chance to feel special. Here's why you should celebrate national best friends day on 8 June!
Increased motivation, productivity and happiness
Having best mates in the office can not only make the days go faster, but it's proven to increase motivation, productivity and general overall happiness (even outside of work). Plus, you may even look forward to work to spend time with your best mates. According to research done by Gallup, 63% of women who have best friends in the office are twice as likely to be engaged in their work and enjoy what they are doing, compared with the 29% who say otherwise.
Research from LinkedIn shows 57% of millennial staff say having friends at work help make them feel happy, and 50% say it makes them feel motivated. So, next time your manager asks what you guys are so busy chatting about, you can throw some stats their way.
You've got someone to share your achievements with
Got a big office win or just finished that huge project you've been working on? Your work friends are the first by your side to give you a high five or send a celebratory gif your way. While any friend would be happy to listen and celebrate with you, only your favourite coworker understands the context behind it or saw firsthand just how hard you worked.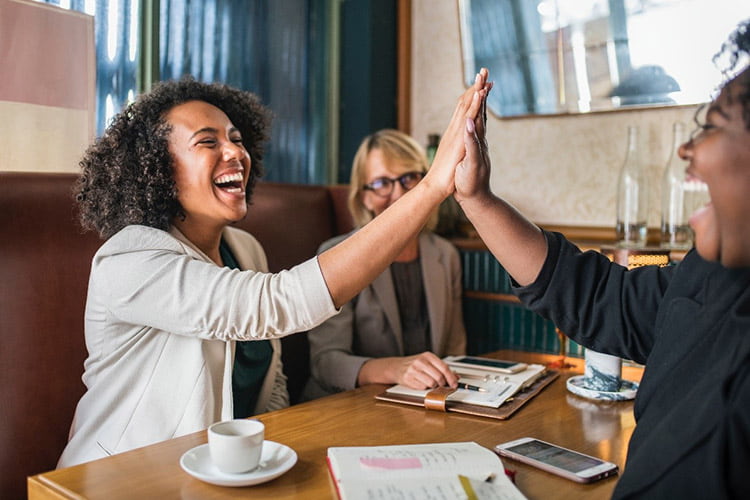 Looking to celebrate a whole office achievement? Why not bring the team together with a catered celebration! Pizza party catering, DIY taco bars or even cupcakes can encourage bonding and closer working relationships. Nothing brings people together more than food.
Lunchtime is never lonely
Whether you're racing to the kitchen for a coffee, or sitting side by side at your desks digging in, your lunch time break is never boring with your work buddy. The perfect time to relax and debrief about the day so far, your weekend adventures or just life in general.
Taking an hour's lunch break and having interactions that aren't necessarily about work, allow employees to rest their brains so they are ready to jump back in. Its important staff feel free to take their lunch break, so why not encourage it by ordering in a tasty staff lunch once in a while?
A brainstorming buddy
A work BFF is the best person to throw ideas around with before you take the leap and present it to your boss. They are always honest with you and give you the best advice (you're on the same team after all). They help build you up and give you that much needed confidence boost when you're headed to your next meeting. And of course, are always ready for a debrief after, cup of tea in hand.
Promote open communication, connections and collaborations in your office by having a stocked office pantry complete with tea, coffee and biscuits. Having that 5-minute break with a cuppa and a colleague can make all the difference for productivity levels in the workplace. Creating an environment that nurtures working connections, allows for a solid team base.
They put the 'happy' in happy hour
Friday drinks just got a lot more fun. You and your BFF have the chance to let loose, chat office goss and share a few glasses of shiraz. Having team social events can be nerve wracking for some or not seem like your idea of a good time but having your work bestie by your side can make all the difference.
Good workplace culture starts with good leaders! Encouraging some team bonding and relaxation time is so important for the whole office, so why not bring Friday drinks into the office? Check out some delicious gourmet finger foods and alcohol deliveries, so work friends can stay in and have some fun.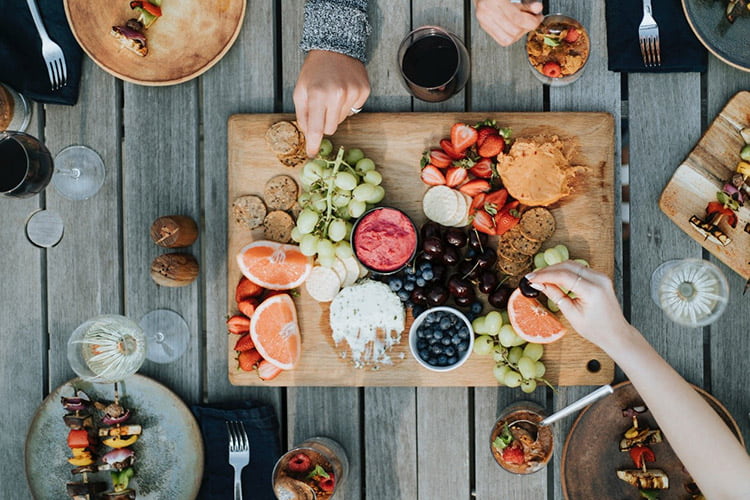 Show your appreciation
Showing your work bestie some appreciation can be as simple as sending this article their way or grabbing them a coffee and treat on the way to work.
Of course, you don't need National Best Friend's Day as an excuse for delicious food. Encouraging employee engagement, connections and bonding all year long is vital to a great workplace culture. It creates a positive work environment for everyone and gives everyone the chance to become office besties.
If you want to treat the team or your BFF, browse some delicious corporate catering options in your office now!