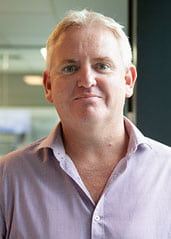 Meet the team! Key Account Manager – Peter Matheson
Meet our new Key Account Manager in Adelaide, Peter Matheson! Peter has over 15 years' customer service and account management experience, having worked previously at Winc/Staples and Amcor Fibre Packaging. He will provide hands-on service to all customers large and small in Adelaide, offering timely, creative solutions to meet your needs. Get to know Peter better as we ask him 5 quick questions.
---
Who
Peter Matheson – Key Account Manager in Adelaide
Tell us a bit about yourself and experience
Born and bred in the mid-north of South Australia, I moved to Adelaide in my mid 20's to pursue a Sales career. I have been involved in either customer service or sales for the past 15 years. I love to assist my clients and solve any issues they may have.
Favorite part about working at Order-In
Order-In has a great team environment, one which you feel a part of from day one. Everyone is customer centric but able to have a laugh along the way which makes coming to work enjoyable!
What's your favourite food?
There is nothing better than peeling a freshly cooked prawn or crayfish and eating it fresh with a nice cold beer!
Fun fact about you
I took my first (and only) hat-trick when I was 12 and have been on a continual pursuit to get another one for nearly 30 years. If I ever get another one, I'll retire from cricket straight away.
Do you have any hidden talents most people don't know about?
Ummm, not really. I love sport but I'm getting old so I spend the majority of my spare time with either my two year old daughter, or my Golden Retriever, Bear… or both!
Order-In tip
If you're having any issues that can't be solved online, have the confidence to discuss with our insanely helpful customer care team. They are friendly, bright, confident and extremely knowledgeable about everything corporate catering.