What to do when hanger strikes in the office
We all know the feeling… A rumbly tummy, filling a bit snappy and short tempered, while struggling to even think clearly. Anyone who has felt hangry knows it is very real and can creep up when you least expect it. The combination of feeling anger and hunger isn't the most pleasant, but luckily for the hangry individual (and everyone around them) there is a solution; food! Even better, the feeling can be avoided altogether, even during a busy workday.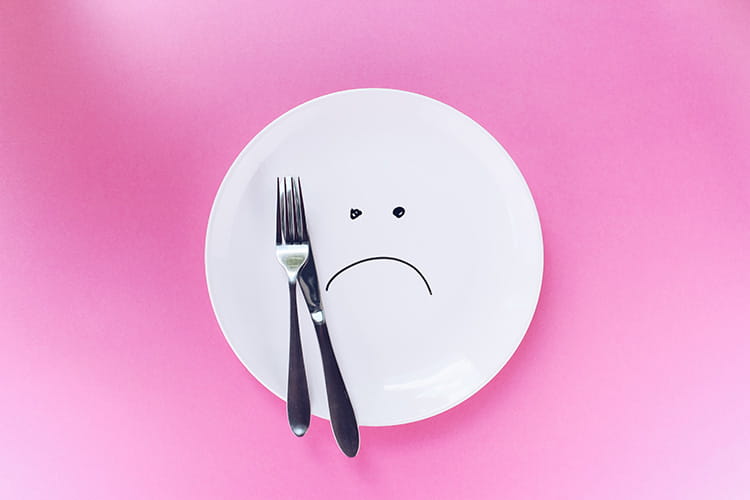 What is hangry?
Hangry: (adjective) The combination of the words hungry and angry meaning bad or ill-tempered as a result of hunger.
It is real and even science says so! Not eating enough causes our blood pressure to drop, which then releases two hormones called cortisol and epinephrine are released in an attempt to raise it back to normal. But, as we have all experienced, hormones are often to blame for many unpleasant feelings and hangry is one of them.
Hanger can affect your productivity
When you go too long without eating, it becomes harder to concentrate and to perform at the level you need to be able to do your job well. Whether you skipped breakfast, or a meeting got in the way of lunch, being hungry can have a negative impact on your concentration and productivity.
So, what happens when to our brains when we don't eat? Just about everything we eat is broken down into glucose, which then provides the energy our brains need to stay alert. When our glucose levels are low, it becomes hard to stay focused and concentrate.
Hanger management - how to avoid being hangry at work
Nobody likes feeling irritable or snappy, especially when you might be in and out of meetings all day and having to communicate closely with others. Here are some tips and tricks on preventing the hanger beast!
Don't skip meals
Work is busy and often we get caught up doing things or pulled into meetings, but eating regular and well-balanced meals is the number one solution when it comes to preventing hanger. If you're noticing staff are often going without lunch, providing afternoon tea or a staff lunch once a week is an excellent idea. Whether you just have lots of tea, coffee and biscuits in your pantry, or you order tasty food from a corporate catering menu, having some delicious catering is sure to brighten anyone's mood. Check out how to organise the best corporate afternoon tea here.
Be aware of your emotions
Researchers discovered that people who are more aware or considerate of their emotions, are less likely to exhibit hangry behavior. Simply acknowledging you aren't feeling the best, you have more of an ability to control how you feel.
Start your day with breakfast
Starting off the day with a meal is sure to help you avoid becoming hangry by 12pm. Having a nutritious breakfast, that isn't loaded with sugar, will help you put your best foot forward.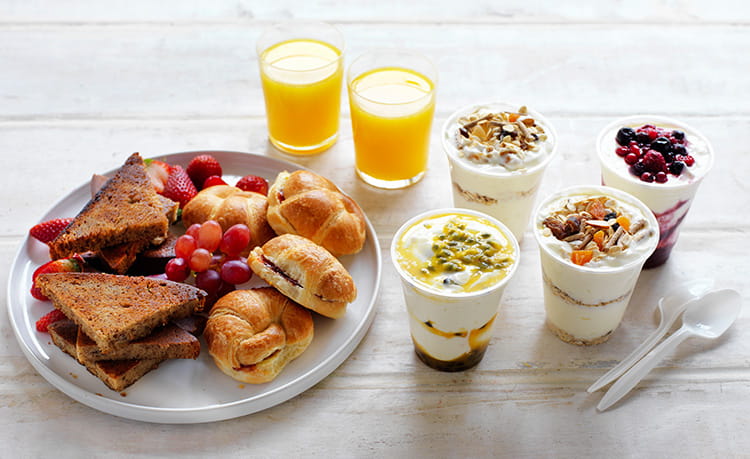 Not sure how to start your day? Check out these delicious breakfast options:
Yoghurt, berries with a drizzle of honey and topped with crunchy granola.
Breakfast bruschetta topped with mushrooms, spinach, feta and poached eggs. Add avocado for some extra healthy fats and vitamins.
Overnight oats with chia seeds. Add fresh fruit, yoghurt or honey before serving.
Quinoa breakfast bowl with smoked salmon, avocado and a poached egg.
And of course, avocado toast!
Protein, fat and carbohydrates
Eating a balance of protein, fat and carbohydrates every few hours keeps your blood sugar levels stable. You can even keep this in mind when ordering some office catering, to keep everyone feeling healthy and satisfied.
Try out these balanced meals for your team:
Decide what to eat, before you're hungry
In the same vein of not going grocery shopping while you're hungry, make your food decisions for the day before you get hungry. Not only will this steer you in the direction of making healthy choices (and not give into tempting fast food), but there will be less stress when the time comes to decide what to eat for lunch.
Snack the day away!
Including some healthy snacks throughout your day is the perfect way to stop hanger in its tracks! No matter how busy you are, there are snacks you can munch on to keep the hangry feelings at bay. Not only will this keep your tummy from rumbling mid-meeting, but it will keep your glucose levels stable and your concentration at a peak. Keep your office kitchen stocked with fresh fruit and snacks to keep everyone satisfied.
Check out our handy snack hack infographic below, to find a delicious snack no matter what you're craving!
Fight off hangry with Order-In
Order-In can support the best healthy eating habits, throughout breakfast, working lunch and afternoon or morning tea. You can even stock your whole office pantry with deliciously healthy snacks that will keep everyone feeling energized and productive all day long. Find the perfect catering package, whether it's for a corporate event, or every day, we have the right solution for your office. Whether you're in Sydney, Melbourne, Adelaide, Brisbane, Perth or Canberra, you can enjoy Order-In's excellent catering services.