How to create a grazing table that will wow
If you want your next corporate event or party to look inviting and impressive, a grazing table or lush grazing platters might be the answer! Simple, effective and most importantly, delicious!
What is a grazing table?
Like the name suggests, it's a table for grazing! It's like a buffet, but it's been designed to make it visually appealing and easy for guests to pick and nibble at food. It's usually a table, but it can even be a large platter, wooden board, counter or just any large and flat surface. Food items aren't always contained on plates or bowls, but arranged artfully in piles that spill, overlap and intertwine into each other, so it doesn't just taste delicious, it looks delicious. The key thing to remember here is: organised chaos.
It works well for a wide variety of corporate events, guests, themes and budgets and is always sure to impress.
What's the difference between a grazing table and a buffet?
You won't see a chafing dish anywhere on a grazing table! It's usually packed full of finger food, making it easy for guests to mingle and nibble at the same time. The food should also keep well at room temperature.
Cheese, fruit and charcuterie boards and platters are common foods found on grazing tables, but depending on your budget and theme, you can have any type of food you want. Breads, dips, bread sticks, crackers, raw veggies, condiments, bite-sized finger sandwiches, sweet treats, pretzels, fresh and dried fruit, nuts, olives....whew! The choices are endless here.
Why should you pick a grazing table over something else?
Low maintenance to set up
You can spend more time with your guests instead of worrying about topping up a chafing dish
Provides an all-round eating experience
Gives your guests the opportunity to taste a bit of everything
Allows you to be creative and innovative with your grazing table
---
Want somebody else to do the work?
Up your after-work drink set up with an epic grazing platter or grazing table spread.
Check out these grazing table options for:
Sydney:
Melbourne:
Brisbane:
Adelaide:
Perth:
Canberra:
Or enter your address here to find your perfect grazing spread.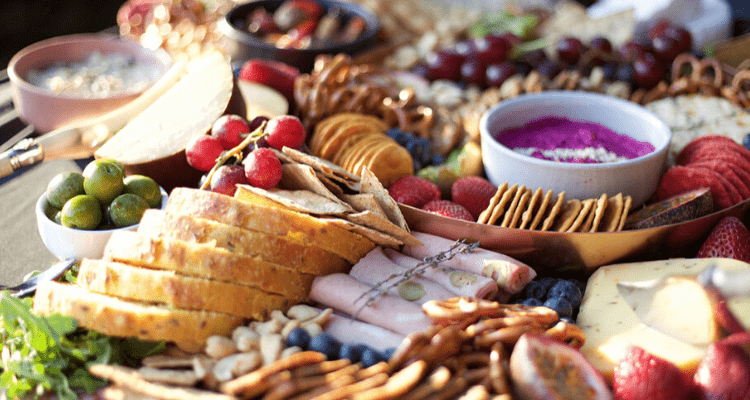 Picture: Platter Planners
---
4 grazing table essentials
1. Pick a theme
There's no limit to the number of options here! You can easily create grazing tables depending on your theme or corporate event. For example, a Christmas lunch grazing table can include Christmas themed foods, plus red, green and gold table decorations, plants, herbs and props. If you're trying to create a rustic, Mediterranean grazing table, choose foods, serving pieces, decorative serving platters, utensils, decorations and props that fit with your theme.
Theme ideas to consider:
Whimsical - think all the grazing table food favourites, surrounded by a selection of fresh flowers, greenery and candles in jars. A gorgeous snack wonderland
Sweet treats - why not turn your dessert table into a grazing style, sweet treat grazing table. Pastries, cupcakes and slices, stacked beside glass jars filled with treats
2. Have ample props and crockery
Consider using neutral coloured plates, bowls, serving trays, platters and boards, which will work well for any theme. Invest in an assortment of boards, decorative serving platters, cake stands, tiered stands and cake domes to add height to your grazing table. Don't forget to provide enough serving utensils on the table.
3. Fresh flowers and greenery
Greenery, fresh flowers and herbs will add texture and visual interest to your grazing table. Plus, make it look good enough to eat!
4. Food, glorious food
Use fresh, seasonal, local produce and ensure your grazing table has a balance of ingredients, colours and textures. Choose seasonal fruit, artisan cheese wheels, baskets of assorted bread rolls, platters of prosciutto and salamis, char-grilled veggies and more.
Food to include:
Shaved meats and cheeses
Fresh fruits
Crackers, fresh breads and other dippable items
Dips and spreads
Olives and pickles
Sweet treats (chocolate, mini pastries, tarts)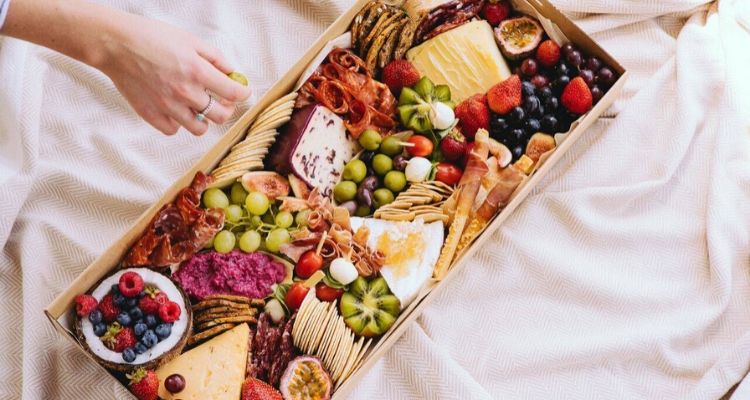 Picture: Say Cheese
How to put your grazing table together
There are no hard and fast rules when creating your grazing table, but below are some tips to consider.
1. Your table or grazing surface
Make sure your table isn't too small or too big. If your table is too small, your guests won't be able to easily access the food. If your table is too large, your feast will look pitiful. You want your grazing table to wow, not look sad.
2. Create height
Height will add a three dimensional feel to your table and make it more visually appealing. You don't want it to look flat. Get creative with cake stands, boxes, wooden boards, metal baskets, crates and tiered stands to create different heights to display your food.
You can even stack wheels of cheese to look like a cake, and garnish honeycomb, figs and herbs. Who could resist a slice of that?
3. Setting out the table
Stick to a single theme. Create interest using height and use different sizes and shapes of servingware. Keep your servingware simple if you want the food to stand out and be the main attraction.
Don't over-style the table. It should look arty, but still accessible. You want your guests to dig in – they shouldn't be afraid to touch the food. Scatter crackers, fruit, nuts and herbs around the table. Cut a bit from the whole cheese wheel, cut a slice from a loaf of fresh bread, or crumble off some cheese to make them ready to tuck into.
Don't be afraid to scatter food on the table – not everything needs to be on a platter or board.
4. The star of the show - the food
The food you choose should suit your theme and event. Whether it's a breakfast grazing table menu, Halloween themed afternoon tea, or Melbourne Cup lunch, the choices are endless.
Don't include any food that's too big or messy to eat. Your guests should be able to eat a little bit of everything from your grazing table menu. The food should be bite-sized portions – we recommend keeping food items to one or two bites max. Guests shouldn't have to cut anything with a knife once it's left the table.
Don't forget to label which element. Use mini blackboards, slates or flags to let guests know what they are eating.
Check out our short video below to find out how to create your own grazing platter that will impress everyone at home or at the office!
---
Rather get someone else do the work?
Need a deliciously decadent grazing table or lush platter for your corporate event or function that will impress? Speak to the corporate catering experts at Order-In today for grazing tables or gourmet grazing platters that will look and taste amazing. Call 1300 851 900 or get a free catering quote online.