This is Halloween! How to get spooky in your office
It's officially October! Do you know what that means? It's officially the start of the spooky season. It's time to satisfy those sweet teeth, adorn your favourite character's costume and take part in some good old-fashioned Halloween fun in the office.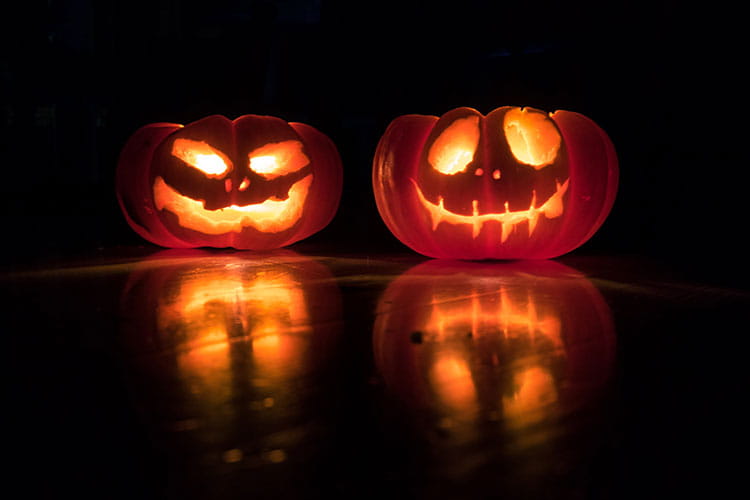 What are the origins of Halloween?
How did it all begin? Well a long, long time ago, on a dark and stormy night… No guarantee it was stormy per se, but it really sets the scene doesn't it?
Halloween's origins date back to the ancient festival of Samhain (pronounced sow-in), celebrated by the Celts, who lived 2,000 years ago. The day originally marked the end of summer harvest and the beginning of winter. Celts celebrated their new year on November 1st and believed the night before, on October 31, the boundary between the worlds of the living and dead became blurred. Spooky, right?
Over time, Halloween evolved into different interpretations, as different cultures took on new traditions. A modern-day Halloween is much inspired by American traditions, with trick or treating, jack-o-lanterns, an ample supply of lollies and customer parties.

How to celebrate Halloween in the office
Here are a few of our best party ideas that you can easily incorporate in your office for Halloween that are affordable, fun and will encourage the whole team to take part.
Get the event catered
Getting corporate catering delivered for your office is a simple and affordable way to acknowledge fun days like Halloween and not eating into productivity time. Whether you decide a working lunch or classic pizza catering is right for you, or want to go for spooky corporate cake and cupcake delivery, there's something right for every office. A corporate catering company will often offer event catering packages, which can help take the pressure off your back to make the day enjoyable and run smoothly.
Why not turn your Halloween catering into an office party? If you want to organise a Halloween party for the office, get some themed party food delivered, put on your best spooky playlist, get some alcohol delivered and have a fun night with your team.
Halloween breakfast
This is a great Halloween catering option for those who still want to make the most of the working day. A fun team breakfast is a great way to start the day on the right foot.
Let your employees dress up
But don't force them to! Let the people who want to put something spooky on go ahead (just as long as it is respectful and not offensive to others).
You can even turn the event into your very own costume party! If you want to take the spookiness into the after hours, why not get some alcohol delivered, get some delicious finger food catering and have an office-wide costume party or costume competition. Everyone will love the chance to dress up, have fun and enjoy a memorable team bonding experience together. Just make sure to make it clear what costumes are work appropriate.
Fun office costume ideas:
Wear all black and cut out white circles and lines to stick on your shirt and pants to become domino pieces.
Get team members from your department to dress as characters from one of your favourite tv show/movie.
Superheroes/supervillains! An unproblematic classic.
Vampires, witches or ghosts.
Decorate the office
You can easily transform the office space into a haunted house or someplace whimsical. With a few fake spider webs, paper ghosts and ghouls, you'll have the office transformed in no time. You can even create little lolly bags to leave on everyone's desk, filled with delicious sweets.

Halloween games for the office
Below are some fun Halloween activities to get your office into the spooky spirit. Whether it's a costume contest, a pumpkin carving competition or a fun game of trivia, it's a great team building exercise that gets people at work involved.
Scary movie trivia
A classic trivia game never goes astray. Test everyone's knowledge of the most popular horror and thrillers! Download our scary movie trivia here!
Desk decorating competition
Get everyone's creative and competitive spirit out with a spooky desk decorating competition. Gather a panel of unbiased judges and see what people come up with. You can judge the desks individually or get your team members together for the best decorated area. Download our desk decoration pack here to get started!
Costume contest
See if your team who can conjure up the scariest, most creative and out-of-the box Halloween costume! Have a set of judging guidelines like scariness, uniqueness, effort and funniness and see who gets the best score!
Halloween party playlist
You're going to need some great Halloween songs to go with your office party aren't you? Check out our fresh and funky Halloween playlist below and have your Halloween soundtrack covered.
Scary good catering
Order-In has got your Halloween event catering needs covered. Use our seamless online catering platform to get your office catering delivered on time, fresh and delicious. Whether you're celebrating Halloween with a buffet, corporate BBQ, staff lunch or morning tea, feeding your team has never been so simple. From event catering to team building activities and theming, give our 5-star customer care team a call on 1300 851 900 for catering menu inspiration, recommendations or get a free quote online for your next Halloween party.