Beat the winter blues with comfort food for the office
We've all seen the lists of "superfoods to eat to avoid getting a cold this winter" and we can already imagine the "how to lose the winter weight" ones, but sometimes in life you need to give into those cravings and just indulge in a few winter warmers, right? The chilly season is the perfect time to nourish the soul with your favourite comfort foods.
What are comfort foods?
What food do you reach for after you've just had possible the worst day of all time and just need that quick, (potentially carb loaded) pick me up? That's probably your go-to comfort food. Whether nothing can beat that big bowl of classic spaghetti meatballs made by mum, or a stack of steamy pancakes, comfort foods are what we crave when we just need cheering up.
They often do more than satisfy a craving; they could remind you of home, of happy times, and give you those warm and fuzzy feelings that only macaroni and cheese can entice. According to research, the simple act of eating our favourite dishes can make us feel less lonesome, give a sense of belonging and even improve mental well-being. Sounds pretty good, right?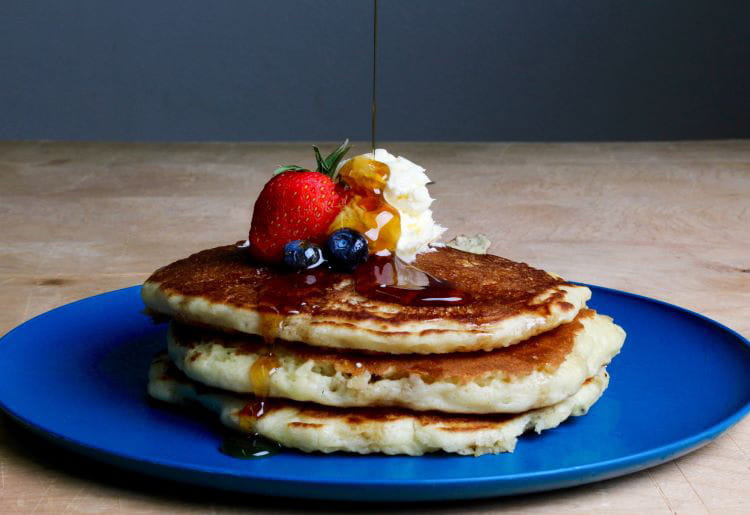 So, why do we crave comfort foods in winter?
There are a few reasons behind this (other than the fact chocolate and ice cream is delicious). Firstly, the connection between our stomach and brain is an important one, with 90% of our serotonin receptors located in the gut. There are plenty of studies that show what we eat can affect our mood; whether this is connected to how our brains respond to certain foods, or it's an evolutionary thing, there's no denying eating food we love is important.
The benefits of comfort food become especially important during the colder months for some, as people can suffer from something called seasonal affective disorder. Season affective disorder, or aptly abbreviated into SAD, are low moods associated with certain times of year. SAD usually develops around autumn and winter, and often results in lack of energy, sleeping too much, losing interest in normal activities or finding it hard to get out of bed. Even if this isn't something you deal with, there's no denying that our moods can sometimes just be a little lower as the months get colder. Even if you're feeling fine, research says people are naturally inclined to eat roughly 86% more calories per day in winter months.
An office comfort food menu
Although it is tempting to spend the coldest days of the year tucked away in bed, unfortunately we have to brave the icy winds and head into the office.
Treating your staff to something sweet, or a delicious hearty and warm meal, is the perfect way to boost morale in winter, while still making sure everyone is feeling appreciated. Whether it's time for a pizza party, some crispy fried chicken or a line-up of sweet cupcakes, we have it covered.
Bringing comfort food recipes into the office is easier than you'd expect. Corporate catering services like Order-In have made developing the best menu to keep your staff satisfied and feeling happy an easy task. From burgers and pasta, to nachos and burritos, comfort food has never been so dangerously easy.

Browse our ultimate comfort food menu options below, that you can seamlessly order online anytime with Order-In!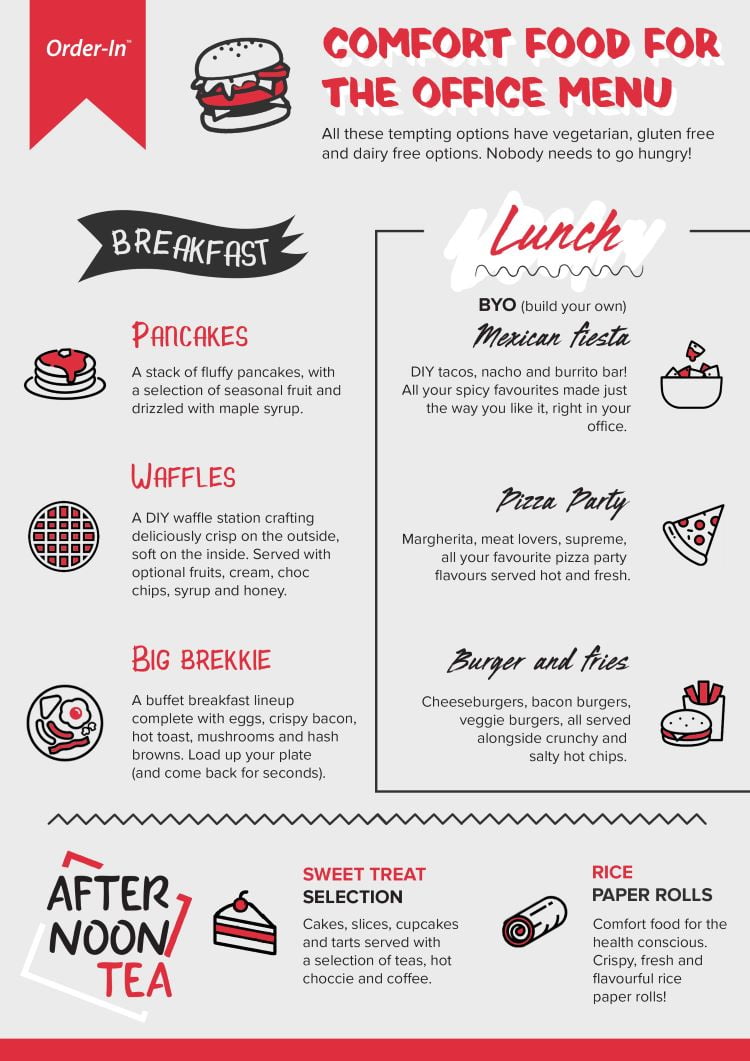 Want to share this image on your site? Just copy and paste the embed code below:
It doesn't need to be unhealthy!
If you have a favourite food you can almost guarantee there's a healthy, vegan, gluten free or altered recipe somewhere on the internet! These special diets have seen a massive increase in Australia, with over 11% of the population eating this way. This means ideas of comfort food are shifting alongside these new trends.
Good for you or vegan options are now just as common as the usual tasty suspects. Deliciously hearty and warm salads, zoodles with meat-free 'meatballs', or a steamy bowl of dairy free mac and cheese are deliciously healthy, without skimping on comfort.
What's even better is that it can all be delivered right to your office! It's important to remember all the special dietary requirements in your workplace when ordering food.
Some healthy (but still comforting) options:
Salmon: packed full of vitamin D, salmon will make up for lost sunlight hours. So, if you were looking for a sign to get some sushi, here it is!
Roast veg: Add some salted broccoli and cauliflower to your warm roast dinners for a toasty warm hit of vitamins.
Soup: whether it's chicken noodle soup, winter vegetables, beef stew, or French onion soup, serve with crusty bread and feel an instant rise in comfort levels.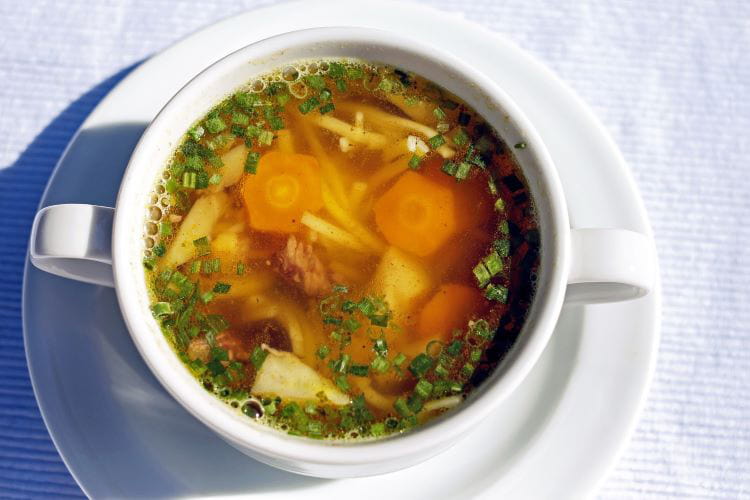 Comfort food around the world
Feeling like you need just a touch more inspiration for your next corporate catering or staff lunch? Search through these tasty soul food recipes from across the globe.
China
Cha Siu Bao (steamed pork buns): A deliciously fluffy steamed bun filled with tender and flavourful barbecued pork, with that bright pink colouring we all know and love.
Fried rice: A well-loved dish around the world, this delicious and flavourful dish is a quintessential comfort food. While many love getting the classic takeaway shop fried rice, it's hard to beat the classic.
Canada
Poutine: A delicious serve of french fries topped with gravy and melted cheese curds. Unfortunately we can't get this in Australia, but it's almost worth the trip to Canada just for this dish packed with potatoes and cheese.
Poland
Pierogi: A Polish dumpling that can be filled with eggplant or potato, onion, cheese, mushrooms, spinach and sauerkraut.
Greece
Moussaka: A signature Mediterranean dish featuring layered succulent lamb mince and eggplant topped with creamy béchamel sauce.
Brazil
Pão de queijo (cheese bread): Light and fluffy cheese puffs that are naturally gluten free. Fluffy bread with melted cheese? Sounds pretty good to us.
India
Pani puri: A beloved street food snack that features spices, peas and potatoes inside pillowy pockets of fried dough.
Japan
Oden (hot pot): A broth-based meal, topped with traditional Japanese foods like konnyaku noodles, fish cakes and daikon.
Tempura: Lightly battered and deep fried pieces of seafood and vegetables, tempura has developed into a popular Japanese dish. Served alongside many other dishes or on its own for dipping into soy sauce.
Mexico
Chilaquiles: This traditional dish can be found throughout Mexico. At its most basic, it consists of fried tortilla strips, simmered in red or green salsa and topped with cheese. Sometimes, a fried egg is put on top, if it is being eaten at breakfast time.
United States
Mac and cheese: Melted cheese, tender pasta and topped with crispy breadcrumbs… can't get much better than classic macaroni cheese.
New York city hot dog: Classic Frankfurt on a soft long white bun, drizzled with ketchup (tomato sauce for us Aussies) and American mustard.
England
Fish and chips: Battered and crispy fish and chips, a salty dish served doused in vinegar.
Feeling hungry yet?
If you like the look of our comfort food menu or you're just after a tasty treat for your staff, we have it covered. Use our handy online platform to get it all done. Browse from hundreds of the best local office caterers in Sydney, Brisbane, Adelaide, Perth, Melbourne or Canberra, select your tasty corporate catering online and get delicious and fresh food delivered right to your door. It's seriously that easy!
Get a free quote online or give our catering experts a call on 1300 851 900.