Cheap and cheerful corporate catering ideas for your next office lunch
According to Order-In, companies spend over $700 per staff member per annum on office catering and kitchen supplies. In a company of 100 staff, that's over $73,000 a year. Survey Monkey's vice president of human resources, Rebecca Cantieri estimates that the company spends between $10-$15 a day per employee on meals and snacks. We understand that keeping the cost of office catering down is no easy feat, but rest assured – you can still order delicious corporate catering for the office on a budget. Here are our top cheap and cheerful corporate lunch catering ideas that don't compromise on taste.
Serve breakfast any time of the day
There's nothing like a hearty breakfast…for lunch. Everyone loves a bacon and egg roll, so why restrict it to just breakfast time? Fuel your team at a reasonable price with breakfast catering or brunch food options. Think bacon, sausages, breakfast burritos, egg and bacon rolls, frittatas, yoghurt pots, croissants, bagels and juice.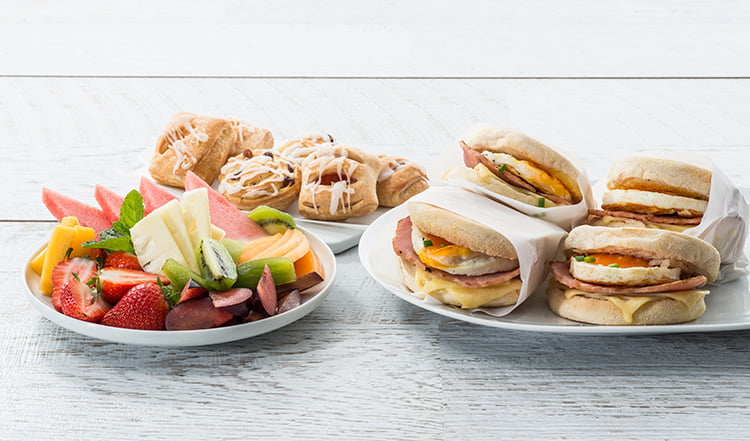 Buffets
Buffets are a great way to feed a hungry crowd and it's a very time efficient and affordable catering solution for your office. Buffets encourage your guests to mingle, but offers a variety of lunch options to satisfy those picky eaters. It's also a great solution for guests with food allergies and special dietary restrictions.
Some great corporate caterers that offer buffets in Sydney, Melbourne and Brisbane, include Art Kitchen, Entice Me Catering, The Catering Company, Juju Catering, Blahnik and Wokks.
Staff lunch
The Order-In staff lunch solution is a cheap and yummy way to feed your team or office. Suitable for groups of 10 or more, a staff lunch catering menu is a more affordable solution to the standard corporate catering. You'll still enjoy a mouth-watering variety of lunch options starting from just $10. From pizza catering to curries, poke bowls to burgers, we'll have something for you. Staff lunches are a great way to get the whole office together.
Some great caterers offering delicious staff lunches in Sydney, Melbourne and Brisbane include Foxes Den, A1 Bakery Fairfield, Chilterns Catering, Rockwall Catering, Kosciuszko Catering, Black Truffle Catering and Wood Fire New York Pizza.
Choose cost effective cuisines
Some food cuisines are more cost effective than others. For example, if you're on a tight budget, maybe opt for cheap catering options like Indian, Thai, Vietnamese, Malaysian or Chinese catering. French and Italian food can cost more per meal.
Some awesome corporate caterers that specialise in international catering including Mrs Luu's, Zeus Street Greek, Pablo's Kitchen, Nom Nom Korean, Ipoh on York, Bombay Bliss, The Colonial, In The Mood For Thai and Guzman Y Gomez at Australia Square, Central Park, Newtown, North Point, Top Ryde and more!
Keep extras to a minimum
It might be tempting to choose a corporate caterer that provides everything you need for your event, but take a moment to consider whether you really need serving staff for your casual working lunch. Do you need the caterer to supply the disposable cutlery and plates, or do you have enough in your office kitchen already? Forgoing the chef and wait staff for example and allowing your team to self-serve can help you keep your catering costs down.
Don't over-order
One sure-fire way to go over your budget is over-ordering office catering. Ordering too little food can be a nightmare, but over-ordering results in food waste. Use our handy catering guidelines to ensure you order just the right amount. If you have any questions, or need help ordering, our catering experts are here to help!
We recommend the following when ordering lunch for the office:
Sandwiches/rolls - 1.5 per person
Sandwich and finger food - 1 sandwich + 3-4 pieces of finger food per person
Sandwich and salad - 1 sandwich + 1 small salad cup per person
Pizza – 3 slices for women and 4 slices for men
Finger food – 6 pieces per person (1 hour event) or 9 pieces per person (2 hour event)
Use our guide to help you order the right amount of food for your next office lunch, but don't forget to take into consideration the type of event, length of the event and the cuisine your ordering when determining portions. If you're unsure, feel free to reach out to our catering consultants.
Keep it casual
Formal catering styles will usually be more expensive than informal catering styles. Keep your costs down with a fun and informal office party or staff lunch. Go Mexican with a DIY nacho station or try pizza catering. Order mini cupcakes for birthday celebrations – a fun and very cost-effective alternative to the standard corporate cake and it'll put a smile on everyone's face! We love Vanilla Cupcakery, Cupcake Central, Cupcake Espresso, Double Blessing Cupcakes and The Cupcake Patisserie.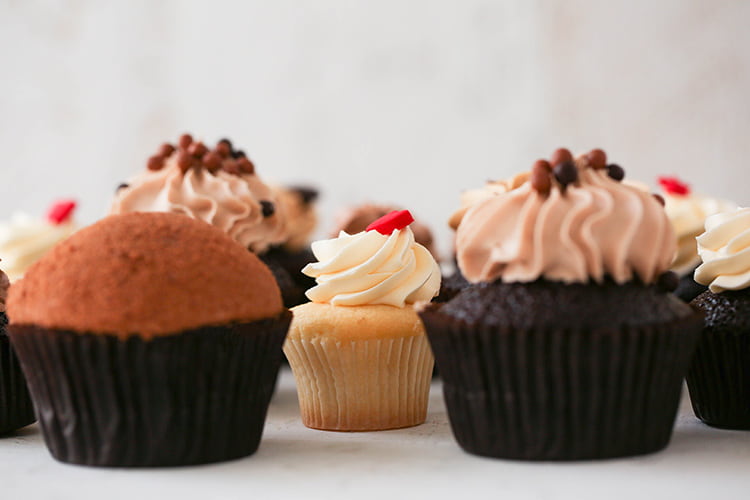 Affordable corporate catering with Order-In
Office catering costs can add up, but we can help you manage and reduce your catering costs. You'll have access to the best priced corporate caterers in Sydney, Melbourne, Brisbane, Adelaide, Perth, Canberra, Newcastle and the Gold Coast. You'll also benefit from monthly caterer specials, volume discounts and negotiated Order-In discounts. We'll help you satisfy your team's hunger, your accounts department and your budget with our online catering solution.
Ready to order delicious corporate catering for your office? Get in touch with our customer service ninjas today on 1300 851 900 for catering menu recommendations, office lunch ideas, to make your next catering order or simply to get a free quote. Whatever your budget or occasion, we have a delicious office catering menu to suit your needs anywhere in Australia, including Sydney, Melbourne, Brisbane, Adelaide, Perth, Canberra, Newcastle and the Gold Coast.