Office Christmas parties done differently
The office Christmas party is looked forward to all year long by staff. It's a time to celebrate and reflect on all the year's achievements and get ready for a well-deserved holiday break. This massive lead up can often lead to stress for those who are left with organising the function. Whether you're feeling the pressure to live up to expectations, or you're not even sure where to begin, dust off the old office Christmas decorations and get ready to dive into the festive season.
The 12 types of office Christmas parties
If you're looking for a fun way to bring in the festive season, check out these unique Christmas party theme ideas.
1. Gourmet Christmas party
Imagine a gorgeous sit-down dinner or delectable Christmas lunch with all your colleagues. Eating good food, having a drink and sharing some laughs seems like a pretty good way to spend your work Christmas party.
2. Holiday spirit(s)
A Christmas cocktail party is a fabulous way to unwind after the past year. If you're looking to add a sweet touch, check out these tasty Christmas cookie cocktail recipes.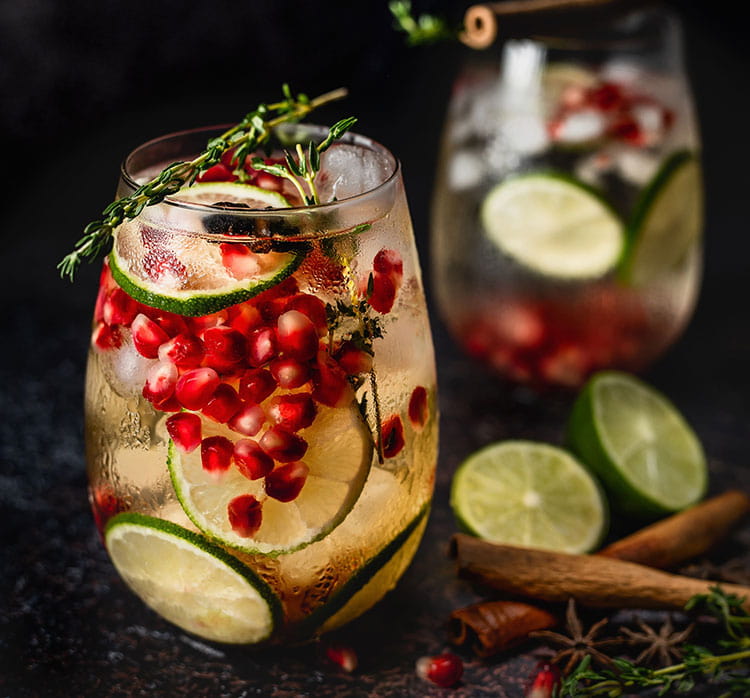 3. The ugly Christmas sweater party
Deep down, we all love a dorky Christmas sweater, whether we're willing to say it out loud or not. Get all your colleagues together, dressed in their best Christmassy attire and even hold a competition for the best Christmas sweater. This is also a great and effective way to introduce the festive season in the office.
4. A masquerading affair
A classic theme in the party world, but with good reason. There are very few times you can adorn a fancy mask, put on something nice and enjoy some deliciously gourmet Christmas finger food.
5. Christmas around the world
If you're looking for a fun alternative to the classic Christmas celebration, try out an around the world theme. You can order corporate catering of all types of cuisines, from Vietnamese, Indian food, sushi, pizza catering and even Mexican. Or why not invite your colleagues to bring in a dish inspired by their own heritage.
6. A cruisey Christmas
If you're looking for a fancy way to celebrate, why not enjoy a cruise around Sydney harbour. For an elegant afternoon tea, gourmet lunch or if you just want to throw an epic Christmas party, with some cruise catering, then this is the one for you.
7. Christmas caroling
We're not talking the old school way of going door to door, but more a fun excuse to break out some 80's classics and Christmas tunes and indulge in some karaoke. This is best coupled with some drinks, full bellies from Christmas catering and a whole lot of festive cheer.
Need a playlist? Check out the one below!
8. The last-minute festivity
We get it, you're probably busy right up until Christmas eve rolls around. Don't stress though, just get in contact with a corporate catering platform like Order-In to lend a hand. From Christmas event organising, Christmas catering to event fine details and equipment hire, throw an impressive festive bash with ease.
9. Christmas breakfast
Enjoy some hot pancakes, delicious French toast, bacon and eggs and whatever else your heart desires. Holding a festive Christmas breakfast is a great and affordable alternative to having a party and can be done easily before everyone jets off on their holiday break.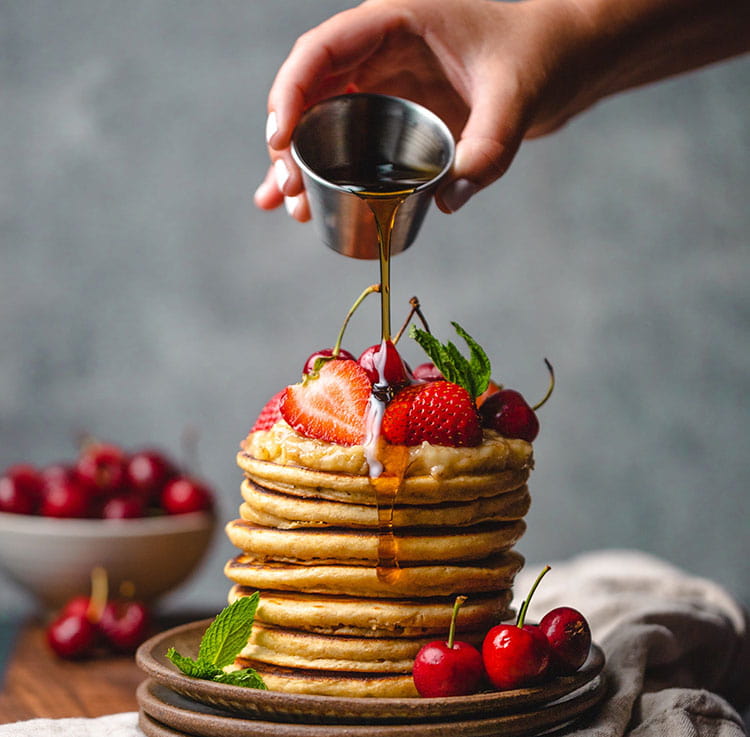 10. DIY festive food
This option doubles as entertainment for guests and delicious Christmas catering. From DIY waffles, omelettes and more, to gourmet grazing tables or even taco bars. There are endless options for so many diets and tastes that you're sure to keep everyone satisfied. You could even set up a Christmas cookie decoration station and hold a comp for the best design.
11. Budget Christmas
An office Christmas celebration doesn't have to be expensive. There are plenty of affordable options that can still provide your staff with a great time. From annual staff awards to secret Santa, check out our affordable tips to celebrate Christmas in the office while staying well within budget.
12. An Aussie Christmas party
Take full advantage of the warm weather and longer hours and take your party outdoors. Whether you book a beachside venue, take a picnic in the park or enjoy some BBQ catering, it's a great way to celebrate Christmas the Aussie way.
Alternative Christmas catering menus
A bit sick of the same-old ham, roast turkey or Christmas cake? Try out some our varied and delicious catering menu options!
Christmas BBQ or picnic catering
Enjoy some time outdoors with an epic festive BBQ or picnic catering. Enjoy delicious grilled meats and burgers, with veggie and chicken skewers, and finish with plenty of fresh watermelon and sweet treats.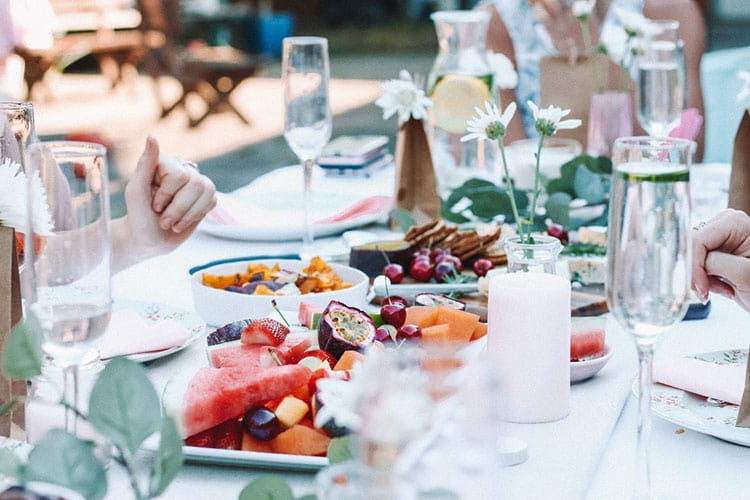 Chicken and salad
On a warm summer afternoon around Christmas time, sometimes all you need is a classic barbecue chicken with bread rolls and salad. Enjoy creamy pasta salad, flavourful chicken and fresh bread rolls. Make sure to serve plenty of delicious and protein packed salads for the vegetarians and maybe even some falafel.
Indian catering
Share a hearty, family style Indian meal with your colleagues. Indian catering offers up favourites like butter chicken and lamb vindaloo, while still having excellent and varied options for all special diets. The ultimate comfort food, Indian is a great way to warm up your heart (and your tastebuds).
Vietnamese
Experience some fresh Vietnamese catering if you're after a healthy twist on your Christmas catering menu. Rice paper rolls, banh mi and steamy pho really spice up the celebrations.
Mediterranean mezze
Share some fresh bread, dips, falafel, roasted eggplant, grilled meats, crunchy fresh veg and pickles served with fresh grain salads. A healthy and light alternative to a roast Christmas lunch. This kind of food encourages sharing, which is perfect for a festive team bonding session.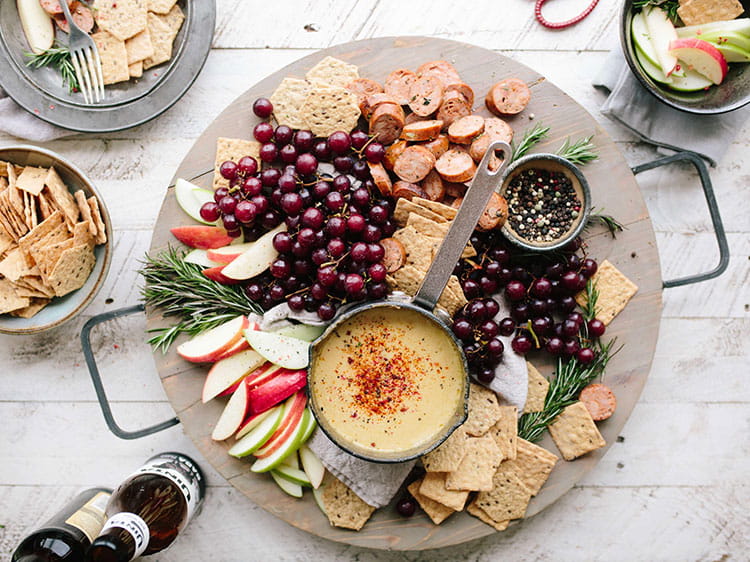 7 unique games for your Christmas party
Now you have your party theme and Christmas menu planned, what about entertainment? Check out these unique, but surely entertaining games to include in your office Christmas celebration.
White elephant
Draw numbers to decide when people open a gift. Number 1 chooses the first gift and unwraps it. Number 2 decides whether to unwrap a fresh present or steal the first one. This continues until the numbers run out. Finally, the person with number 1 decides whether to keep their gift (ending the game) or to steal anyone's gift! If they decide to steal, it continues until the next keep decision.
Get your mitts on this!
White elephant and secret Santa is good, but opening all the presents with oven mitts on? Great. A hilarious way to make present opening a chance to get more laughs.
Staff awards
Ask for nominations ahead of time and make a huge production of the ceremony! Shine a light on all the coworkers whose good deeds deserve to be noticed!
Pass the parcel
Kick it old school with this hilarious and fun party game! A throwback to all our favourite childhood parties, this game is a fun addition to any Christmas party. Wrap a present in a few layers of paper, pass it round the circle with music and whoever it stops on unwraps another layer. Whoever unwraps the final layer gets the present!
Santa, who?
Similar to a murder mystery night, somebody plays the role of Santa and the guests have to work out who it is over the course of the night.
Desk thief
This game is excellent for smaller teams. Stealthily 'borrow' one small item from each staff member's desk, and on the night everyone needs to work out who it belongs too.
He said, she said
Write out a list of famous quotes from the office's loudest characters, print out a few pictures of their faces and let people match them over the night! You can even include a whiteboard next to the game for people to write extra funny quotes or stories.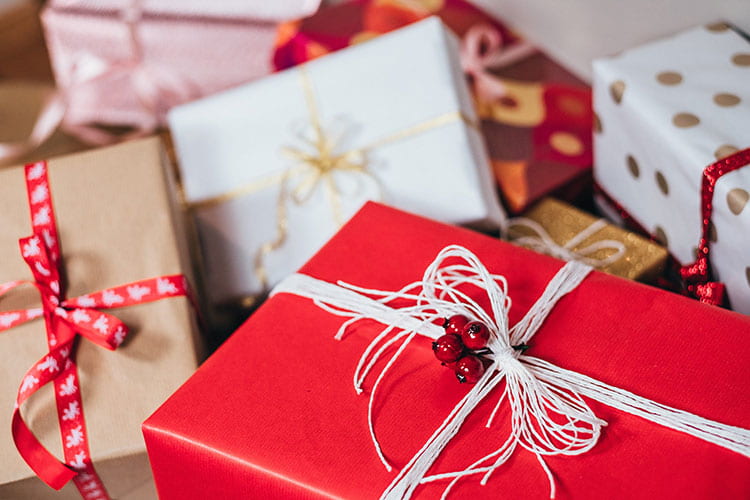 Order-In delivers on Christmas
No matter on what kind of work Christmas party you decide on, Order-In is your go to for Christmas catering. Organising your next Christmas party has never been easier, from a festive morning tea, to delicious lunch or gourmet finger food, get your Christmas event in order with Order-In. Enjoy huge variety with office catering menus for all tastes and budgets. If you need some inspiration, speak to our experienced catering consultants on 1300 851 900 or get an obligation free quote here.