The best food to order for special dietary restrictions
Special dietary requirements are becoming the norm. We have found that nearly half of all our corporate catering orders now include a special diet. This isn't surprising, considering 1 in 5 Australians currently live with a food intolerance or allergy. As more Australians are aiming for a more balanced diet, the healthy eating and special diet catering trend has seen a definite increase. From vegetarian recipes, fat burning foods and gluten free snacks - here are the best foods to order for special dietary requirements!
If you're ordering corporate catering for the office, it's stressful trying to order food that will satisfy all tastes and special dietary requirement. Don't fret, because the Order-In team are here to help! Here are the best foods to order for your next office event or meeting that will cater for the most common special dietary need and ensure no one gets left out.
Before we start, here are the major types of special diets we're taking into consideration:
Gluten free: Someone who experiences a gluten intolerance or allergy will be looking for gluten free options. Commonly found in wheat, barley, rye or oats. Breads, cakes, cookies and pastries are common foods that include gluten. Ensure that any gluten free catering ordered don't include these products, including gluten free pasta and gluten free pastry.
Dairy free: Found in any products containing milk, cream, yoghurt or butter. Common foods include cheese, yoghurt, ice cream or chocolate. There are lots of dairy free catering options available for dairy free or lactose intolerant people.
Vegetarian: A vegetarian doesn't eat meat, but dairy and eggs are usually ok.
Vegan: Vegans won't eat any animal products, including meat, dairy, eggs or fish
Now, let's get started! Below are some corporate catering food delivery ideas for the most common special dietary restrictions we've mentioned above.
Poke bowls
Poke bowls are a healthy, low fat and filling lunch option. The traditional poke bowls are served with raw fish, however, vegan and vegetarian options are also available. You can choose from a variety of bases, such as white rice, brown rice, potato noodles, zucchini noodles, soba noodles, rice noodles or cabbage and spinach.
Choose from a wide range of yummy ingredients and proteins to suit your tastes, including salmon, tuna, prawns, beef, chicken or tofu. Poke bowls are the ultimate tasty, diet friendly, healthy eating option!
Great for: Gluten free, Vegetarian, Vegan, Dairy free
Corporate caterers to try: Nama Poke, Nudefish North Sydney, Nudefish Sydney CBD, Nosh Melbourne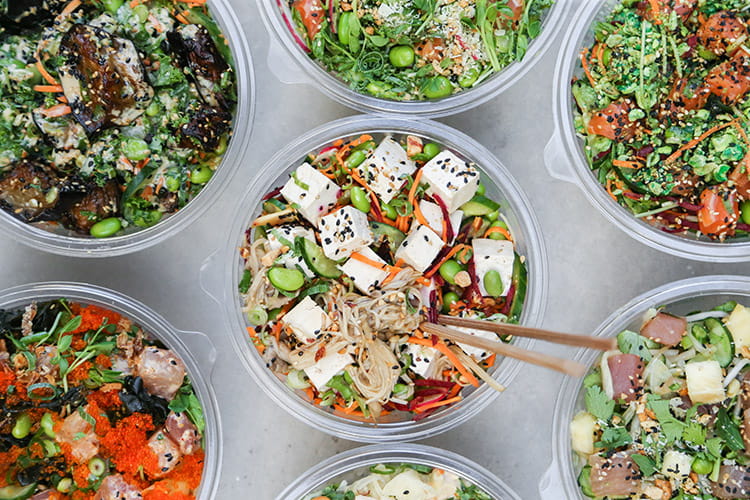 Photo credit: Nudefish
Burrito
Bring some spice to your next working lunch with this popular Mexican or Tex-Mex dish.
Consisting of a soft flour tortilla that's jam packed with delicious fillings, the burrito is a great working lunch option that will satisfy. Popular fillings include chicken, beef, fish sticks and pork, but vegetarian recipes are also available.
If someone has a gluten intolerance, don't fret! For tasty gluten free options, try the burrito bowl, although we think it's not nearly as satisfying as the real thing.
Great for: Vegetarian, Vegan, Dairy free
Corporate caterers to try: Pablo's Kitchen, Mad Mex Melbourne, Mad Mex Brisbane, Mad Mex Gold Coast, Zambrero Waterloo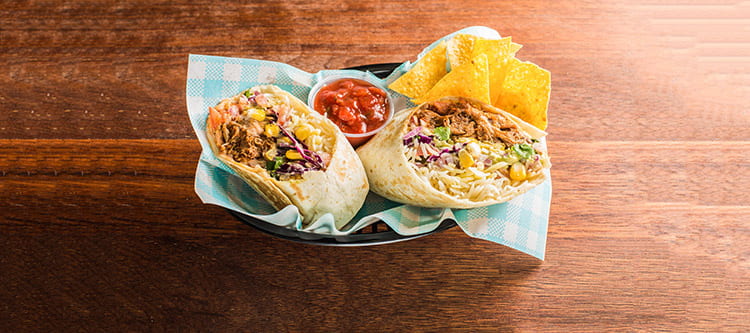 Photo credit: Brunswick Burrito
Curry
Vibrant, colourful and full of flavour, there are lots of gluten free and vegetarian Indian curry options that come in a range of spice levels. Common gluten free options include butter chicken, korma, vindaloo, madras, tikka masala and rogan josh. For the vegetarians, try palak paneer, dal, channa masala and aloo gobhi.
And while naan bread is off limits for those on a gluten free diet, use rice to soak up those delicious sauces.
Great for: Gluten free, Vegetarian
Corporate caterers to try: Beyond India, Bombay Bliss, The Colonial, Tandoori Flames, Poppin Papadums, Fork and Fingers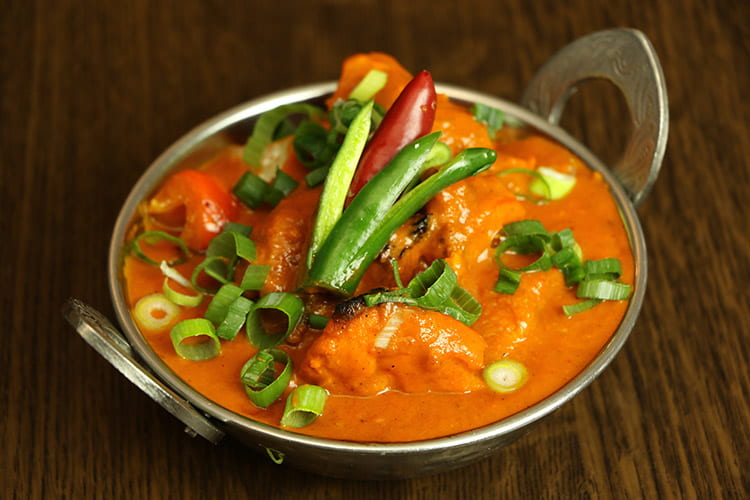 Photo credit: The Colonial
Tacos
Who doesn't love a taco party? A make it yourself taco bar in the workplace is a great way to get the office together, build rapport and reinforce bonds between work colleagues. Did you know that providing office catering can help increase morale and productivity?
A good DIY taco bar provides an appetising spread of toppings including black beans, chicken, beef, cheese, salads, salsa, guacamole, rice and sour cream. Ensure there are flour and corn tortillas for any gluten allergies and allow staff to get creative! There's no limit to the delicious combos staff can create to suit their preference.
Great for: Vegetarian, Vegan, Dairy free, Gluten free
Corporate caterers to try: Dos Amigos Catering, Pablo's Kitchen, Cuate Mexican
Photo credit: Dos Amigos Catering
Burgers
Whether you're lactose intolerant or you're living the no-animal lifestyle, there are quite a few delicious burger options available to ensure no one misses out on lunch. Some of our burger caterers in Sydney and Melbourne offer meaty vegetarian and vegan burgers that don't compromise on flavour. You can even opt for a yummy low carb option if you're feeling health conscious.
Great for: Vegetarian, Vegan, Dairy free
Corporate caterers to try: Soul Burger, Lord of the Fries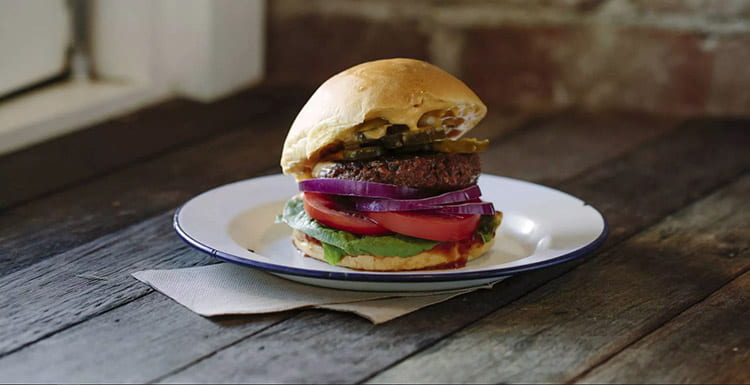 Photo credit: Soul Burger
Salads
No, we're not talking about the boring green salad that you simply order for the vegetarians as an after-thought. There are a large number of corporate caterers that offer a diverse range of hearty salads in Sydney and Melbourne that will satisfy those with or without a special dietary need! From healthy Vermicelli noodle salads, green mango or green apple salads from Vietnamese caterers to generous salad platters that are packed full of flavour and include an assortment of yummy low fat ingredients, including sweet potato, pumpkin, soba noodles, spuds and more. Whether you're looking for healthy eating options or tasty vegetarian meals, a yummy salad will always go down well.
Great for: Vegetarian, Vegan, Dairy free, Gluten free, (or even just those looking to get their daily dose of dietary fibre)
Corporate caterers to try: Chao Catering, Bruce Leaves, Foxes Den, Spudbar, Chilterns Catering, Moroccan Feast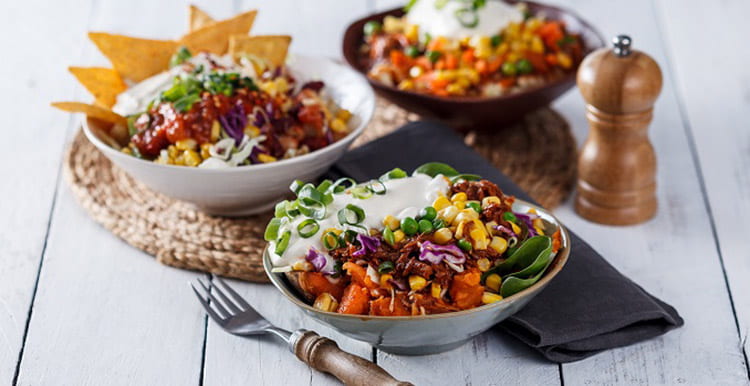 Photo credit: Spudbar
Special diet catering made easy
Don't neglect your gluten free, veggie loving or low carb work colleagues the next time you have to order office catering. We have an extensive range of corporate caterers in Sydney, Melbourne, Brisbane, Adelaide, Perth, Canberra and the Gold Coast that offer a tasty array of special dietary catering options. Need inspiration? Feel free to speak to one of our corporate catering experts on 1300 851 900 or on live chat for recommendations. Corporate catering services like Order-In will ensure speedy delivery, so no one goes hungry!