The beginner's guide to beer
From humble beginnings to an artistic revival, beer has had a journey like no other. Whether it's enjoyed after work for Friday night drinks, on a warm Spring evening or throughout a corporate event, there's nothing quite like that first sip of a freshly poured, cold beer.
From beer styles, to tasting techniques and fun team building activity ideas, this is your go-to beer catering guide.

A brief history of beer
Well it may be too difficult to track the first sip, keg stand or schooner, there's one thing we know for sure: people love beer and they have for a very long time.
The first known beer can be traced back to 3400 B.C. and was found at an excavation site in modern day Iran at the bottom of a jar. The Babylonians had recipes for the drink and beer consumption flourished throughout the Babylonian empire, but few loved it as much as the Egyptians. Pharaohs were buried alongside vats of the stuff and (as far as we can tell) the workers who built the pyramids were essentially paid in beer. Men, women and children drank beer, as it was seen as nutritionally rich. As the centuries continued, its popularity has risen and fallen, but has ultimately stood the test of time. Now there are a huge variety of styles and brewing techniques.
The basic formula for beer has remained largely the same for centuries, from the original recipe to beers we know today like Bud Light, Corona and VB. Beer is the fermented and alcoholic product of the combination of water, malt, hops and yeast. Variations aside, the trifecta of malt, yeast and hops form the backbone of the beer we know today.
From the classics to the crafts, beer is still loved as much today as it was back in 3400 B.C.

Beer style guide
Here's your breakdown of a few popular beer styles and what to expect from each one.
Ales
Ale is a type of beer brewed using a warm fermentation method, often resulting in a sweet, full-bodied and fruity taste. Ale is one of the most common beer types in the craft family, and many beers can fall under this umbrella category due to the variations in styles and tastes this beer can develop.
Pale ale
Predominantly brewed using pale barley malts, this style of beer is light and golden. Pale ale is a particularly popular in Australia and has a hop-forward malty flavour.
Amber ale
Originally a category made for beers that were neither pale ales or dark beers, amber ales have since developed into a unique style of its own. This beer usually has a pronounced toffee flavour with additional malts added to the mix.
India pale ale (IPA)
Modern IPA's has a strong, hoppy and bitter taste, with sometimes a slight citrus and floral flavour profile.
Brown ales
Ultimately named for its colour, the brown ales we know today are all about the rich, nutty and caramel flavours created by adding a variety of darker specialty malts.
Stout
Guinness has become synonymous with stout. This dark style of beer has a classically dry and rich flavour, often with flavours of chocolate, coffee or toffee.
American lager
American lager is a pale ale traditionally made in America (hence the name). This is a very light beer, both in colour and flavour, and pairs well with salty snack foods. An example of this type of beer would be Bud Light.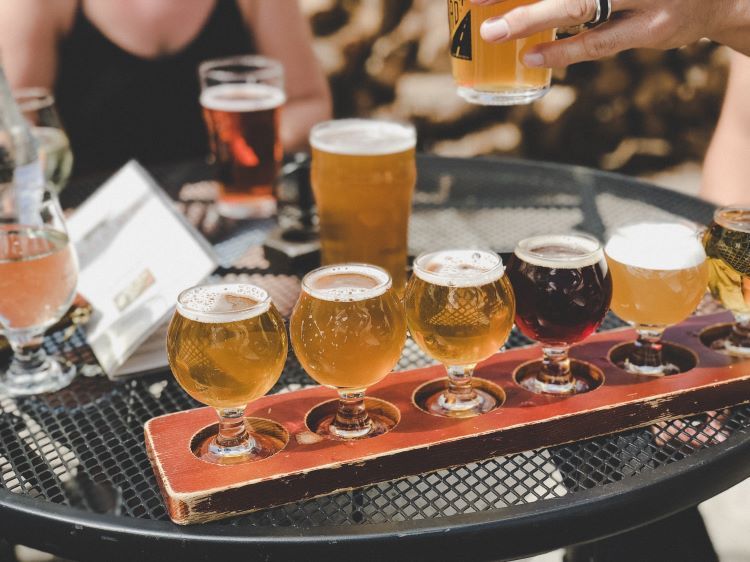 How to taste beer like a pro
Beer has long been the beverage someone reaches for after a hard-earned thirst, during a hot summers day or even combining it with ping pong sports. Yet, craft beer offers a new spectrum of flavours and experiences; a renewed attention and appreciation for brewing and tasting beer.
To bring you up to speed, you've first got to familiarise yourself with the components of tasting beer:
Aromatics: this is your olfactory experience of the beer. Or, if you want to keep it uncomplicated, how it smells.
Flavour: interacting closely with aromatics, the flavour of the beer is what you taste. There can be different levels and strengths of flavour in a schooner.
Mouthfeel: exactly what it says on the tin; how the beer feels in your mouth, what is the texture, carbonation or temperature? These are all features of the mouthfeel.
These elements (amongst a few others) intertwine with one another and are only hindered by your ability to conjure up new adjectives. From toffee, florals, pepper, citrus, pine, caramel and chocolate… the list of aromatics and flavours is seemingly never-ending. Their objective is to change your experience of tasting beer.
So now you're a seasoned beer tasting expert, why not put yourself to the test? Next time you get some beers delivered to the office, or if you're headed to an artisan brewery, taste your beer and start experiencing its flavour (listing those adjectives).
Take a sip or two to prime that palette
Let it coat your mouth and get a real sense of the mouthfeel
Then, if you want to get super serious, exhale after you take a sip to try and perceive aromatics and malt character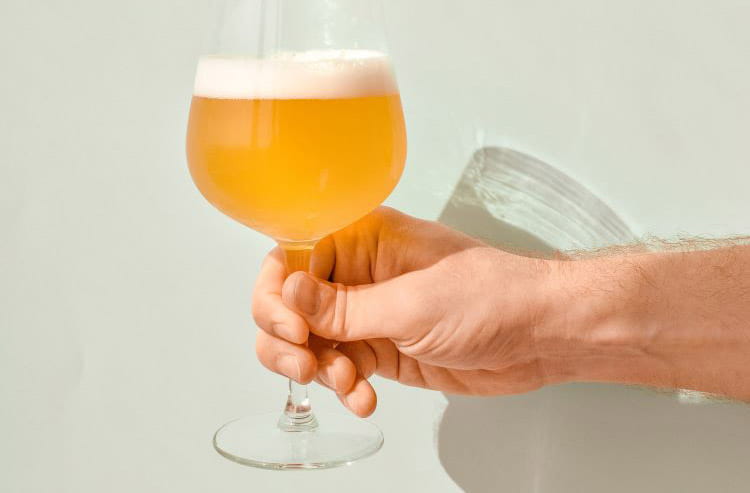 Team bonding and beers
Every September 7th is national Beer Lover's Day, so why not treat the team to a cold one (or two)! Of course, you can always count on our alcohol delivery service to cater for your Friday night drinks and office celebrations, but here are a few fun team building exercises to take it to the next level.
Craft beer tasting
Why not invite the team to a beer tasting experience? There are so many varieties of craft beers that there's bound to be a flavour for everyone. You can even order a selection of fine craft beers and keep the party in the office. With Spring right on the horizon, the weather warming up and the days getting longer, this could be just the thing your office needs at the tail end of the year.
Beer keg catering
Yep, you read that right. You can get beer kegs delivered to your office. While we don't suggest or recommend you take part in a keg stand, having a beer keg can be an exciting way to spice up your office drinks. Alongside the usual orders of red, white and sparkling wines, ciders and soft drinks, a beer keg can offer a fun addition.
Craft brewery tours
If you want to take team bonding to the next level, a craft brewery tour will do exactly that. It's an excellent excuse to get out of the office early one day or spend some time outside of office hours with your colleagues for some beer tasting fun. Head down to your local artisan brewery for a fun new experience!
Cork and canvas
These tipsy painting classes have risen in popularity in recent times and for good reason. There's something about taking a painting class (something that sends you straight back to childhood) and pairing it with some wine or beers. So next time you're in the market for a fun and unique team building event, crack a cold one with the team and take to the easel!
Mobile beer cart
If you're looking for a way to really get people excited about staff drinks for your upcoming corporate event, why not hire in a mobile beer cart? This modern style of beer catering is perfect paired with some platters and finger food. You can stock it up with your latest wine delivery, Captain Morgan, sweet vermouth, Bacardi rum and more. This could be a new Friday night hit for your office!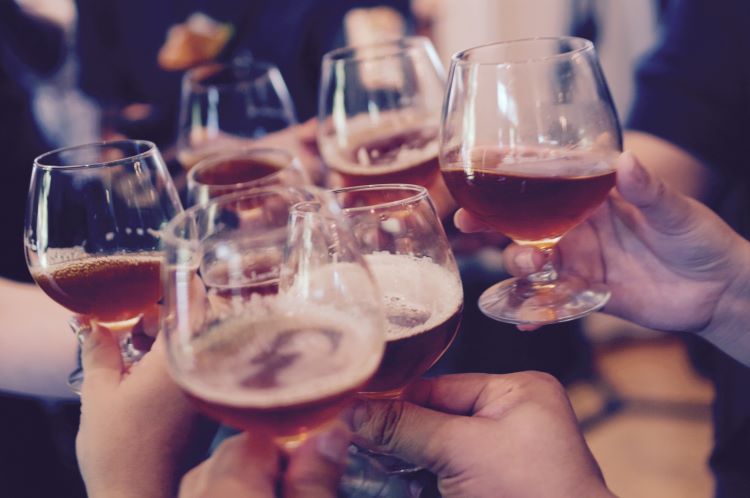 Stress free alcohol delivery with Order-In
Not a fan of beer? Get your alcohol delivered with Order-In. Get all your liquor store favourites; wine delivery, ciders, cocktails and just about any other alcohol you can think of with our hassle free bar services. Simply just request a quote! Whether it's staff drinks or corporate events, for easy liquor and alcohol delivery, use Order-In. Forget running down to the liquor store yourself, or lugging drinks into your office. Enjoy the convenience of having bar services brought to you with our high-quality liquor delivery service. Get your alcohol delivered to your office around Sydney, Melbourne, Brisbane, Adelaide, Perth and Canberra. And don't forget to fill up your belly first with some hearty corporate catering, finger food nibbles, cocktail party catering or even some last minute catering. Office catering has never been so easy! Give our friendly catering consultants a call on 1300 851 900 for a free quote.