Back to work tips for a happier, healthier you
Coming back to work after a holiday is never pleasant. One day you're relaxing on a beach and the next, you're staring at your computer screen.
But returning to the nine-to-five doesn't have to be so blah. Here are our top tips to help make getting back to work easier. We hope these tips will help make it easier to return to the daily grind and keep you happy at work.
Skip the coffee and exercise before work
Not only will you save about $4 every day, but your body will thank you for it. Exercising before work will boost your fitness levels and your mood. It's great for your heart and health and keep you feeling happy at work. Some kind of physical activity, whether it's walking to work, taking a yoga class, or going to the gym in the morning will help make you feel more energetic and alert.
Remove unnecessary distractions
Work smarter. Switch off your phone, turn off your social media notifications and close down your personal gmail account. You can catch up on your work items without getting distracted every 5 minutes. Check out our fun infographic to find out other ways of wasting time at work.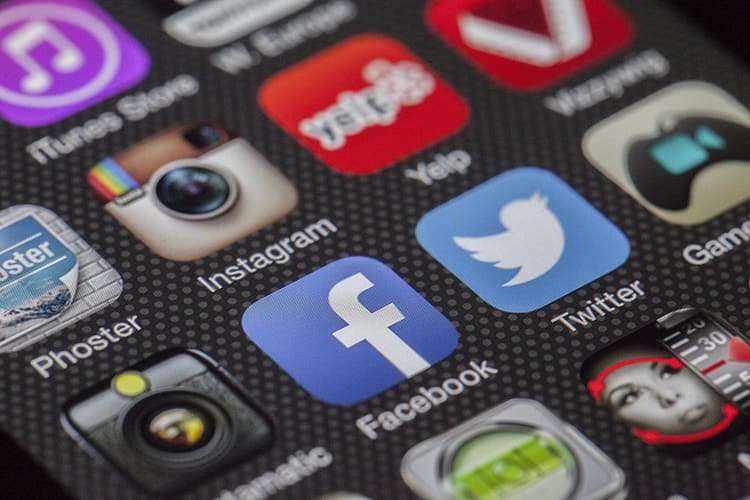 Tidy up your work space
You didn't get a chance to clean your desk before you left on holidays, so you're probably now being greeted by piles of unopened mail, folders and loose paper. Take a few minutes to clear your desk before you start checking emails. Chuck any junk mail, file, or throw away any documents you don't need. If you don't do it now, it will just pile up. According to a recent survey, 28% of survey respondents said they would save over an hour a day if their desk was better organised. Now is the best time to get organised at work before it gets crazy.
Quickly check your calendar
It's been a while, so you'll need a quick reminder on what's going on. Check your desk organizer or calendar for the upcoming week and prepare for any meetings or project deadlines. You don't want to be caught off guard for that 9am client meeting or that report you had to prepare.
It's also a good idea not to schedule any major meetings or deadlines during your first few days back in the office. It will just leave you feeling overwhelmed and stressed.
Organise your inbox
Get across what's happened while you've been away by sorting your emails by subject or sender, instead of reading them in chronological order. You can easily delete or file away any emails that are no longer relevant.
Do one thing at a time
You might be tempted to juggle five things at the same time, but this isn't necessarily the most efficient way to catch up on work - especially on the first day back at work! Don't stress yourself out – work smarter and more efficiently by focusing and working on one thing at a time.
Prioritise your tasks
Rather than working on the first job you see in your inbox, make a conscious effort to prioritise your work. What are the top 3-5 most important tasks you want to accomplish on your first day back in the office?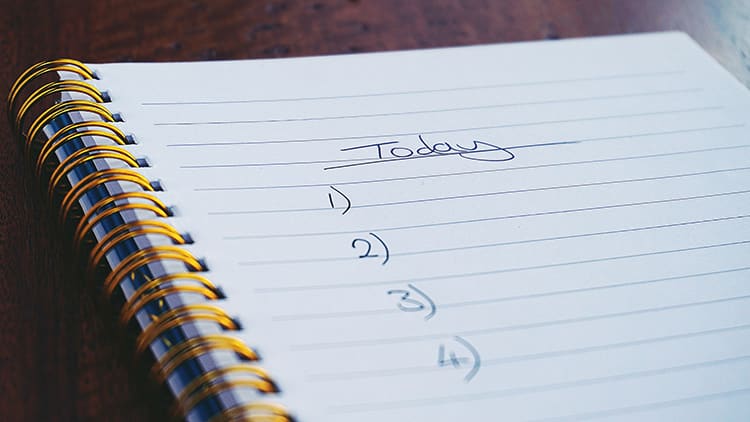 Take a break
It may take a couple of days to get back into your old routine, so it's important to take regular breaks throughout the day. You only have the capacity to focus and be productive for a certain amount of time every day, so make sure to stand up, walk around and stretch. Stand up at your desk. Take a break from your computer. Go to the kitchen to refill your water glass, take a short coffee break with your team, grab a healthy snack or go outside for a walk and get some fresh air. Taking a short break is a great way to de-stress and come back refocused.
Stay hydrated
Drink up! It's something we can forget to do at work, but it's so important to stay hydrated, as dehydration can cause fatigue and leave you feeling sluggish.
Create a playlist
Music can help improve your mood (and productivity). Get your playlist ready and listen to your favourite songs to get you through the day.
Take a walk (especially if it's sunny out)
A quick walk around the block is a great way to rejuvenate and boost your mood. It's good for your body and happiness.
Grab a team member or schedule a lunch date with friends. It will make the first week back seem less brutal. Grab a drink at the local cafe during your coffee break, or grab a gourmet cup of coffee from the office coffee machine.
Enjoy good food at work
There's no need to munch on a soggy sandwich in your first week back at the office! Take a proper break away from your desk to reset and refuel. Why not organise a welcome back staff lunch for the whole office? We can help feed you and your team without the stress. It's a great way to catch up on the latest goss and get everyone pumped for the new year!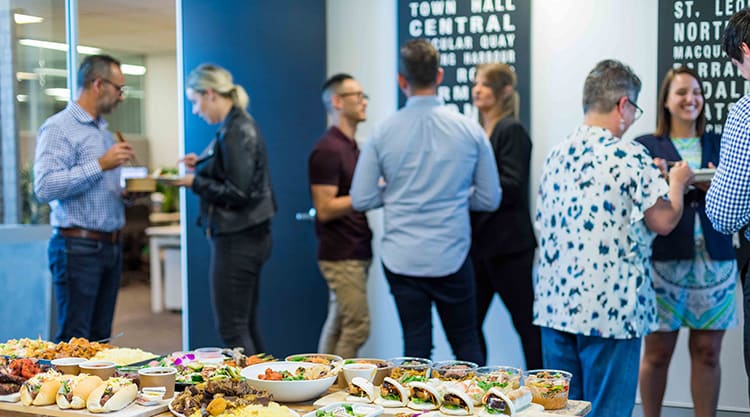 If you're looking for an afternoon snack, make sure it includes one of these energy-boosting foods.
Leave the office on time
Do you tend to stay back late catching up on emails the first few days back from holiday? Don't play the hero - it's ok to leave work on time. Set a timer or reminder, if need be, to help you get out the door on time.
Enticing office space
A naturally lit office space with lots of greenery, colour and comfortable office decor will help keep your people focused, productive and happy at work.
We hope these easy tips help make your first week back in the office more enjoyable. Oh, and did we mention that providing corporate catering for the office is another great way to transition back to work? Just give one of our friendly corporate catering experts a call on 1300 851 900 for inspiration or get a free quote. It's a great way to start the new year!