The best corporate afternoon tea ideas
When you hear the words afternoon tea, a picture of freshly baked scones with jam and clotted cream, steamy earl grey and a selection of delicate miniature sandwiches probably enters your mind. Although these are still crowd favourite classics today, there's a whole new world of afternoon tea menu selections to choose from.
A mid-afternoon platter offers a wonderful opportunity for a delicious mix of food. A perfect pick me up for that arvo conference or business meeting. Sometimes, all you really need is a cup of tea and a cupcake. So, whether you want a classic miniature savouries and sandwich set up, finger food platters, or a modern take on afternoon tea recipes, here are some ultimate afternoon tea ideas.
What is afternoon tea?
First, let's talk about what afternoon tea entails. It covers that awkward time of the day between lunch and dinner, when the 3pm slump kicks in and your stomach starts to rumble. It serves up a satisfying balance of sweet and savoury, while relaxing you into the evening.
There are traditionally three types of afternoon tea packages; cream tea, light tea and full tea. The first is a simple set up with scones, jam, clotted cream and beautiful vintage tea. Light tea adds more sweets to the party, while full tea is a healthy mix of both sweet and savoury menu options. Nowadays, afternoon tea time can be an assortment of different styles and cuisines.
When you're looking to cater an afternoon tea for clients, your workplace or for an office event, it is important to always include dairy free, gluten free, vegetarian and vegan options for all the special dietary requirements you are catering for.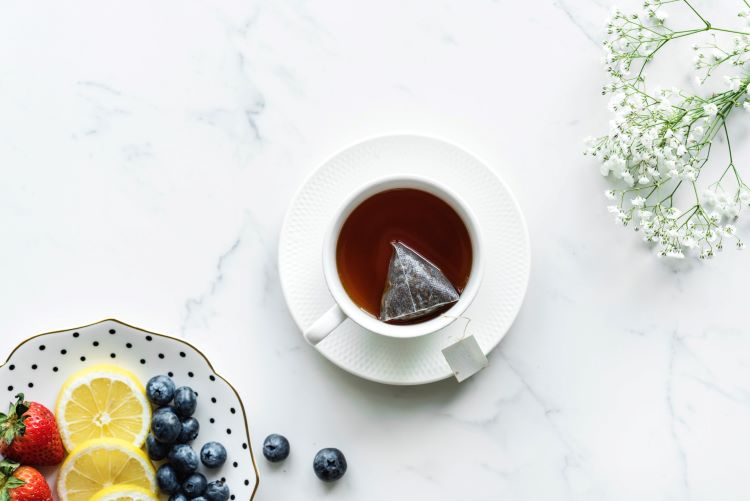 Afternoon tea ideas
Sweet stuff
Scones, jam and cream
A classic on any afternoon tea spread, freshly baked scones with jam and clotted cream. Add a selection of marmalades and seasonal fruit… You just can't go wrong.
Tarts
Caramel, lemon curd, passionfruit, cheesecake, and more! Tarts offer a range of tasty flavours to satisfy any sweet tooth.
Mini Victoria sponge cakes
A classic cake to include in any afternoon tea spread. Add lemon curd and cream for a unique touch.
Mini muffins
What can be more irresistible than tiny baked goods? Deliciously served as an afternoon tea treat.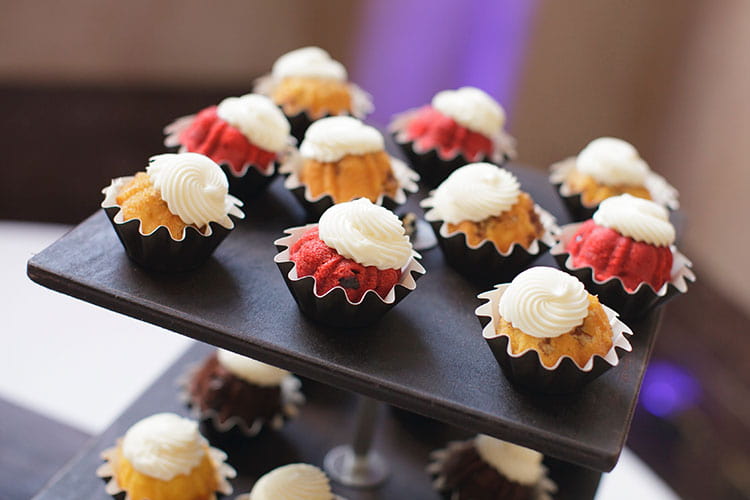 Cupcakes
Whether you're a red velvet, chocolate mud, or classic vanilla fan, cupcakes are never a bad idea. Also, this is a perfect compromise if you're not into whole cake slices as it allows everyone to try a bit of everything without filling up on a full cake slice.
Chocolate eclairs
Chocolatey, cream filled flaky pastry… can't get much better than that.
Macarons
For a touch of luxe and a high tea experience, add these colourful French treats to your afternoon tea party table.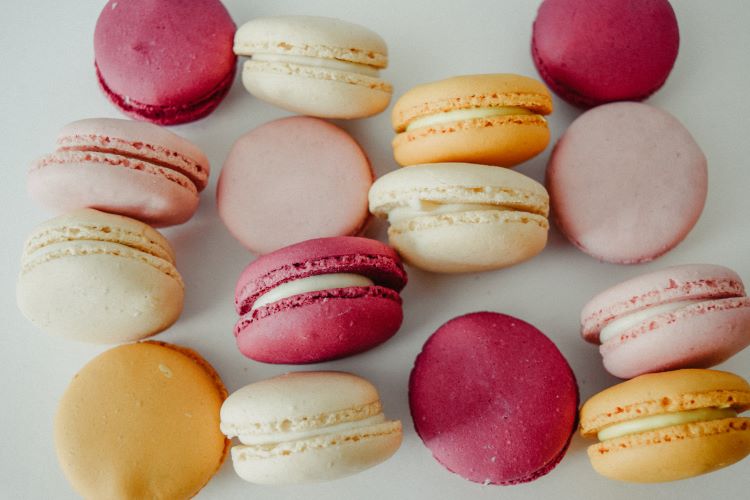 Savoury spreads
Savoury muffins
Savoury muffins offer everything we have come to love about soft, crumbly muffins, but with the added bonus of cheese. Try out cheesy vegetable, zucchini bites, or sweet potato and feta!
Finger sandwiches
Another classic finger food, crustless white bread finger sandwiches with delicate fillings not only make you feel extra fancy, but they taste delicious. Cucumber, smoked salmon and cream cheese, chicken or egg salad, yum!
Mini quiche
There are so many varieties to choose from, so you can make sure there are some hearty vegetarian and special diet friendly food options on your table.
Something different
Sushi
For something unique but satisfying, why not add a sushi platter to your afternoon tea menu? There are a variety to choose from so you can have gluten free, dairy free and even vegan options.
Pizza bites
Mini pizza bites can make a tasty addition to any afternoon tea menu. From vegetarian margherita, pumpkin rocket and feta to pepperoni, prosciutto and seafood varieties, there's something yummy for everyone.
Sliders
Little burgers that pack a flavour punch. Perfect for a more casual setting, or if you have a few hungry mouths to feed.
Grazing platter
Try out a modern spin on an afternoon tea with a selection of cheese, deli meats, fresh bakery bread and fresh fruits for colour. Not only will this look beautiful, but it'll taste great.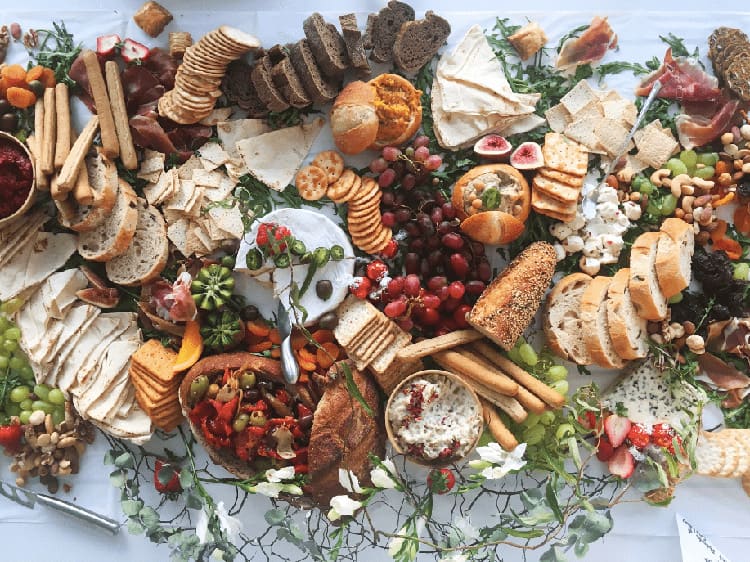 (Photo credit: Platter Wonderland)
Healthy options
Yoghurt and granola
There are no hard and fast rules for what you can have in your spread, so try out some Greek or coconut yoghurt cups drizzled with honey and topped with fresh seasonal fruit. Perfect for all dietary requirements.
Fresh fruit skewers
Fresh seasonal fruit on skewers ready to go. Enough said.
Crudités and dip
Crunchy veggies, crackers and fresh soft bread served with hummus, tzatziki, French onion, blue cheese, taramasalata or whatever flavour you like!
Bliss balls
Something small, sweet but still good for you. Bliss balls are the perfect compromise for an afternoon tea treat, while still satisfying any sugary cravings.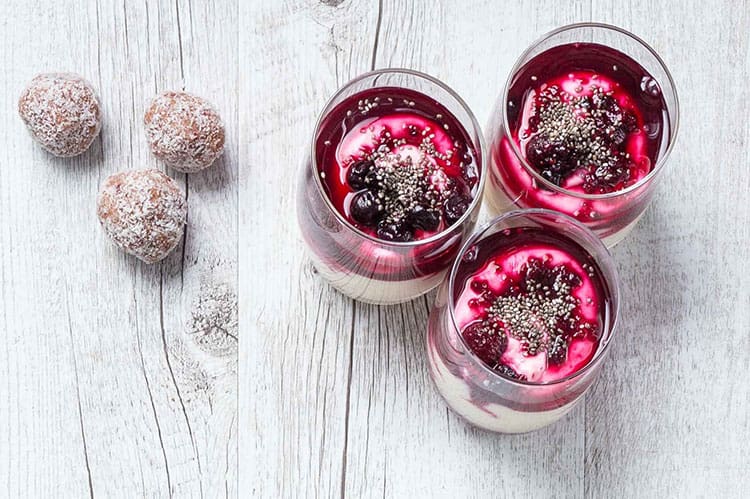 What to drink for afternoon tea
The top 10 teas to serve at afternoon tea:
Earl grey
Assam black tea
Chai tea
Chamomile
Peppermint
Green tea
Smokey tea e.g. Russian Caravan
Ginger tea
Rose bud tea
Darjeeling black tea
Tip: Be sure to include a variety of dairy and dairy-free milk selections. Also have sugar and sliced lemons on hand for people to include in their cuppas.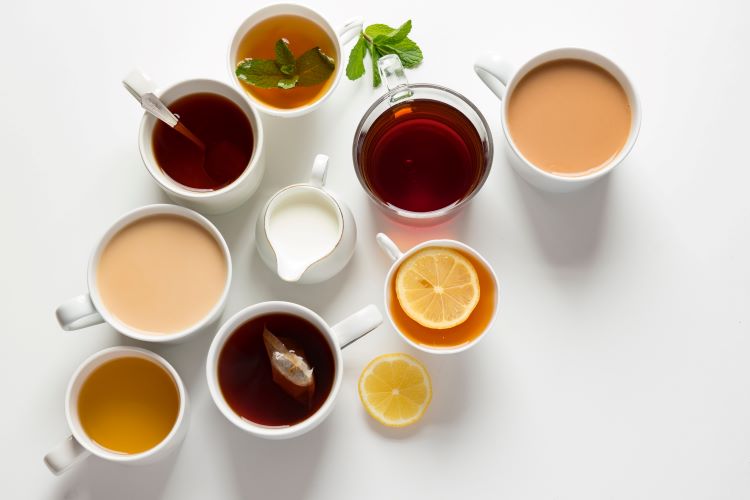 Coffee
Freshly brewed coffee can complement any afternoon spread.
Juices and smoothies
If tea or coffee isn't your thing, fresh juices or smoothies are never a bad option. Healthy, delicious and satisfying, they will be a welcome addition to any afternoon tea catering menu.
Fresh punch
Use any extra tea to make up a tea and fruit punch! Fruity and refreshing, your guests will love this inclusion.
Champagne
If you're celebrating a particularly exciting office achievement, why not spruce up your afternoon tea with a few glasses of bubbly.
Afternoon tea delivered
Need catering for a morning or afternoon tea? No worries! We can offer a wide range of corporate catering menus and tea packages for your next office event in Sydney, Melbourne, Brisbane, Adelaide, Perth, Canberra, Newcastle, Wollongong and the Gold Coast. From sweet to savoury treats, and everything in-between, we'll have everyone raving about your scrumptious afternoon tea menu! Order online now, or give our friendly catering consultants a call on 1300 851 900 for suggestions and inspiration.