5 innovative office catering trends in Sydney
When it comes to corporate catering, boardroom tables in Sydney are turning fast. Once predominantly a place of work, the corporate world has embraced the boardroom as a place for celebration and enjoying a little treat during meetings.
While the good old sandwiches do remain an important component of feeding your clients and crew during lunch, here's a look at some innovative corporate catering ideas and trends that more and more offices in Sydney are ordering. Check out these Sydney office catering trends for your self and try them for your next working lunch or event.
1. Shared food platters
If your office is located in areas such as the Sydney CBD, North Sydney, the trendy Inner West, the sunny Eastern suburbs or Western Sydney like Parramatta, then you are well-placed to jump on Sydney's latest menu of share food platters.
Once a scene of traditional delights like sandwiches, cakes and miniature pies, you can now enjoy a spread of food platters containing a range of yummy treats. Anything from burger sliders, miniature rice paper rolls and fudge brownies can adorn your platter for the office to share, or for your clients to enjoy.
Never underestimate the value of a platter spread, for you can provide more variety for your money, and food portions which can be eaten with little clean-up. It's also much easier to provide for special diets with a platter menu. All you need to do is label the relevant platter, and the lucky employee or client will be able to enjoy their office catering.
Corporate caterers in Sydney to try:
2. Creative canapes and finger food
When finger food is the desired catering spread for a cocktail party or special event, you might want to consider jumping on a growing demand for canapes. Canapes are small finger food items consisting of a cracker, piece of puff pastry or other crisp base, upon which other morsels of food are layered to create a festival of flavours.
Don't be afraid to get creative or try something new with your canape catering menu. Anything from Brie tartlets to antipasti skewers will dress up the boardroom for an impressive feast, and fill all the bellies hungry for catering at the office cocktail party.
Canapes are perfect if you want to show a special client the class that your team can bring to the boardroom table (as well as the account!), or if you want to treat the team to something special during the company cocktail party. There are also a range of delicious gourmet canapes and finger food items for special diets.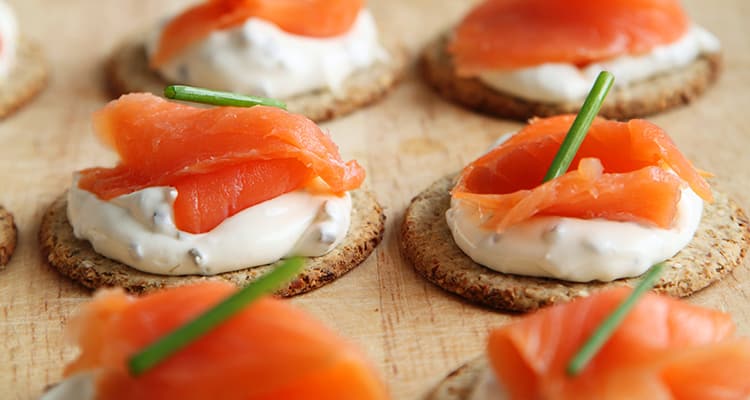 3. Green catering
More than ever before, people are interested in where their food has come from, whether it is locally sourced and if it is sustainable. Not only are seasonal, locally sourced foods delicious, they offer a lowered carbon footprint, as there is less travel time between the source and your table. Ordering the right amount of food is also an important aspect of sustainable catering, so check out our catering quantities guide next time you're in need of some advice.
Reducing food waste, utilising reusable or recyclable crockery and cutlery at corporate events have also seen a spike. Single use plastics and excess food can have negative impacts on the environment so many corporate caterers are giving sustainable alternatives. Here at Order-In, we give our caterers a sustainability rating, so it's easy to see who best suits your best catering needs. Why not consider crockery and cutlery hire, if you want to steer clear of throwaways. Many companies are taking these steps when deciding to order some delicious office catering.
Sydney caterers to try:
4. Keeping it clean
Hand in hand with sustainable catering, comes the demand for healthier, wholefood, vegetarian or even vegan catering. More than 50% of Order-In's total catering orders include special considerations for voluntary diets like veganism or vegetarianism. Of course, there has always been people who require gluten free or dairy free options (with 1 in 5 Aussies having a food allergy or intolerance), but now 7% of Australians refrain from eating certain things because of beliefs, ethical reasons or because they want to stay mindful of their diet.
Now, these stats may seem daunting when you're faced with catering for the entire office on your own, but Order-In have made it a breeze. We can help take the pressure off with endless catering menus that can satisfy any need, taste or diet. Need some more tips? Check out our ultimate guide for special diet catering here.
Don't fret, healthy catering doesn't have to be a bore! Think poke bowls with options of fresh fish or succulent edamame! Have a buffet line up of spicy stir fries, flavourful curries with brown rice to keep it interesting. You can even keep everyone in the office happy with plant-based milks, fresh fruit and nuts to snack on.
Where to order: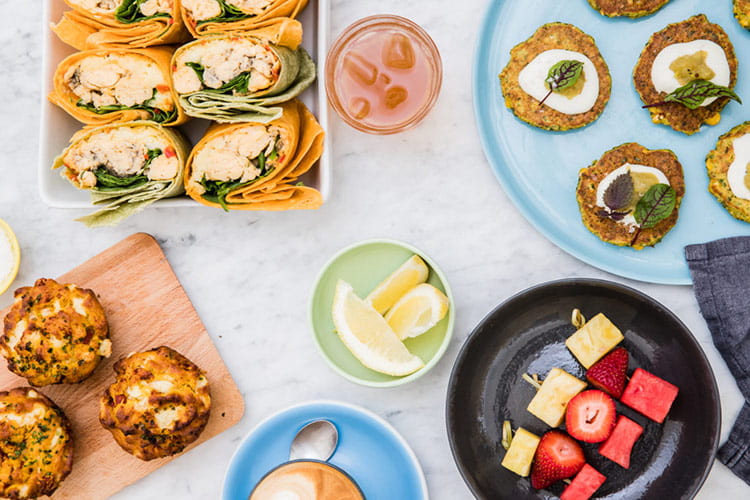 Photo credit: Transform Health Kitchen
5. Culinary globetrotting with international catering
Culinary globetrotting and themed international catering are growing more popular in Sydney offices every year. Sydney is one of the most culturally diverse cities in the world, and there's no reason why corporate catering should not embrace the vibrant flavours that make up Sydney's palate.
Popular catering trends include Mexican catering, Latin and Asian catering, but European options also remain a strong component of the market. Read on to see three themed spreads you might like to put on display at your next boardroom meeting or cocktail party.
Brazilian catering
Fancy a barbecue with a twist, then a Brazilian catering spread might be the option to get your office licking their lips. From marinated servings of fresh lamb, herb and garlic chicken thigh and pumpkin and mint couscous, a Brazilian barbecue offers Latin flavours to the Australian palate.
Brazilian catering tip: We recommend Brazilian catering for an occasion when the Sydney team is ready to unwind, such as Friday night drinks or the company cocktail party.
Where to order:
Vietnamese catering
Vietnamese catering offers Sydney offices a lighter option. It will work best for working lunches, business meetings and other occasions when you need tidy portions, which can be easily eaten.
Vietnamese catering is at your fingertips with tasty office catering options like rice paper rolls, bao buns, and fresh seasonal fruit salads. Crispy spring rolls and tofu-centred dishes are also on trend, such as a gourmet tofu and papaya salad.
Vietnamese catering tip: Serve your rice paper and spring rolls with a sweet chilli sauce to provide that extra flair from Hanoi and Saigon.
Where to order:
Paella parties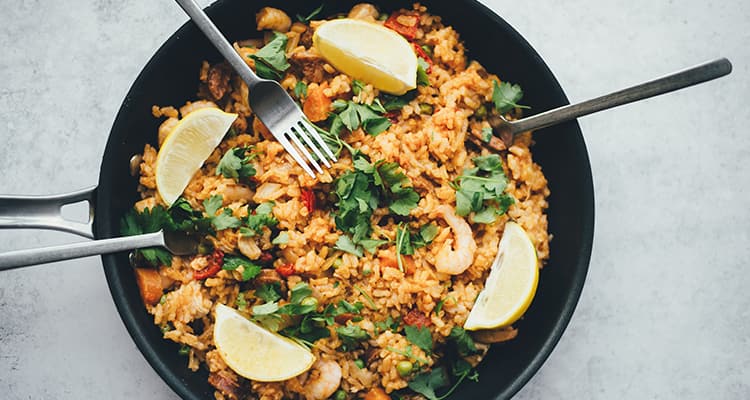 Paella parties are a new and popular occasion in Sydney offices, embracing the rich flavour of Spain. Currently on trend are the classic Spanish paella, as well as Indonesian, Moroccan, Indian, Greek, and Mexican dishes.
Paella is essentially a rice dish, which incorporates a range of other ingredients relative to the cultural inspiration. Typically including a protein, vegetables and herbs and spices, this mixed dish is one to try if you want to spice up the boardroom with something a little different, but exceptionally tasty.
Paella catering tip: One idea for a Paella catering is the quarterly company update. If you've had a successful quarter, you may wish to reward the team with a delicious spread to thank them for their efforts.
Where to order:
Jump on a Sydney office catering trend today!
Sydney is rife with exciting opportunities to do office catering uniquely and to do it well! If you're tired of traditional catering menu options like sandwiches and muffin platters, then don't be afraid to branch out and try something new for your next working lunch or corporate event. From creative buffets to BBQ catering or even hearty fare from a food truck, add some excitement to your catering order today!
The options we've recommended above are only a scratch on the surface of what's out there, so if you'd like to know more about other Sydney corporate catering trends, tips or ideas, contact the Order-In team today!