Strange and unusual pizza toppings you have to try
We've got nothing but mad love for pizzas and the classic toppings, but sometimes, don't you just want go a little crazy? We know it's hard to beat pepperoni, but if you're not afraid to try something new on National Pizza Day on 9 February, try these fun flavour ideas and combinations below at your next pizza party. Be warned – you may (or may not) try these again!
Beet pesto with goat cheese
Beets and goat cheese are best friends and we can't get enough of this delicious combo! Simply substitute basil for beetroots in your pesto sauce for a creamy and delicious pizza topping.
Caramelised onions, apples and goat cheese
Apples and onions might not sound appetising, but when baked, they create a deliciously sweet and savoury combo. Add a little thyme and a drizzle of honey over the top and you've got the perfect pizza. You'll impress everyone at your pizza party with this beaut.
Breakfast pizza
Combine your two loves into one with the breakfast pizza! Try these topping ideas: sausages, Parmesan cheese and egg or bacon and eggs on your pizza!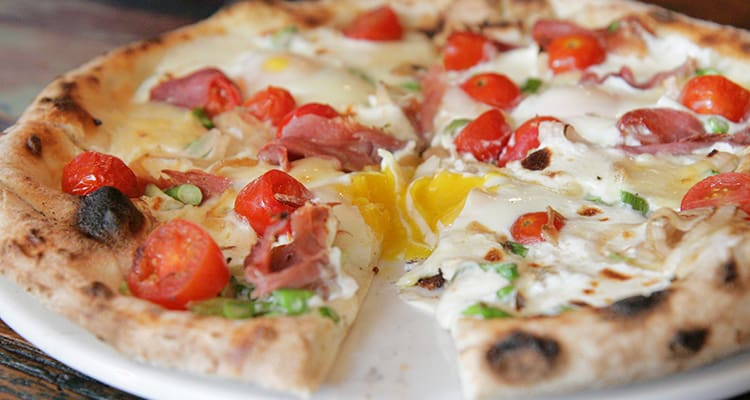 Photo credit: Alexis Lamster – Flickr
Bacon, sausage, jalapeno and sriracha sauce
Meat lovers will love this pizza…if they can handle the heat.
Rhubarb, basil and apple honey BBQ sauce
It sounds like a strange combo, but surprisingly it works. The rhubarb combined with the basil and BBQ sauce create a savoury and delicious pizza.
Grilled honey chicken with sriracha sauce
The heat from the sriracha sauce mixed with the honey creates a sweet heat that will leave you wanting more….and more…
Calamari
Crispy fried calamari rings on a pizza? Sounds crazy, but it works! Add a variety of cheeses and baby spinach, or try drizzling aioli sauce over the top.
Red peanut curry
If you're torn between Indian or Italian for dinner, why not combine the two on a pizza? Why not try chicken cooked in red peanut curry and topped with fresh basil leaves. You could substitute chicken with any protein, like beef, pork or prawns.
Chicken tikka masala
One of Britain's favourite dishes, the creamy/tomatoey sauce is the perfect topping on a pizza and not too spicy so everyone can enjoy it. You can't go wrong here.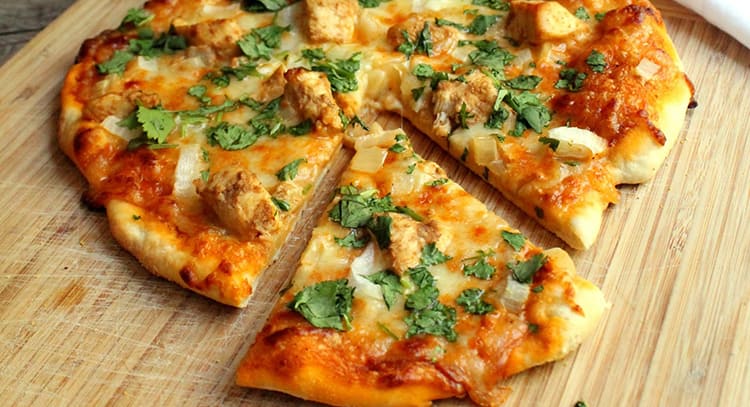 Photo credit: The Stay at Home Chef
Nacho pizza
Nobody says you can't put some delicious and spicy nacho meat and beans, covered in cheese, right on top of a crispy pizza base. Add some corn chips around the side and a couple of dollops of sour cream and guac in the centre! Yum!
Dessert for dinner
Picture it: chocolate spread for the base, topped with fresh bananas, strawberries and blueberries, with a scoop of ice cream per slice. If you're really looking for that sugar rush, pop on a few marshmallows before putting it in the oven. Gooey, chocolately, sugary galore!
A golden slice
Yep, you can eat golden pizza. That is, if you have a spare US$2,000 to spare. Industry Kitchen in New York City can serve up a golden pizza, complete with caviar, foie gras and truffles. May not be on the 'must try list,' but unusual, nonetheless.
---
Unusual toppings from around the world
Pizza is so popular that every country has its own variation and it will vary depending on the region, cultural preference and local food available. Check out some of the interesting ones below and look out for them on your travels.
Russia
In Russia, the mockba is a commonly consumed pizza that is topped with sardines, tuna, mackerel, salmon, red herring and onions.
Brazil
You might not be a fan of green peas, but in Brazil, they love it so much that they add it to their pizza! Other popular toppings also include quail eggs, carrots, beetroot and raisins.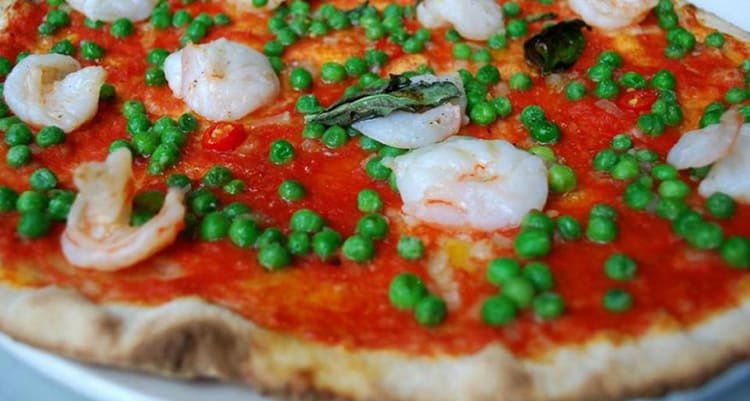 Photo credit: TripHobo
Costa Rica
Shaved coconut is a popular ingredient on pizzas.
India
Pickled ginger, paneer and minced mutton are popular toppings. Another typical Indian pizza is tandoori chicken.
Sweden
A favourite in Sweden is the banana curry pizza and includes peanuts, bananas, chicken, pineapple and lots of curry powder.
Japan
If you're ever in Japan, try these unusual pizzas. The Japanese like to add Saba, or pickled mackerel fillet on their pizza. Another popular pizza is Ikasumi, or squid ink. It's blended with tomato pizza sauce that creates a dramatic black sauce for the pizza dough and has a slightly fishy flavour. If you want to try something a bit tamer, the teriyaki chicken pizza is an option.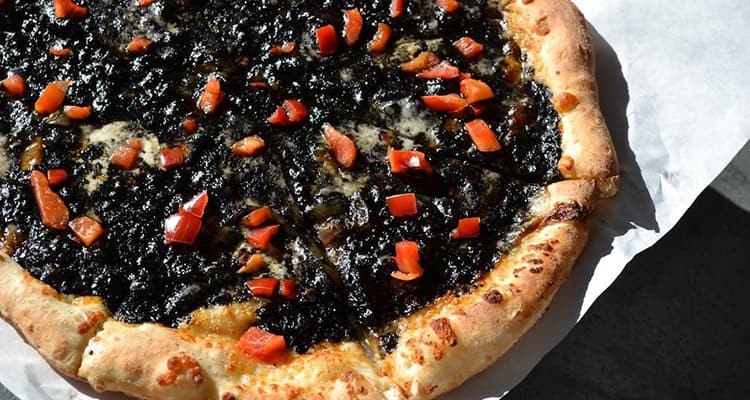 Photo credit: Food Envy
Germany
Canned tuna is a popular topping in Germany that's mixed with other ingredients, such as olives, onions and other veggies.
Australia
Crocodile pizza is a thing at The Australian Hotel, located at The Rocks in Sydney. It's mixed with mushrooms, fresh mozzarella, eggplant and olives. Or try the half emu and half pepper kangaroo gourmet pizza with bush tomato, capsicum and lemon myrtle mayo.
USA
This might not be for everyone, but in Missouri, a popular pizza topping are cicadas! They have a nutty tasty, but beware of the legs as they can tickle on the way down.
---
Pizza catering with Order-In
If you're not quite ready to try these wacky pizzas and you'd rather stick to the classics thank you very much, order pizzas from our corporate caterers today for your next business meeting or team lunch. We promise, there'll be no surprises here.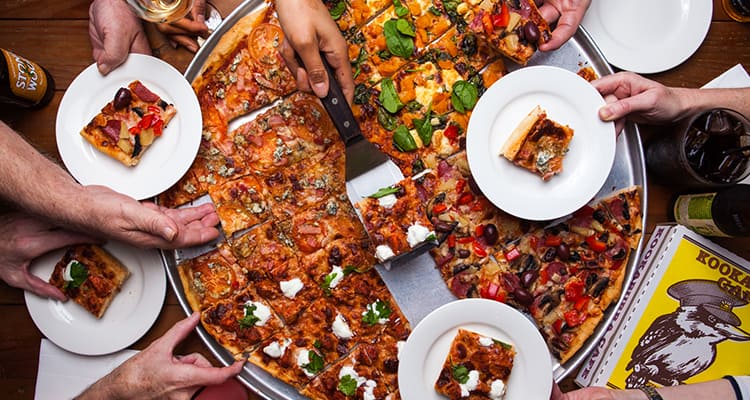 Photo credit: Kookaburra Cafe
Some of our favourite pizza party catering suppliers in Australia include:
Crust Gourmet Pizza: Find a Crust Gourmet Pizza near your office, including Belconnen, Cheltenam, Croydon, Braddon, Gymea, East Brisbane, Lane Cove, Mt Lawley, Nerang, Parramatta, Pyrmont, Southport, Subiaco, Melbourne, Surry Hills, Surfers Paradise, Weston, Alexandria, Port Melbourne, Kilsyth, Willoughby, Dulwich Hill, Cairns, Bentleigh, Coolangatta, Wollongong and Broadbeach.
Wise Guys Pizza: Wise Guys have been serving traditional pizzas in Melbourne for over 10 years. Check out their pizza catering menu for your next fun and casual lunch.
Made in Italy: With 3 locations in Alexandria, Sydney CBD and Pyrmont, Made in Italy bring their authentic, Italian flair and flavours straight to your office.
Roam'In Pizza: Make your next Brisbane event or function memorable with a mobile wood fired pizza catering service from Roam'In Pizza.
Corbett & Claude: Offering mouth-watering pizzas that everyone will love, try Corbett & Claude for your next working lunch.
Arrivederci Pizza: These guys have been voted Brisbane's best pizza by listeners of 97.3fm!
11 inch Pizza: Fresh gourmet pizzas, mini pizzas and calzones for your Melbourne office from 11 inch Pizza.
Carlisle Pizza: Known for their freshly baked crusts, you can't go wrong with Carlisle Pizza.
Crisp: Perfect for Friday drinks the office - check out Crisp.
Doughboy: Delivering mouth-watering pizzas to your office from 2 locations including Artarmon and Surry Hills.
Duke: Check out the 24 inch pizzas from Duke!
La Porchetta: Perfect for working lunches or with Friday drinks, La Porchetta have 4 locations in Melbourne - Glen Waverley, Rowville, South Yarra and Geelong.
Manoosh Pizzeria: Try a Lebanese pizza from Manoosh Pizzeria in Waterloo.
Scoota Pizza: From traditional to gourmet, Scoota Pizza can deliver to your Sydney office.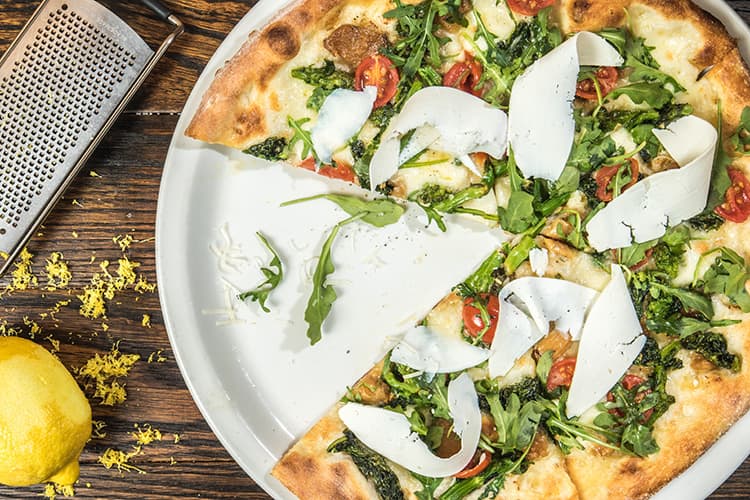 Order pizza catering for your next working lunch, event or for Friday night drinks with one of our office caterers or call us on 1300 851 900. They'll have a delicious range of menus to feed a hungry crowd, from the classic ham, pineapple and cheese pizzas to specialty pizzas like Moroccan lamb or a pulled pork and slaw pizza.