The ultimate Order-In party season survival guide
It's that time of year again and the holiday party season has kicked off. There are festive end of year/Christmas party events to attend, new outfits to wear, friends and family to catch up with and lots of food and drinking to enjoy!
If you love a good party, it's time to let your hair down and have some fun, but you'll need all the help you can get to make it through the festive holidays and ensure there are no embarrassing stories next year. As corporate catering and party experts, we know a think or two about surviving the Christmas party season, so follow our tips below and you'll be fine!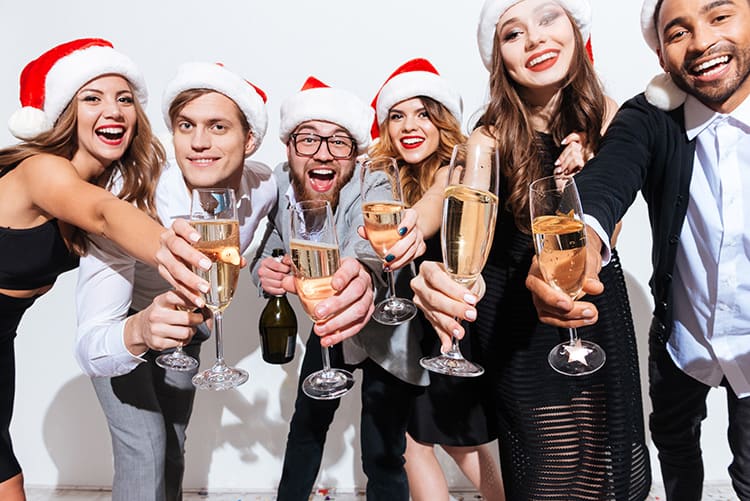 During the party
It's important to stay hydrated, so drink plenty of water throughout the evening
We recommend drinking a glass of water before you start on the alcoholic drinks and ideally one in-between each alcoholic beverage. This will help dilute the alcohol in your bloodstream and help you last the distance
Never arrive at the office Christmas party hungry. That way, you won't be tempted to eat every nibbly in sight!
Have a small protein-rich snack a couple of hours before the party. You'll be less likely to overindulge and the alcohol won't get absorbed as quickly into your system.
Eat something before and while you're drinking. This will help slow down the absorption of alcohol
Beers are packed with loads of carbs, sugars and toxins and can give you a nasty hangover the next day. Try, or look for better alternatives, such as craft beers
Don't forget to work the room and mingle! While you may be tempted to spend time with the usual gang, the office party is a great way to meet people from other departments too.
Nobody wants to talk shop at the office party. While some business-related conversations will occur, don't come to the party with an agenda, asking about a pay rise or that new position opening up. Also, try to avoid gossiping about your co-workers.
Avoid any public displays of affection. The office party is also not the best time to make a move on that co-worker you've been crushing on.
Relax and enjoy yourself at the end of year party, but don't get plastered and embarrass yourself in front of everyone. Pace your drinks, try to stop drinking an hour before you leave and if you do become too intoxicated, it's time to immediately find a cab and leave!
Drink at least a litre of water before you go to bed. Have a bottle beside your bed for when you wake up the next morning
Healthy options at the party
Tired of the greasy spring rolls or heavy Christmas buffets? Here are some alternative, light and healthy finger food options to check out during your festive office Christmas party.
Rice paper rolls
Sushi
Smoked salmon on toasts
Chicken and vegetable skewers
Turkey cranberry meatballs
Beetroot bruschetta with goat cheese and basil
Chickpea fritters with aioli
Mini tortillas with salad and Mexican beef and bean filling
Fruit skewers or a fruit platter
Cheese platter
Antipasto platter
Crudites and dips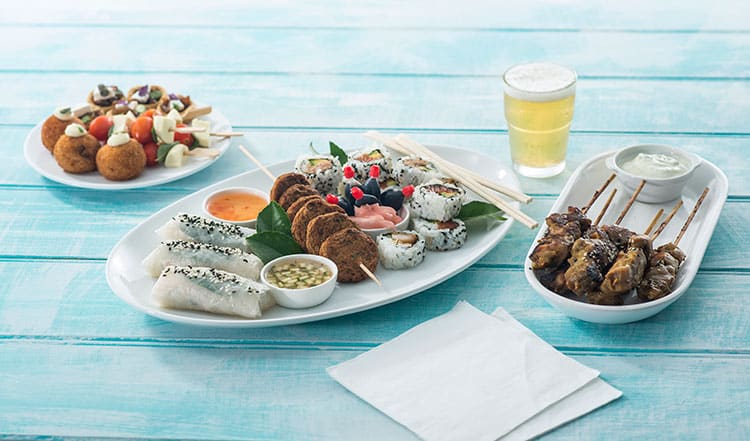 The next day
Eat a healthy breakfast to give you energy and help clear toxins from your body
Replace lost electrolytes – add lemon, salt and honey to water will help replace the sodium and glycogen lost the previous night
Don't drink tea or coffee the next day, as this will only further dehydrate you
After a big night out, it's tempting to just lounge around your home, but we recommend exercising the next day or two. It will usually make you feel a lot better and help clear toxins from your body
Plan something fun to do, or go to the park – anything that will get you moving. This will help clear more toxins from your body
Why not try
Eggs on wholegrain bread – egg yolks contain large amounts of cysteine, which helps break down acetaldehyde, one of the culprits behind a hangover
Oat porridge with chopped banana – good for hangovers. It contains vitamin B, which help reduce the stress your body is under. The banana will also help restore lost potassium
Fruit smoothies – natural yoghurt, banana and berries is great for hangovers. Dairy is another good source of cysteine and works well paired with high vitamin C fruit
Last, but not least, it's important to have fun! You've worked hard all year, so now's your chance to relax, get to know your colleagues better, enjoy the food and drink and be entertained. If you need Christmas party catering in Sydney, Melbourne, Brisbane, or alcoholic drinks for the office, speak to our corporate catering experts today for a free quote.
Have a great holiday season and see you next year!