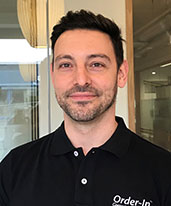 Meet the team! Luciano Lima – Key Account Manager
Meet our Key Account Manager, Luciano Lima. Luciano is focused on building strong relationships with our customers in Melbourne and ensuring their needs are met. Get to know Luciano a bit better as we ask him 5 quick questions.
---
Who
Luciano Lima – Key Account Manager in Melbourne.
Tell us a bit about yourself and experience
I love spending time outdoors exercising and going to the beach when Melbourne turns up the good weather.
With more than 10 years' experience in event and corporate catering, it's no surprise that I'm a bit of a foodie.
Favorite part about working at Order-In
It's an inspiring company with great energy and a 'go the extra mile' mentality.
Favourite food
I'll never say no to a wood fired pizza.
Fun fact about you
I lived in Italy when I was a young boy.
Hidden talent
My amazing basketball skills!
Order-In tip
Order a sweet treat for your next working lunch. Your colleagues will love you for it.