11 tips on how to increase productivity in your office
Working in a boring, dimly lit office can have a huge impact on staff productivity, efficiency and even their mood. We spend far too much of our waking hours at work, so why not make it a place where your employees want to be? In fact, according to studies, making a few adjustments to your workplace can help improve staff and office productivity by 20%.
Check out our simple tips and ways to improve and help ensure your staff stay focused and happy. Happy employees are productive employees and these little adjustments could have a major impact for your business. From adding some colour, to throwing a pizza party, check out our simple tips to help ensure your staff stay focused and positive.
1. Let the light in
Research shows that working in a dimly lit office can reduce your ability to learn and remember by 30%. It can also strain your eyes, cause headaches and result in drowsiness and reduced productivity.
Having soft or natural lighting can help boost your mood, energy levels and improve office productivity. It can result in:
Reduced fatigue
Lower rates of depression
Positive improvement in employee performance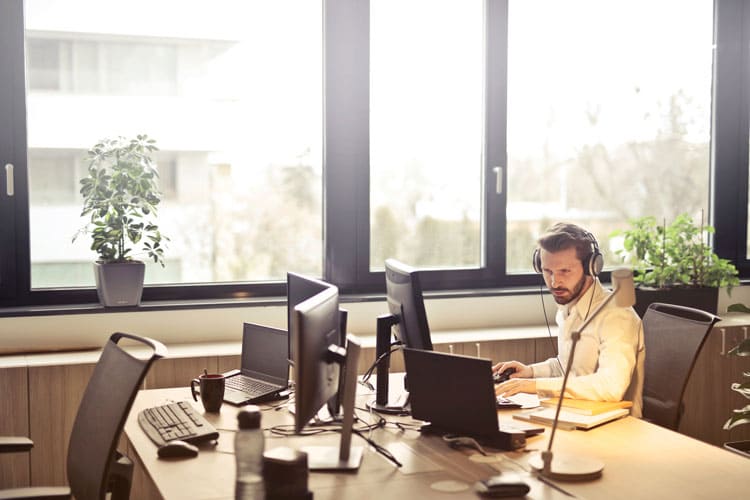 2. Regulate the temperature
In a 2015 Career Builder survey, 53% of respondents said they were less productive when they were too cold at work. But what's the ideal temperature? According to a 2004 study by Cornell University, employees were more efficient when they are warm – at around 25 degrees.
3. Add some greenery to your workspace
Plants are one of the easiest ways to make the office feel more like home and they're a perfect addition regardless of the size of your office space. Add large plants to corners and open spaces or small, easy to maintain plants or flowers to cubicles.
Plants have been proven to reduce anxiety, tension, stress, depression, sickness and fatigue. Other studies have found that there was a 15% increase in productivity in spaces with plants. Plants also help improve air quality in the office.
4. Add pops of colour
Blank white walls can be boring, so don't be afraid to add some colour to the walls to inject some personality to your office space and make it more welcoming. It doesn't have to be paint – it could be anything from fun graphics to artwork or the sofa in the reception area!
Colours can affect our moods, energy levels and productivity, so choosing the right colours for your office space is very important.
Green is associated with growth and promotes feelings of harmony, balance and creative thoughts. It can help reduce anxiety and eye strain
When people see red, their reactions become faster and they gain an energetic boost. However, it can be short-lived and can reduce analytical thinking. This could be too distracting to use in the office, but consider applying this colour to the kitchen or dining area to stimulate socialising
Blue is calming and makes us feel stable and at peace. It has been accepted as one of the most productive colours and is great for brainstorming and detail-oriented work. It calms and soothes, and improves efficiency and focus. What can't blue do?
Yellow is a welcoming and energising colour that can raise positivity. It stimulates optimism and encourages focus and direction. But beware – too much yellow can increase anxiety
Brown can be associated with laziness, which might not be ideal for your office
Orange inspires energy and endurance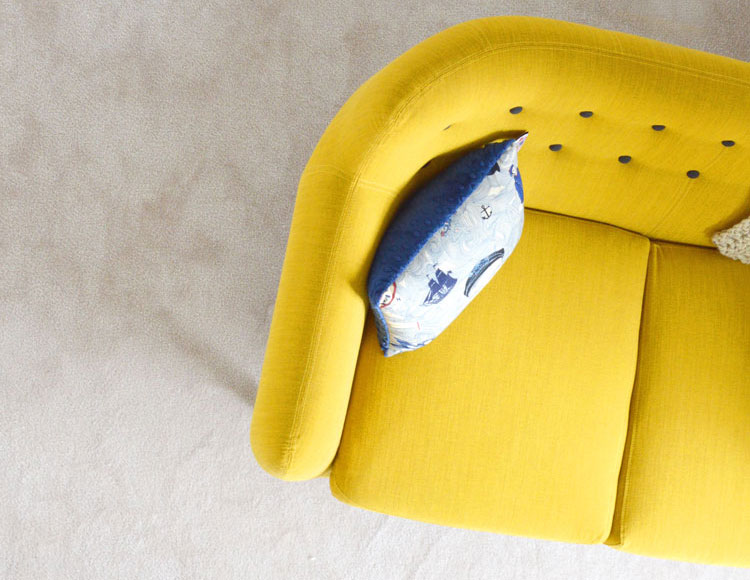 5. Comfortable tables and chairs
Help your staff do their jobs to the best of their abilities by making sure their chairs are comfortable, desks are at the right height and computers are set up ergonomically.
Consider these quick ergonomic checks:
The top of the computer monitor should be below or at eye level. Eyes should be 24-36 inches from the computer screen
Feet should be on a foot rest or resting on the floor
A slightly reclined chair posture is best to reduce pressure on your spine and minimise lower back pain
6. Stay organised
It's hard to feel like you're on top of everything that's going on when your workspace is cluttered. A person spends about one year of their life searching through clutter on their desk looking for misplaced objects. Other research shows that 90% of respondents believed that clutter had a negative impact on their work.
Declutter your desk, stay organised at work and get more done with these simple productivity tips:
Have a to-do list
Work on one project at a time
Use your drawers to store your office items
Have a trash can within reach
Store things digitally
Set aside 5 minutes at the end of every day to clear your desk
Purge! If you don't need it, get rid of it
Check out these extra productivity tips and tools to keep you focused and organised.
7. Encourage breaks
It sounds counterintuitive, but taking regular breaks can actually help improve concentration, benefit positive mood levels and increase productivity. Studies show that taking breaks can help employees keep a consistent level of concentration and productivity at work, while not taking a break leads to a decline in work performance.
Whether it's a full lunch hour, or 15 minutes here and there, regular breaks are one of the most effective ways to encourage productivity in the workplace in the long run.
Keeping a well-stocked office kitchen, with tea, coffee and healthy snacks can help employees have energising breaks. Why not organise a staff lunch once a month to bring the team together, while encouraging beneficial breaks.
8. Get some crockery for the kitchen
It's much nicer to eat your lunch on a plate with a metal knife and fork, instead of a paper plate and plastic cutlery. Ensure your office kitchen is fully stocked with crockery essentials like glassware, mugs, cutlery, plates and bowls.
9. Snacks
Having access to office snacks and fruit to keep you motivated, focused and boost your energy levels when that dreaded 3pm-itis rolls around is essential. Keep the office kitchen stocked with healthy snacks, nuts, biscuits and office fruit. Check out Brain Snacks and Snackwize for healthy office snacks that support the mind.
Don't forget to stock up on other pantry supplies like tea, sugar and coffee!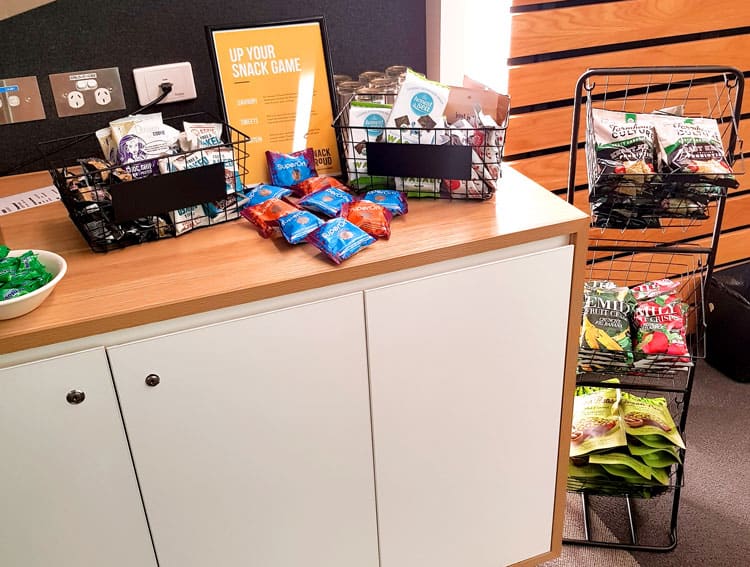 Photo credit: Snack Proud
10. Create some privacy
An open plan office space is great for encouraging communication and collaboration, however, it might not always be the best for productivity.
A study by Gensler found that 53% of workers felt disturbed by other staff members' activities when they themselves were trying to focus, while 42% of respondents would use provisional solutions to block out distractions in the office.
To still encourage collaboration and communication, while still enabling the individual employee to focus and stay productive, offer private workspaces where possible or rooms so they can concentrate on their projects, make phone calls or to complete an important task. Other ways to improve productivity in the office could include 'quiet hours' or office rules where headphones mean 'do not disturb'.
11. Motivate with food
If there's one thing we have learnt here at Order-In, it's that nothing gets people going more than good food. Whether it's a working lunch, morning tea or after work drinks, well-fed staff are happy staff. Not only this, but studies show that pizza is a bigger motivator than money. So, next time your employees need a pick me up, throw them a pizza party.
We hope these small tips will help you create a personal workspace that makes you happy, improves office life and still allows you to relax and be productive. If you would like to motivate and keep your team happy with food, speak to the corporate catering experts at Order-In today on 1300 851 900.