How do you organise an office Melbourne Cup Race sweep?
The race that stops the nation is just around the corner. On November 5 at 3pm, people across Australia will tune in to watch 24 horses race to the finish line at the Flemington racecourse in Melbourne. Unfortunately not all of us get a public holiday (we're looking at you Victoria) so, if you're planning on hosting a Melbourne Cup party at home or in the office, then a Melbourne Cup sweep is a must! It's the perfect accompaniment to a glass of Champagne and a perfectly catered Melbourne Cup lunch.
Want to get a sweep up and running, but don't know where to start? We've answered a few FAQs and created a 2019 Order-In Melbourne Cup Sweep Template to help you get it off the ground and to get ready for the big race.
What is a sweep?
A Melbourne Cup sweep is a lucky draw competition. The names of every horse racing in the Melbourne Cup will be drawn out at random by a group of people. Typically, people must pay to enter the competition and that money goes towards the prize for the first, second and third place.
How many people do I need to run a sweep?
There are 24 horses in the race, but you don't need exactly 24 people to run the sweep. If you have more than 24 people, then you can double (or even triple) your sweep. If you have less than 24 people, you can simply have your punters buy more tickets.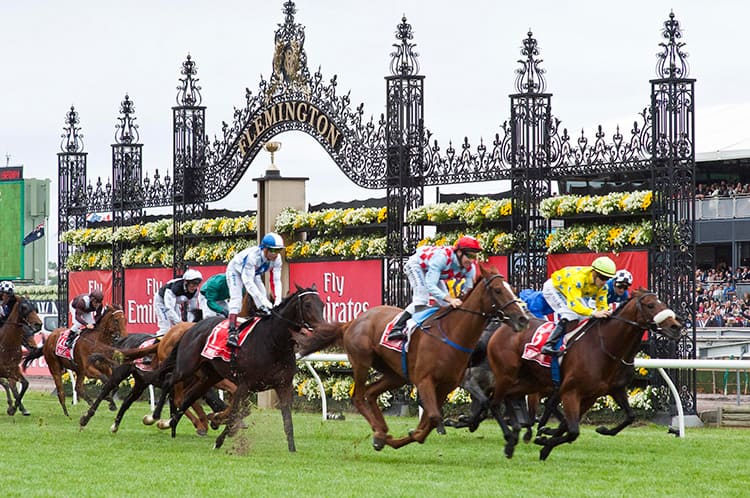 What are the prize options?
For your average office sweep, everyone will pay between $1 - $20 for each horse that is drawn. This would give you a total prize pool of $24 - $480. The prize pool is then divided between first, second and third place winners.
First place wins 60% of the total prize
Second place wins 30% of the total prize
Third place wins 10% of the total prize
If you decide to award prizes instead of cash, your budget for the gifts should match the amount you'll receive in the prize pool. Some classic sweep prizes include a bottle of Champagne, chocolates or a gift certificate. Not the best with numbers? No worries. Download our interactive sweeps calculator to automatically work out the cash prizes.
Steps to running a Melbourne Cup sweep
Print out our 2019 Order-In Melbourne Cup Sweep Template, available for download prior to the 2019 Melbourne Cup race.
On the day of the race, check if there are any scratchings (the horses that are no longer running in the Melbourne Cup). If there are, be sure to remove these horses from your sweep.
Cut out the individual tickets of horses that are running in the race and place them all in a bowl. If you have more than 24 people, simply print out more sheets to make sure there are enough horses to go around.
Invite everyone to pay and draw a ticket. Make sure that each person shows you which horse they drew and write this down on the sweep template so that you have a record of each person's horse.
Once the race is over, you'll be able to see who won first, second and third place. Make your announcement to your punters and award the prizes.
Too easy, right? Get ready to print out our 2019 Order-In Melbourne Cup Sweep Template on race day so you can spend more time planning your Melbourne Cup lunch instead.

Alternatives to running an office sweep
If not everyone in your office is into the idea of joining in on an office sweep, it's always nice to have some back up things running so everyone can still enjoy the day. Why not opt for a game of Melbourne Cup trivia or bingo to get everyone up and involved in the fun of the day?