How to make your breakfast meetings more productive (and tasty)
According to a survey by One Poll, 34% of employees claimed they were more focused at breakfast time. Morning meetings are believed to have more positive outcomes than those held later in the day, with 67% of staff surveyed saying they were more likely to pay attention at this time compared to any other time of day.
Whether it's a team huddle, a conference, training session or an office get-together, maximise productivity at your early morning meetings with our handy tips below.
Food and drink
Coffee, coffee and coffee!
Ensure there is coffee available on arrival and it's available throughout your event to wake your team up on the right side of the bed. Never skimp on the quality of the coffee – weak, cold or tasteless coffee will not be appreciated after the early morning start. If you want an extra touch of luxe, why not hire a mobile barista.
For the non-coffee drinkers, make sure you offer a selection of other warm beverages, including black and herbal teas or even hot choccie.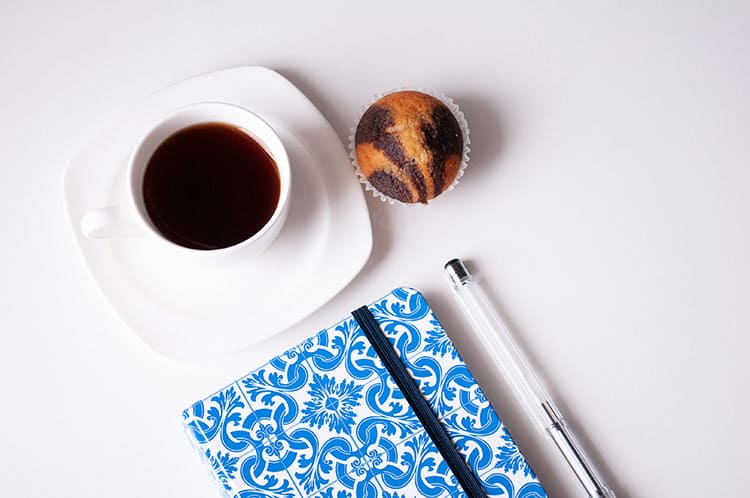 Freshly squeezed
Having some freshly pressed fruit and veggie juices and smoothies are also a great addition to any morning. These healthy sweet treats are loved in those early office meetings.
Start the day right with food
Everyone knows skipping the most important meal of the day is a no-go, so if you are holding a business meeting you should be prepared to feed your team. One Poll says 79% of respondents felt that eating breakfast made them feel more efficient and alert. Numerous surveys have revealed that skipping breakfast or eating a low-quality breakfast can have a negative effect on your memory, concentration and focus.
So, set yourself and your colleagues up for success by ordering and providing a hearty hot or cold breakfast to help start the office day on the right foot. You don't want your attendees walking away hungry.
Check out some of the best breakfast catering ideas for your next meeting, event, training sesh, conference or function.
Continental breakfast
Served buffet style, this is not only a very cost-effective event catering menu option, but has always been a crowd favourite. You could include two or three delicious options including:
Assorted baked items including croissants, muffins and toast
Seasonal fruit platter
A variety of cereals, granolas and yoghurt (including coconut for your dairy free employees)
An excellent selection of coffee and tea
Fresh fruit juices including orange and apple juice
A continental breakfast catering menu is a great option for team gatherings or training sessions. It's fool proof if you're not sure what direction to go in.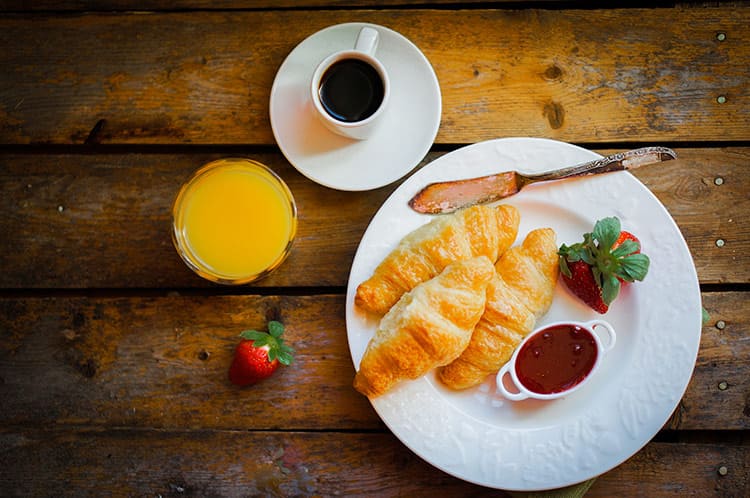 Breakfast buffets
Feed a hungry crowd and impress your guests with hot and cold buffet menu options. By allowing your guests to serve themselves, you also give them the freedom to grab a small or large serve, depending on how hungry they are. With the option to even go back for seconds!
Ensure you have a few of these menu options:
Scrambled eggs
Sausages, bacon and hash browns
Waffle station offering a range of toppings including fresh fruit, whipped cream, syrup and more
Omelette station with a chef making it fresh. Add various fillings in your omelette including cheese, ham, mushrooms, onion and more.
Baked goods including muffins, croissants, scones and danishes
Fresh fruit platters
Yoghurt pots
Cereal
A buffet can also cater for different dietary needs easily, by offering something for everyone. Breakfast buffets are a great option for larger scale meetings, training sessions or conferences.
Gourmet grazing
Like a breakfast buffet, grazing tables have something to offer everyone. Stocked with selections of breads, cold cut meats, cheeses, fruits and spreads, they are a fun way to fill up. They are a modern twist on traditional catering styles - marrying classic finger foods and continental breakfast styles.
Perfect for a bit of a longer meeting, employees can graze as they go, keep engaged and most importantly, well fed.
DIY breakfast stations
Who says business meetings can't be fun? Make your next office gathering memorable with an on-site breakfast station, made fresh right in front of your eyes!
Some tempting options are:
Waffles station, such as Wafflo in Sydney
Pancake station with lots of tasty toppings including maple syrup, lemon, sugar or an array of seasonal fruits
If you're after some healthier options, check out:
Smoothie bowl stations - make your own acai bowl, topped with granola, seeds and nuts
Omelette station - with choices of veggies, meats and cheeses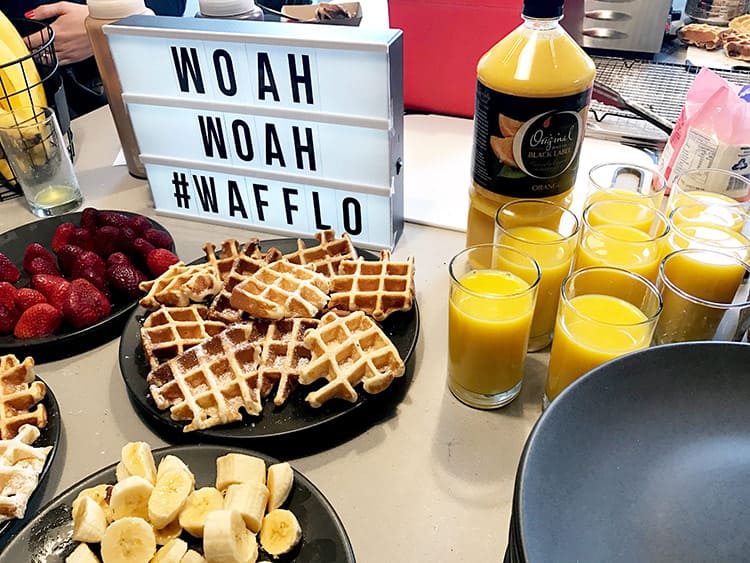 Photo credit: Wafflo
Plated meals
This offers a more formal touch to the event and would be perfect for VIPs. A sample event menu would include eggs benedict, a traditional hot breakfast with eggs, bacon, mushrooms and toast, omelette, or pancakes. We'll make sure there's still something for all special dietary needs your office may have.
Healthy and sustainable catering
If you're after something for the more health conscious office, we can offer a huge variety of great healthy menu options and sustainable caterers. Think low-GI wholefoods packed full of good stuff, all while looking out for the environment.
Some options you could include would be:
Fresh fruit platter
Natural yoghurt pots with fresh fruit and berries and crunchy granola
Granola cereal
Whole grain bread and low-fat spreads
Acai bowls
Pressed juices
Don't forget to offer plant-based milk such as soy, coconut, almond, oat, rice and lactose free to keep all your guests happy.
To keep things sustainable, we can make sure you have ample crockery and glassware so there's no single use plastic in sight!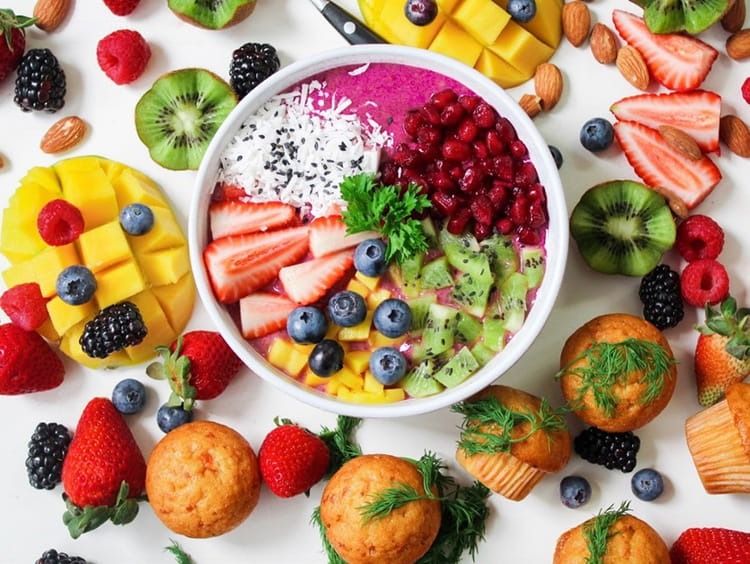 Keen for something different?
Why not try something unique? Many of our Asian cuisine caterers offer fun, unique and delicious breakfast options. If morning meetings are commonplace in your office, surprising your staff to something fun will definitely keep things interesting.
Bagels
A delicious twist on the classic egg and bacon roll – try something different like an egg and bacon bagel! It's a hearty and satisfying way to start the day, while adding a touch of class to much loved classics. It keeps things interesting with a huge range of flavour combinations to keep your morning event interesting and engaging for your attendees. We love Schmucks Bagels in Melbourne and The Bagel Boys in Brisbane.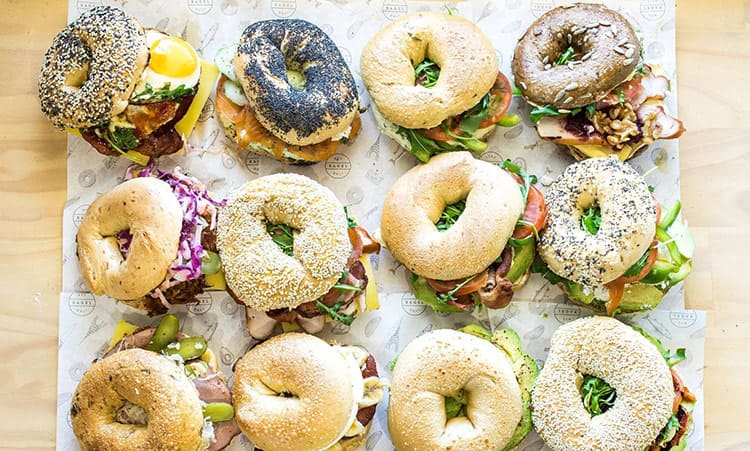 Photo credit: NYC Bagel Deli
Important! Don't forget to account for special diets
There's nothing worse than missing out while everyone else is chowing down on an egg and bacon roll when you're vegetarian. Ensure you check with the office if anyone has a special diet or food allergy. We have a range of gluten free, diary free, vegetarian and vegan options available. If an employee has a rare or unusual food allergy, such as an allergy to bananas, you may need to make a special arrangement or let one of our corporate catering experts know asap so we can help find a special dietary catering solution for you.
The other essentials
In addition to great corporate catering, it's important to include plenty of beverage options, including coffee, tea, water and juice. Ensure you have enough plates, cutlery, glasses, cups and napkins for your breakfast meeting.
The meeting
Now that you have your food and drink sorted, here are some tips to keep your meeting productive.
Be consistent
Whether your meeting is every week or every month, keep it consistent in terms of time and location, so there is no confusion. Always start your meetings on time and keep it within the specified time frame.
Have a clear purpose for the meeting
Whether it's a team huddle, brainstorming session, training or company get-together, create an agenda and keep everyone on task. Ensure there is a clear and specific reason for the session to get the most out of it.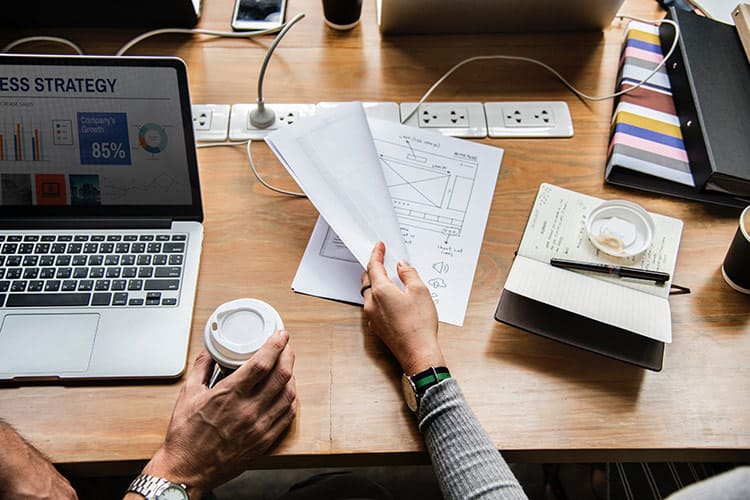 Keep everyone engaged
A dim room is not the best for those early morning gatherings, so make sure the room is bright and welcoming. People are busy and will usually have a full day ahead of them, so keep your morning meetings short and efficient. Check out our guide for business meetings with useful tips on how to keep everyone engaged.
Corporate catering made easy
Make sure your next function is a success with great food and drinks. If you need some tasty corporate or event catering menu inspiration, speak to our corporate catering consultants on 1300 851 900 for corporate breakfast catering ideas. Alternatively, check out our website to order breakfast online from our great range of corporate caterers in Sydney, Melbourne, Brisbane, Adelaide, Perth, Canberra, Newcastle and the Gold Coast.