Best food to eat to lose the festive weight
You've had giant servings of roast lamb, prawns and ham, had second helpings of Christmas pudding and your mum's trifle has been completely demolished. You've probably indulged in one too many beers and champagne over the festive season and New Year and your waistline is now paying the price. According to a recent study, that weight gain over the holidays can hang around until June! Yes, you heard that right – June!
We're all too familiar with that festive season weight gain, but here are some useful tips to help you get back on track post-Christmas.
Cut back on portion sizes
The easiest way to lose weight is to just eat a bit less of it. Don't go back for seconds. Don't eat your partner's leftovers (use the leftovers for the next day's lunch – check out our blog for easy lunch ideas here). Eat a smaller portion of pasta.
Eat more often
It sounds like a contradiction to our earlier point, but eating light, frequent meals can curb your appetite, maintain your energy levels throughout the day and improve your mood.
Don't forget breakfast (and don't skip meals)
Skipping breakfast (or any other meal) will only give you hunger pangs that will have you reaching for that packet of chips, chocolates or soft drink.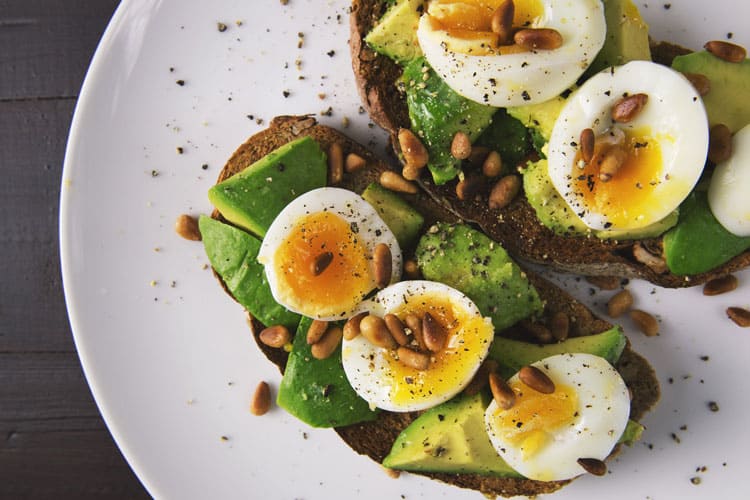 Munch on veggies
Veggies have long been recognised as a way to protect against obesity. Sneak them into your pasta or potato dishes. Add herbs or fresh veggies into your sandwich for extra flavour, crunch and colour.
Snack on nuts
Nuts are a great source of fibre and can help stabilise blood sugar levels, aids digestion and keeps us feeling full when 3pm-itis rolls around. Here are some other healthy energy-boosting foods you can eat to keep your energy levels up.
Eat protein
Kick your sluggish post-Christmas metabolism back into life by eating protein. For breakfast, have an egg on toast or Greek yoghurt with honey, berries and nuts. Snack on cottage cheese with carrot and celery sticks or munch on a handful almonds. For your working lunch or dinner, eat lean beef, chicken, salmon or tuna. Salmon is packed full of Omega-3 fatty acids, which help reduce inflammation. They can also play a role in reducing obesity and metabolic disease.
Include lots of vegetables on the side, such as leafy greens (kale, spinach or swiss chard), which are low in calories and carbohydrates and are packed with all sorts of vitamins, minerals and antioxidants. This also includes calcium, which some studies have shown aids fat burning. Cruciferous vegetables such as broccoli, cauliflower, cabbage and brussel sprouts are also high in fibre and protein and are perfect to include in your diet if you're looking to lose weight.
Drink plenty of water
Drink plenty of water throughout the day to help boost your metabolism and flush out those harmful toxins. It also keeps you hydrated so you don't mistake it for hunger and end up grabbing a packet of chips.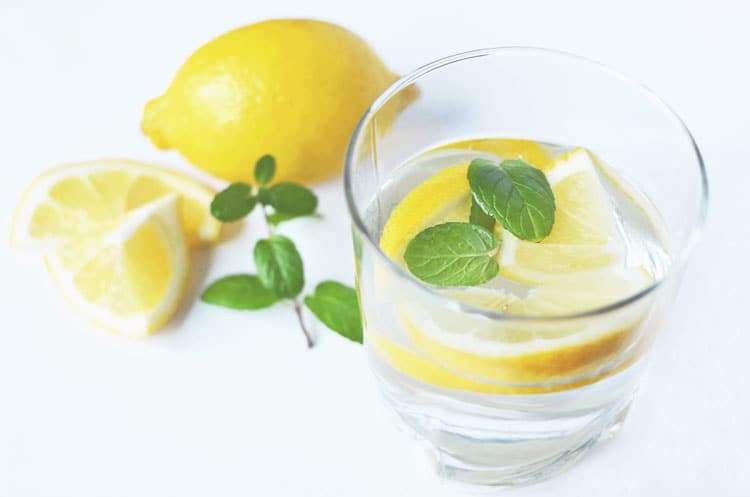 Go easy on the alcohol…and the soft drinks
According to The Cancer Council Victoria, your favourite alcoholic drink exceeds 240 calories (or 1,000 kilojoules) each! One full-strength stubby of beer can contain as much as 153 calories (640 kilojoules), while a 500ml bottle of cider contains up to 209 calories (875 kilojoules).
Soft drinks are just as bad. They're high in calories and have no nutritional value whatsoever. They contribute to obesity, tooth decay and diabetes. It has also been linked to the depletion of calcium and magnesium from your body – all essential nutrients needed for healthy weight loss.
As an alternative, drink plain water instead. If you're craving carbonation, try sparkling water. Add flavour to your glass of water with a slice of lemon or cucumber, or use fresh herbs such as mint or basil.
Make smart substitutions
3pm comes around and you're ready for that sugar hit to boost your energy levels. Instead of reaching for that sugary, high-fat treat, try these healthy, nutritious alternatives instead:
Vegetable sticks
Hummus, beetroot, tzatziki dips
Nuts such as almonds, cashews and pine nuts
Fruit salad with Greek yoghurt
Dark chocolate (eat in moderation)
Frozen grapes
Try to limit:
Lollies, candy bars, chocolates
Cakes and slices
Chips, corn chips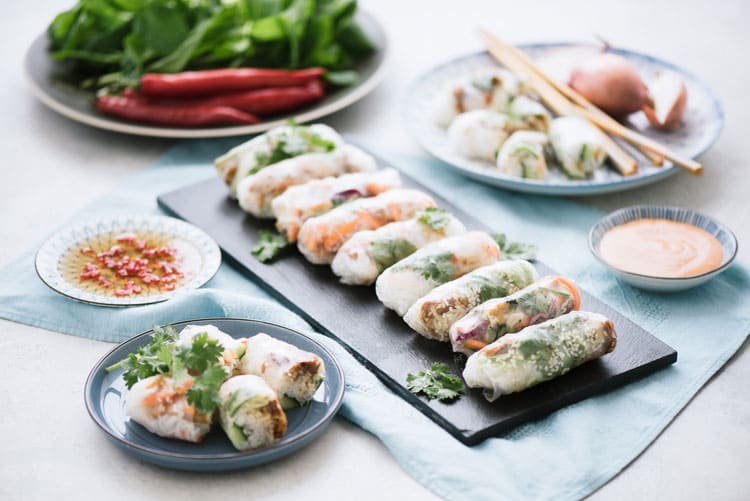 Photo credit: Roll'd Catering
Order healthy catering for the office
We have a wide range of corporate caterers in Sydney, Melbourne, Brisbane, Adelaide, Perth and Canberra offering delicious and healthy catering for corporate breakfasts, morning and afternoon teas and working lunches.
Fresh rice paper rolls
Poke' – delicious and healthy Hawaiian style sushi bowls
Scrumptious salads
Fruit skewers or a fruit platter
Wraps
Chicken and vegetable skewers
Visit our website to order or speak to our customer service ninjas on 1300 851 900 for more corporate catering inspiration and recommendations.