Unique cupcake flavours you have to try!
Cupcakes can be eaten anywhere, from the picnic blanket in your favourite park, for morning tea, or in the boardroom table at a corporate meeting. Portability is, however, only one of the reasons for their immense popularity. In terms of flavour, cupcakes can be customised to suit any taste or occasion, and the results of this flexibility has produced some of the best, weird, special and wonderfully unique creations. From classics like strawberry, dark chocolate, chocolate chip or cookie and cream cupcakes, to a few that are slightly more unique, check out the weird and wonderful flavours below!
The origin of the cupcake
They've been a well-loved treat since the 19th century, particularly in the United States. An American woman, by the name of Eliza Leslie, authored a cookbook in 1828 featuring a recipe for a light cake baked in a small pottery vessel. This was one of the earliest known cupcake recipes on record.
Since the "Mother of the Cupcake" put pen to paper, the dessert has been propelled into the limelight as a cultural phenomenon. Appearing at birthday celebrations, office events, corporate functions and everywhere in between, they have become the star of the dessert world.
Nowadays, you'll find flavours ranging from classic red velvet with cream cheese frosting, milk chocolate, salted caramel and even cheesecake cupcakes! But, what about all the unique flavour trends? This is our list of fun and delicious cake creations!
A world of flavour
There are a diverse array of flavours available, ranging from chocolate, to watermelon, to chicken and waffle. A survey conducted by 'Ask Your Target Market' found that 60% of respondents enjoyed eating chocolate cupcakes and 39% named vanilla as their favourite serve. There were, however, 4% who preferred custom, non-traditional flavours, some of which are featured in our infographic below!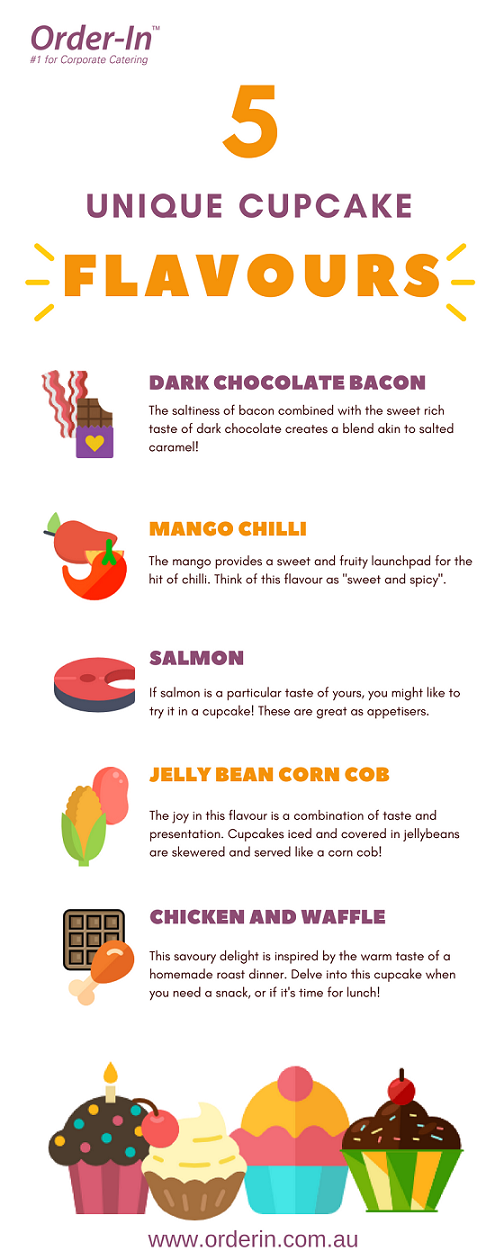 Want to share this image on your site? Just copy and paste the embed code below:
A few flavours to sink your teeth into
Craving something creative? Here are some extra flavours to try out yourself! From sweet to savoury, cupcakes have endless flavours to offer, so why not give them a go?
Why not try:
Lavender and peppermint - a surprisingly great combo.
Vanilla bean popcorn chocolate cupcakes - crunch on these delicious treats!
Shepherd's pie cupcakes - bite sized shepherd's pie shaped into cupcakes? Sounds good to us.
Crispy mac and cheese muffins - crunchy, cheesy and cupcake-y.
Zucchini, carrot and honey cupcakes - perfect for getting in some extra veggies on the go.
Prosecco cupcakes - a cupcake that itself calls for celebration. Perfect for Friday night office drinks.
Vegan margarita cupcakes - the perfect end to your Mexican fiesta staff lunch!
Churro cupcakes - moist cinnamon cupcakes, topped with vanilla buttercream and crispy churros. What's not to love?
Pizza cupcakes - everyone's favourite lunch turned into a cupcake
The cupcake craze
Everybody has always loved a cake delivery to the office, but when did the cupcake craze begin? The diversity of cupcake flavours is owed to popular demand and the creativity of bakers in the industry, but what is actually driving the cupcake flavour fever? Business Insider identified the year 2000 as the tipping point, when an episode of Sex and the City featured cupcakes from the New York bakery Magnolia.
Cupcakes now account for $20 million in Magnolia's annual sales and Manhattan is dotted with cupcakeries cashing in on the success.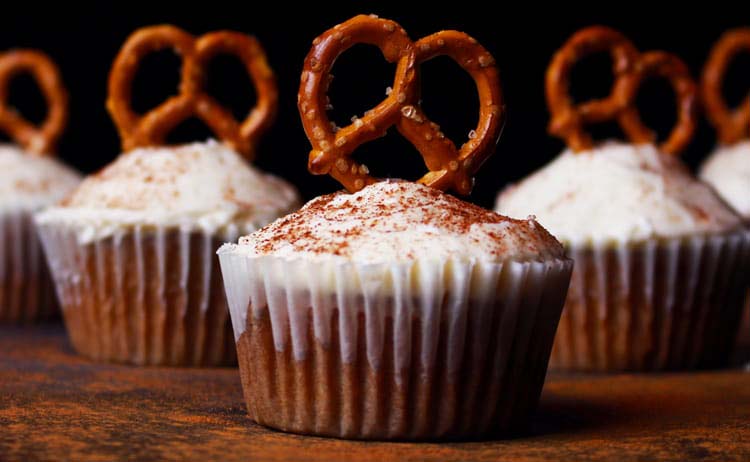 How to eat a cupcake
Craving something sweet for your next morning or afternoon tea? Scroll down to find out how our cupcake catering experts recommend you should eat cupcakes!
Step 1: Get your cupcake and peel off the wrapper
Step 2: Cut or tear the cupcake in half
Step 3: Flip the bottom of the cupcake on to the top
Step 4: Eat it like a sandwich!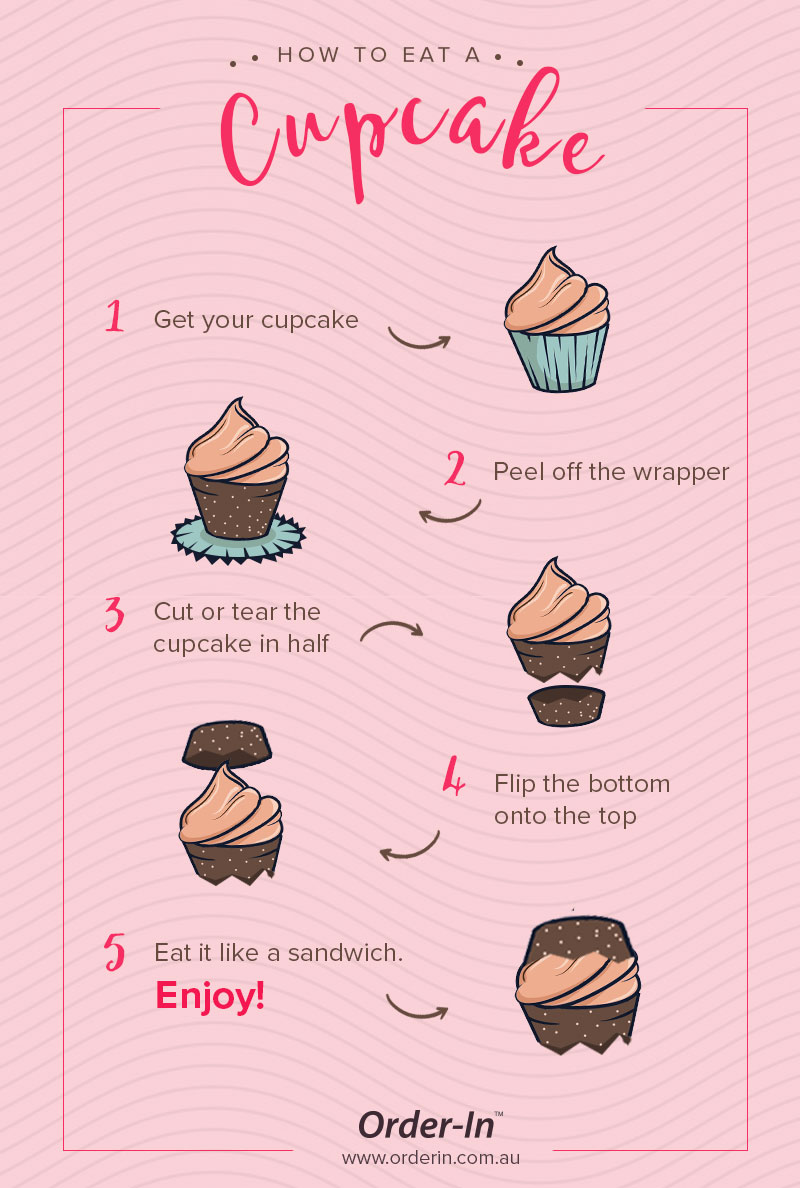 Want to share this image on your site? Just copy and paste the embed code below:
Cupcake catering
Picture this: it's the night before a major work function and you know they will be expecting something sweet on the table - be it a morning tea or office birthday. Instead of enduring a late-night baking session, or getting a classic cake delivery, just order some cupcake catering! Not only can you hand over the stress of ensuring all the special dietary requirements are covered, there a range of delicious and unique flavours to wow your staff. Plus, you get to indulge in a treat without the late night.
There is a whole world of cupcake flavours out there to be tried, so take a leap! Enjoy hassle-free cupcake delivery for business functions, staff birthdays, for a casual work lunch or simply to say thank you and share the experience with your colleagues. Best of all, cupcakes have the added bonus of not having to be cut like a normal cake, and you can even get a mix of flavours!
Some of our favourite cupcake caterers include:
Contact our friendly catering team today to begin, or continue, your love affair with cupcakes! Check out our website to order from our wide range of catering menus today or give us a call on 1300 851 900 if you need some custom cupcakes created for your next corporate event. We have some of the best cupcake caterers in Sydney, Melbourne, Brisbane, Adelaide and Perth.