Best fruits that fight the winter cold & flu
The colder temperatures and shorter days can also mean bouts of the cold and flu, but did you know that fruit helps fight the germs we're exposed to in winter? Studies have shown that the vitamins found in fruit keep your immune levels high, which allow you to fight off colds and flu. A recent study found that people who ate 3 or more servings of fruit daily had 25% fewer days with respiratory symptoms during winter, than those who ate less than 1 serving.
With the cold change in weather, here are the top 4 winter fruit that will keep your office healthy, productive and the sniffles at bay.
Kiwi fruit
This fuzzy green fruit is jam-packed full of vitamins C and E, which help fight against those pathogens that try to do us harm. It also contains as much potassium as a banana, but with half the calories and is great for lowering blood pressure. Kiwi fruit also has almost twice as much vitamin C than an orange, which makes it great for boosting your immune system.
Apples
It may be true what they say about an apple a day… Apples are packed full of flavonoids, which may help reduce the risk of heart disease, cancer and diabetes. Studies have also found that eating an apple can help increase your immune system, especially when you're stressed out.
Apples are also full of calories, carbohydrates, vitamins and minerals, which keep you energized and alert naturally, making it a great alternative to that morning cup of coffee. Plus, it's a quick snack you can munch on while you're at your desk or in-between tasks.
Fun fact! Did you know…
Apples, peaches and raspberries are members of the rose family
Apples float in water because they are 25% air!
Bananas
Bananas can help reduce fatigue, depression and stress. They are also high in other vitamins and minerals which keep bones strong. Eating a banana can also aid in the prevention of heart disease and high blood pressure.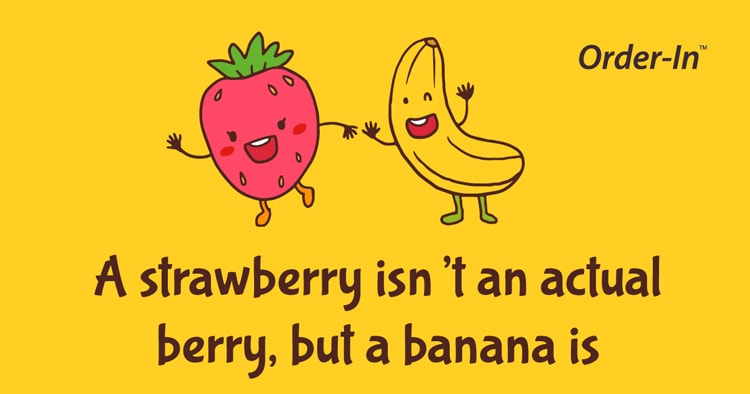 Citrus fruits
Studies have shown that eating vitamin C rich fruit will help boost your immune system and help prevent the onset of colds and flu. Don't worry about overdosing on vitamin C - the body can't store it, so it's vital to replenish your supplies every day and anything that your body doesn't use is just washed right out of your system.
Fill your diet with plenty of vitamin C rich foods, such as oranges, grapefruit, or use lemons and limes when cooking at home. Other vitamin C rich foods include strawberries, tomatoes and broccoli.
Fun fact: The colour 'orange' is named after the orange fruit. Before that, it was called geoluread, which literally means yellow-red.
Blueberries
Blueberries are filled with vitamins that can help treat and prevent coughs and colds. They are believed to have one of the highest antioxidant levels of all common fruits and vegetables, which means these low-calorie snacks are excellent at keeping you healthy and feeling good.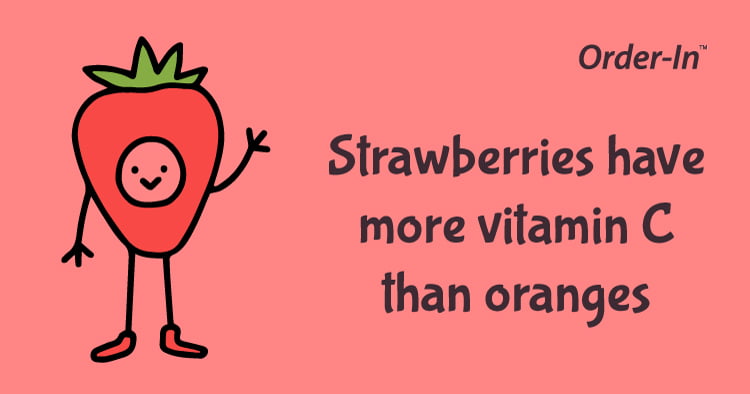 Pineapple
Pineapples are low in calories but are nutritionally dense fruits. They are especially rich in flavonoids and phenolic acids, which reduce the risk of chronic disease such a heart disease, diabetes and certain cancers. They are also an excellent anti-inflammatory, which is perfect for cold and flu season and treating cold symptoms and immune function.
Watermelon
Not only will watermelon give you those extra fluids you need to get better, as well as being a delicious source of extra vitamins, but it contains lycopene, a powerful antioxidant that helps with the prevention of illness, reducing respiratory inflammation and prevents infection. It's also why watermelon has its red colour!
Fun fact! Did you know...
You can actually eat the entire watermelon - with surprising health benefits. The outer layer is often stir-fried or stewed.
Watermelons are 92% water
Strawberries
Strawberries are highly nutritious, low in carbs and calories. They are loaded with vitamin C, fiber and manganese, and are also delicious! Slice some up and add them to your morning smoothies, cereal or just snack on them throughout the day.
What's in season this winter?
Some of the delicious winter fruit available in Australia include:
Apples
Kiwifruit
Mandarins
Naval oranges

Passionfruit
Pears
Grapefruit
Pineapple
Best fruit to eat to fight the cold and flu
View our handy infographic on the top 4 fruit to eat during winter to beat the winter cold and flu

Want to share this image on your site? Just copy and paste the embed code below:
We're proud to support local, family-owned businesses with our office fruit box delivery service. Check out the short video below with one of our fruit suppliers in Sydney as he talks about their experience working with Order-In, how we have helped grow his business and how their locally sourced fruit offers a more sustainable solution for your business.
Other food to eat that fight the flu
In addition to fruit, there are a range of other superfoods you can eat to fight the flu or cold. Check out our infographic below to learn more. These common foods are easy to add to your diet during the colder months.

Want to share this image on your site? Just copy and paste the embed code below:
Corporate fruit for the office
In addition to the many health benefits of eating fruit, providing fresh fruit in the office has been shown to increase employee productivity by more than 10%, boost their energy levels, combat low morale and increase happiness. It can help improve memory and boosts the immune system.
You can help improve the overall health of your team, cut down on sick days and extended absences just by offering fresh corporate fruit in the office. With so many benefits for the company and individual, for a limited expense, it's easy to see why so many workplaces are providing office fruit. It's a win-win for everyone! Speak to one of our kitchen supplies consultants at Order-In today on 1300 851 900 for a free quote and get fresh office fruit delivered to your workplace today. We can deliver fresh office fruit to most areas around Australia including Sydney, Melbourne, Brisbane, Adelaide, Perth, Newcastle, the Gold Coast and Canberra.