How to build the best sandwich ever
Think sandwiches are boring? Think again! Delicious fresh bread, crispy salad, tender cold cuts and cheese… what's not to love? Take a step away from the plain ham and cheese and let us share with you the secrets on how to make the best sandwich ever for your next office lunch.
---
How to make the best sandwich
Start with a good base
Like building a house, the foundation of a perfect sandwich is one of the most important parts. We've all had those disaster sandwiches where the bread let the whole team down - too chewy, too thick, too soggy or too dense. A good bread base really sets the tone for the flavour and texture. Whether you're into a fresh sourdough, ciabatta, a bagel or a classic white bread with sesame seed crust, don't skimp out on a good base!
There are no hard and fast rules on choosing the right bread for your sandwich filling and a lot will come down to your personal preference. One thing we do recommend you focus on is finding the right balance between the texture of the bread and your filling. For example, a crunchy fried chicken would work well with a soft, fluffy bread roll. An egg salad on a crusty, chewy, dense bread makes eating too much effort and if you're not careful, one bite could cause the filling to squish out.
Hot tip: Keep your fillings in mind. For example, firmer breads like ciabatta rolls go well with heartier fillings like steak or mushroom. But, soft foods like tuna or cold cuts would pair well with a lighter bread.
Spreads
I think we can all agree there is nothing worse than biting into a dry sandwich. A good spread adds flavour, moisture or creaminess, which is needed for that perfect texture. Whether you're into classic butter, zingy mustard or even a basil pesto, this step not only seals the bread to keep it from going soggy but adds the first layer of flavour.
One of the secrets to a fabulous sandwich is lightly spreading butter to the bread before adding the other ingredients. It seals the bread by absorbing moisture from the other ingredients. No more soggy sandwiches!
Hot tip: Stuck in a spread rut? Try out hummus, chutney, aioli, salsa, guacamole, hot sauce or ricotta to mix things up.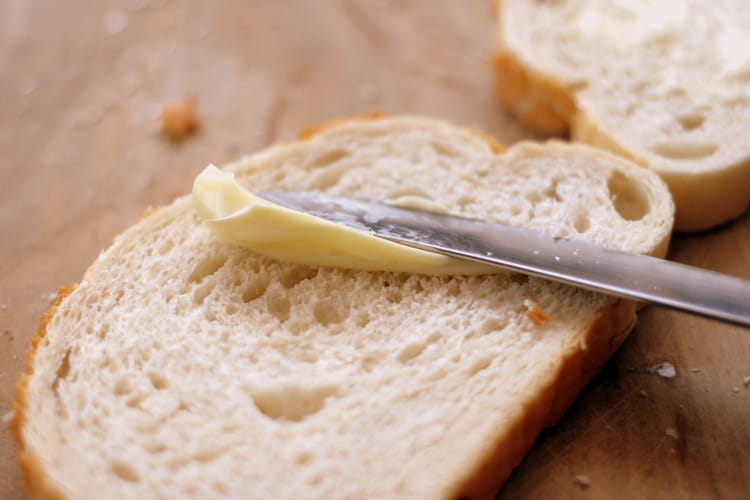 Meats and cheese
On top of your base goes your meat and cheese. Placing them down as the second step in your flawless sandwich placement prevents any sogginess from occurring.
There are endless flavour combinations to try! Whether you want a crunchy fried chicken, spicy salami or some leg ham, get creative with your fillings.
If you're vegetarian or vegan, why not try a lightly grilled and herbed portobello mushroom, roasted eggplant or even a sweet potato slice? Nobody needs to miss out on the perfect sandwich.
Now for cheese. There are plenty of options here - from swiss to aged cheddar or even a combination of a couple! Don't discount the flavours a good cheese can bring to the table (especially if you're in the mood for a toasted sandwich.)
Add your vegetables
Don't be afraid to use lots of vegetables in your sandwich. They could be fresh and crispy, roasted and creamy or deliciously grilled! This will add extra flavour, colour, crunch and texture to your sandwich. Don't forget to season them because a little bit of salt and pepper can go a long way in bringing all the flavours together. If you're bringing your sandwich to work, try packing things like tomato and lettuce separately to keep them crispy and fresh.
Feeling uninspired? Give creamy slaws, pickles, olives, Mexican pinto beans or even fresh chili a go!
If you are an adept sandwich crafter, you may want to take it to the next level and add some herbs! Rosemary, sage, parsley or even some mint could level your sandwich up. Get creative and don't be afraid to use lots of herbs and vegetables in your sandwich.
Hot tip: Onions can add extra flavour to your sandwich, but if you find them to be a bit too bitter raw, you can soak thin slices in ice water for 20 minutes. Drain, blot them dry with a paper towel, and enjoy crispy onions without too much bite. Alternatively, toss sliced onions with kosher salt, wait a few minutes, rub the salt into the onions, rinse with water and blot dry.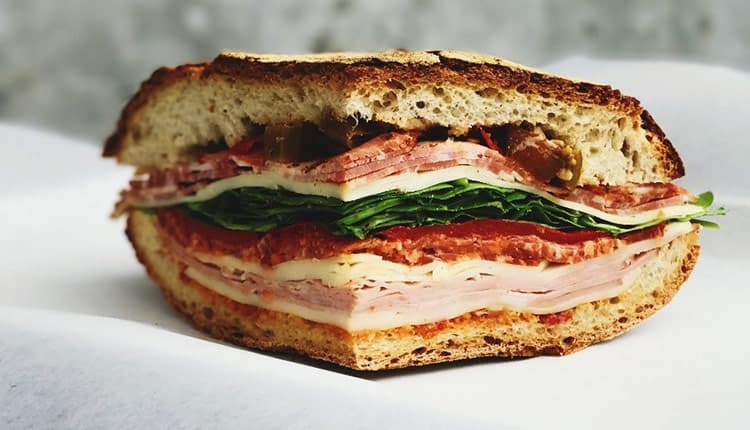 Extra tips and tricks for a great sandwich
Use leftovers
Use last night's roast beef, perfectly cooked southern fried chicken, meatballs, roasted veggies, or even baked beans for an extra delicious filling, all while creating less food waste! Double bonus.
Don't overfill
While it might be tempting to stack it up high, don't fill it so much you can't eat it without it spilling out.
Get creative
Let your culinary flag fly and get creative with your sandwich! Why not go for something sweet with some cream cheese and fruit bagels, drizzled with honey? Or try Mexican pinto beans, corn cob kernels or fresh guac. Yum!
Experiment with different breads, such as sourdough, seeded, rye, grain and corn. For something different, try wraps, bagels, rolls or a brioche bun. Mix it up with different combinations of breads and sandwich fillings so you never get bored.
Don't feel like you have to add lettuce and tomato to every sandwich either. Make your sandwich more gourmet and try creamy slaws, pickles or roasted veggies to add brightness and contrast to an otherwise boring sandwich.
Try a wrap instead
For something different, why not try a wrap as an alternative to bread slices and rolls. You can get more of the good stuff you want inside, without bogging it down with more starch. Plus, it won't completely fall apart on you while you eat it.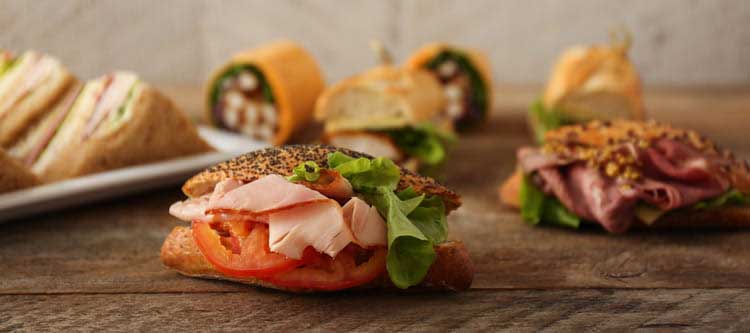 ---
Anatomy of a great sandwich
Everyone has their favourite way of sandwich layering, but there are a few rules you should follow to ensure your sandwich don't go soggy. Download our infographic below to keep as your handy guide to making a great gourmet sandwich.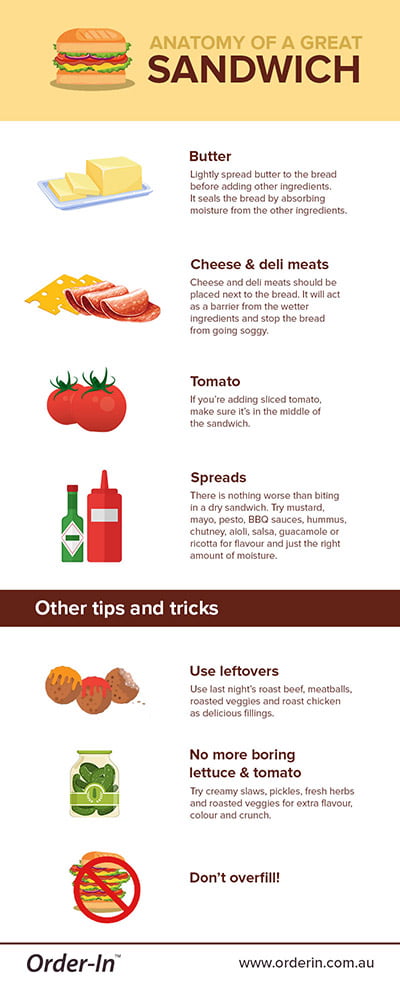 Want to share this image on your site? Just copy and paste the embed code below:
---
The best gourmet sandwich fillings to try
Not sure what to have for lunch at work? Your next office lunch doesn't have to be boring. Add some excitement to your gourmet sandwich with these mouth-watering fillings. Plus, they're so easy to make!
Roast chicken with Waldorf salad
Gorgonzola, pear and walnut on sourdough
Leftover rosemary lamb with roasted red capsicums, onions and rocket
Smoked salmon with lemon capers, dill mayonnaise and horseradish
Turkey, cranberry, alfalfa and camembert
Toasted chicken and mushroom (we think this is the ultimate hangover sandwich to make!)
Pulled pork, fennel slaw and mayonnaise
Cucumber, smoked salmon, cream cheese, egg and lettuce
Pork belly, Asian slaw, sweet chilli jam and mayonnaise in a baguette
Tuna, sweet corn, iceberg lettuce and citrus mayonnaise
BBQ chicken, lettuce and mayonnaise. Add crispy bacon and avocado for extra tasty goodness
Roasted pumpkin, goat's cheese and rocket
Eggplant, tomato, haloumi and baby spinach
Feta, baby spinach, capsicum and sun-dried tomato
Chicken, pesto, lettuce and semi-dried tomatoes
Cold roast beef with sliced tomato, cheese, lettuce, pickles and relish
Roast beef, watercress, chargrilled sweet potato, cheese and mustard
Roast lamb, tzatziki, diced celery or cucumber and shredded fresh mint
Roast lamb with marinated capsicum, chargrilled eggplant, sun-dried tomatoes, tasty cheese and rocket
Corned beef, potato salad, gherkins and watercress
Choose your own toppings and try yummy pizza toasties
Greek yoghurt egg salad – check out the recipe here
Grilled chicken melt with pesto and sun-dried tomato spread – check out the recipe here
Chicken, apple and cheddar cheese with honey mustard sauce
Apple, ham and raclette - check out the yummy sandwich recipe here
You can't go past a grilled cheese sandwich, but have you tried this gourmet grilled cheese toastie?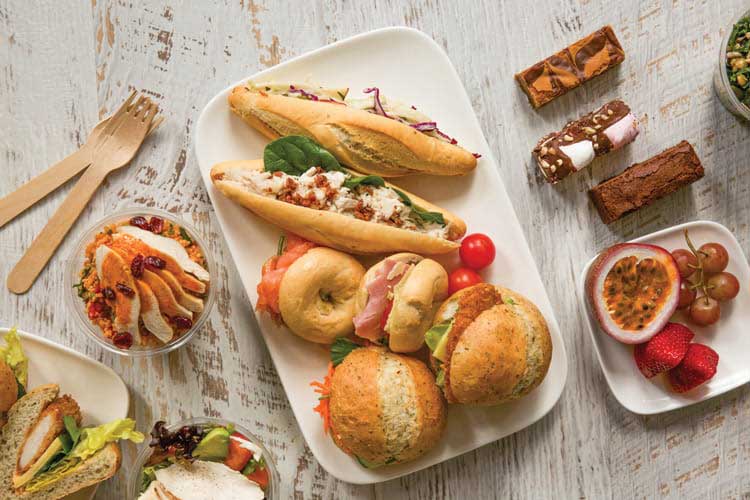 ---
Office catering made easy: Delicious sandwiches for the office
We hope these handy tips and ideas for sandwich fillings inspire you for your next work lunch. There are no excuses now to make a bad or boring sandwich again.
If you need tasty gourmet finger sandwiches, rolls or wraps for your next working lunch, training session or event, speak to the corporate catering experts at Order-In. With access to over 1000 corporate caterers in Sydney, Melbourne, Brisbane, Adelaide, Perth, Canberra, Newcastle and the Gold Coast, we have a wide range of delicious, gourmet sandwich menus that are anything but boring. Gluten free options are also available for special diets. Order corporate catering now by visiting our website, or calling 1300 851 900. We guarantee that you'll find more than just ham and cheese sandwiches on our menus!