12 tasty food to try for working lunches
As many EAs, PAs and administrative staff know all too well, it can be difficult to order corporate catering for a large group of people in the office. It can sometimes be challenging to cater to the wide range of tastebuds and if you have training, a conference or a meeting that lasts for a few days, it's important to try not to order the same meals over and over again. And you do want to please everyone – studies have shown that office lunches can help increase productivity, engagement and can boost morale.
If your office is stuck in a sandwich rut and you need some inspiration, then look no further! It's possible to order a variety of cuisines from Greek to Japanese catering, without alienating any member of the team. If you're not sure what to have for lunch at work, check out our top picks below for inspiration.
---
Indian food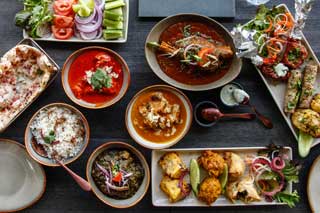 Some people may be scared by Indian food due to the spice, but there are plenty of delicious dishes with barely a hint of heat. Some Indian catering menu items you could order include:
Samosas
Tandoori chicken
Chana masala – great for vegetarians
Butter chicken
Order-In has a range of Indian cateres including Beyond India, Jays Curry, Bombay Bliss, The Colonial. Try them today!
Photo credit: Spiced by Billu's
---
Thai food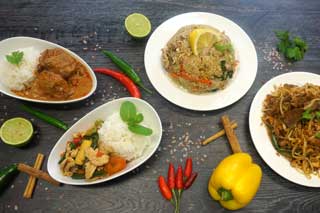 Full of flavour and fresh ingredients, there are loads of great food options with Thai catering. From the exotic flavours to the familiar sweet and non-spicy, there's something for everyone.
Try these delicious food options:
Noodles including Pad Thai or Pad See Ew
Chicken satay skewers
Massaman curry
Stir fried including chicken with basil, chicken (or other protein) with cashew nuts
Try Red Lemon Thai Café, Heart Thai Food for your next working lunch.
---
Spanish paella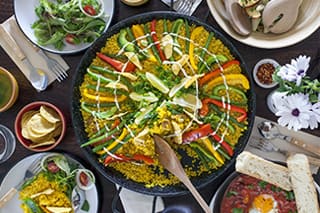 Full of flavour and fresh ingredients, there are loads of great food options with Thai catering. From the exotic flavours to the familiar sweet and non-spicy, there's something for everyone.
Paella catering is fun, engaging and a hassle free way to feed a group. This well-known and loved Spanish dish is designed for sharing and for bringing people together, which makes it perfect for office lunch meetings or staff lunches.
Try Paella del Mar in Sydney for your next working lunch with their delicious range of paella options.
Photo credit: Paella del Mar
---
Japanese food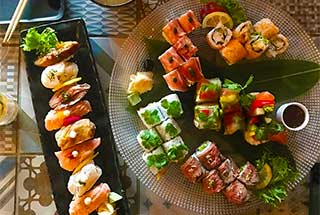 There's so much more to Japanese food than sushi. We love these:
Noodles
Gyoza – pan-fried dumplings often filled with pork and cabbage
Teriyaki chicken
Sushi
Bento – the traditional Japanese bento boxes are a healthy and delicious choice for a working lunch or corporate event. We love how the boxes have several compartments for a mix of items.
Try Shuji Sushi for a selection of sushi, donburi, noodles and bento boxes.
Photo credit: Salon De Sushi
---
Vietnamese food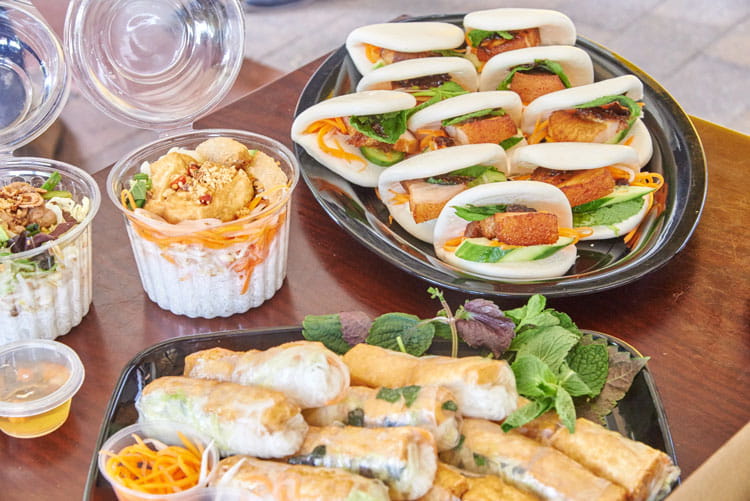 This might be the easiest cuisine to order, as there are plenty of options to please everyone. Chao Catering offer a wide range of Vietnamese catering options to tickle every tastebud. Try:
Rice and noodle dishes
Crispy pork belly bao buns
Stir fries
Rice paper rolls
Spring rolls
Healthy salads
Need some ideas? Try Roll'd, Mrs Luu's Vietnamese Catering, Banoi Brisbane, Bun Me North Sydney for your next office lunch.
Photo credit: Chao Catering
---
Middle Eastern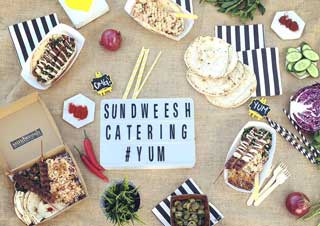 Not only is middle eastern catering incredibly popular and healthy, it translates well into a single-portion, low-maintenance working lunch. It could include a kebab, tabbouleh, hummus and Lebanese bread for dipping. It's great for keeping energy levels up and steady throughout the afternoon, as it's packed full of whole grains and vegetables instead of highly processed carbs – no 3pm slump here!
Try Beirut Falafel or Agraba Lebanese for your next working lunch.
Photo credit: Sundweesh
---
Hawaiian Poke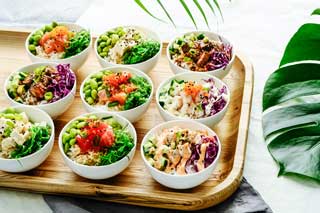 If you're looking for healthy catering, but still want something tasty and filling that even the blokes will love, then you have to try poke! Pronounced po-kay, it is a Hawaiian dish with Japanese influences and translates to 'section' or 'to slice or cut' for the way the fish is cubed in the dish. It's packed full of lean protein, whole grains, healthy fats and vegetables and is gluten free.
Try Poke'd, Nude Fish, Nama Poke, Nosh or Cheeky Poke Bar for your next working lunch.
Photo credit: Poke'd
---
Mexican-inspired
The tortilla is Mexico's answer to the traditional sandwich. It's versatile, inexpensive and delicious. Best of all, there's loads of different fillings to try so you can build your own to suit your taste.
We love Pablo's Kitchen with their take on healthy Mexican street food or classic South American street food from Guzman Y Gomez, available in Sydney Australia Square, Sydney Central Park, Darling Harbour, Newtown, North Sydney, Ryde and Sydney World Square. Mexican catering ideas include:
Braised beef and salsa verde tacos
Pulled pork tacos with Mexican slaw, fresh pineapple, jalapenos, limes and their signature green salsa
Fish stick tacos
Cheese quesadilla
Burritos
Enchiladas
Photo credit: Pablo's Kitchen
---
Italian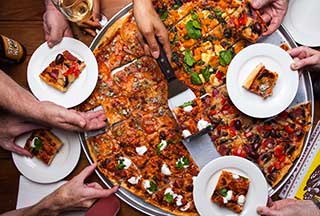 Nothing fails to excite people more than pizza and Italian catering! Make your next business lunch meeting more interesting and fun with pizza catering. Try Made in Italy with their wide range of Italian food, including:
Pizzas
Pasta
Calzones
Lasagna
Vegetarians won't miss out with a wide range of vegetarian options available
Photo credit: Kookaburra Cafe
---
Malaysian food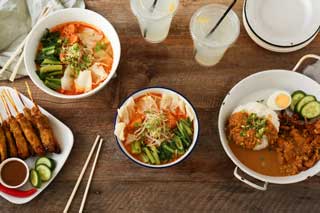 One of the best things about Malaysian food is its huge range that will be sure to satisfy any taste bud. We love these yummy food options from Ipoh on York, Merchant Society and Ya Malaysia.
Fried rice
Stir fried noodles
Chicken curry with rice
Chicken satay skewers
Curry puffs
Spring rolls
Laksa
---
Moroccan food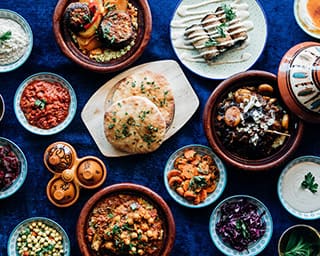 Moroccan food is very diverse and the use Mediterranean fruit, vegetables and aromatic spices combine to make delicious, flavour-filled dishes everyon will love. Try The Moroccan Feast for your next office lunch:
Couscous
Lamb tagine
Chicken tagine
Shakshuka
Photo credit: The Moroccan Feast
---
Greek street food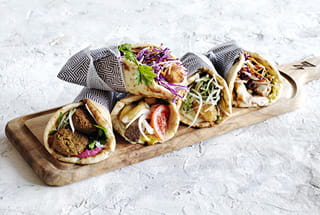 More than just a greasy hangover cure, if you're after simple, fresh and full of flavour gyros that hit all the right spots, than you'll love Greek street food! Char-grilled lamb, pork or chicken, with tomato, tzatziki, onion, hot chips and paprika, wrapped in a warm pita bread. Heaven!
Try Zeus for your next working lunch. They also offer a Spartan lunch box which includes chicken, lamb or pork with your choice of Aegean salad, Village Greek salad or seasonal salad, served with tzatziki and pilaf. Available in Sydney CBD, North Sydney, Brisbane and Southbank.
Photo credit: Zeus
---
Let's not forget the sweets…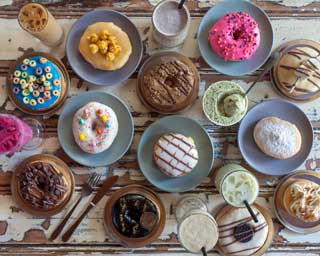 Perk up a meeting with boxes of donuts from Dr. Dough with interesting flavours like:
Buttered popcorn glaze topped with butter toffee popcorn donut
For the 90s kids, you'll fondly remember this! Rainbow Nerds sprinkled over a pink glazed donut
Sour blueberry glazed donut
Dulce De Leche and sea salt filled donut
Cheesecake filled donut, topped with blueberry icing and cookie crumble
Photo credit: Dr Dough Donuts
---
If you're a fan of sandwiches, switch it up
Of course, our awesome corporate caterers offer a selection of gourmet sandwiches and wraps with delicious fillings like turkey, roast beef, egg, chicken, tuna and more!
Hungry yet? Order corporate catering now or if you're not sure what to have for lunch, speak to our office catering gurus for recommendations and tips and make your next working lunch, training or conference more memorable with catering that will delight.
---
Looking for a unique meal? Try these unusual meal combinations today!
National Eat What You Want Day is celebrated on May 11 and is the day to indulge yourself without feeling guilty.
For some people, National Eat What You Want Day is a day to pig out on fast food. For others, this day will entail taking yourself out for a fancy dinner and enjoying an expensive bottle of wine.
While it is doubtful that you need much of an explanation of how to celebrate this day, if you need some inspiration or want to try something different, scroll down to find out some wacky yet delicious meal combinations to try.
Unique food combinations to try on National Eat What You Want Day

Want to share this image on your site? Just copy and paste the embed code below: