Why you should be using a corporate catering platform
There was once a time when the ubiquitous tea lady was the only person responsible for ensuring a steady supply of beverages and sandwiches in the office. Times have since changed (for the better!). There's now a bevy of innovative office caterers who will rustle up food and drinks to breathe life into a dull corporate event or a long-drawn meeting.
The options for catered office food are virtually endless! Very exciting, right?
Well, not when ordering catering for a working lunch is just one of the many tasks you have to take care of. With a slew of corporate caterers on the market, how do you make your way through the crowd and select one that offers the best quality and cost?
Wouldn't it be great if someone did the vetting and choosing so all you'd have to do is pick from the finest caterers? Breathe easy, because that's where a centralised corporate catering portal steps in to make your busy day easy. Read on to know how a catering portal is smarter and better than ordering directly from a caterer.
---
Why are catering portals becoming popular?
Year on year, online food delivery platforms have seen steady growth, so why shouldn't we have the same available for the entire office? Corporate catering has never been so easy, with online portals such as Order-In consolidating all services, which saves time and makes delicious catering a breeze.
The days of calling around to multiple caterers, reiterating your budget and special diets in the office repeatedly, are finished. Corporate catering portals give you the tools to browse endless corporate caterers in your area, so you are equipped to order food for any office occasion.
And it's not just food! Kitchen supplies, crockery, equipment and staff hire, and special event catering let you host the most impressive corporate events, without breaking the bank.
Much like how travel portals have changed the travelling game, Order-In has made office catering better and easier.
Today, busy office staff searching for corporate catering use online catering platforms, such as Order-In, for the same reasons that Expedia is popular with travellers or RealEstate.com with house hunters.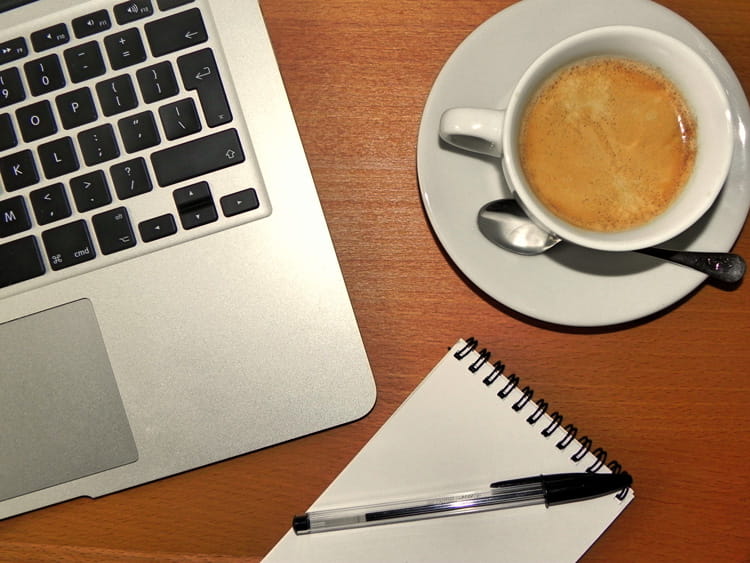 ---
Presenting: The future of ordering office catering
The popularity of food home delivery is exploding and has seen companies like Menulog grow 81% year on year. This reveals that Australians welcome convenience and choice. It further indicates that customers who are familiar with online shopping will expect a similar experience when ordering office catering. Over 60% of Australians have used an online delivery app or website to order food, and 40% of workers rely on technology to perform over 75% of their work. As we continue to rely on technology to streamline our life and increase productivity, why can't the same be applied to our food at work? Now it can.
With business confidence up and corporate profits increasing, we are seeing a greater number of businesses in Australia start to host more catered events, functions and trade shows. Ordering corporate catering for working lunches and events have been big drivers in the growth of the food tech industry.
Digital technology is reshaping the corporate catering industry and ordering office catering is now easier and more convenient than ever. The days of walking to the cafe at the end of the street, or picking up the phone to order catering could soon be a thing of the past thanks to the increasing popularity of on-demand catering and delivery services.
---
Top 5 benefits of choosing a corporate catering platform
Let's not deny it. Cities such as Sydney and Melbourne have some of the best corporate caterers who work hard to develop catered menus that everyone can enjoy. You can simply browse through the menus, order in a few clicks, and your food will be on its way. Prompt and convenient!
However, sometimes you need a wider menu to choose from or more variety. If you're time-stressed, you may want the convenience of a single consolidated invoice, which an individual caterer might not be able to provide.
On that note, here are five reasons why it is smarter to choose catering platforms and it's the way to go for your next business catering requirement:
1. The best caterers, handpicked for you to browse
Catering platforms act as a gatekeeper, ensuring that only the best caterers providing quality food and service are included. They also feature reviews from other customers so you can make better decisions. No nasty surprises!
2. No more menu fatigue
When it comes to ordering food, variety is everything! A catering portal creates a diverse hub of office caterers who provide a variety of options to suit every taste. From your standard options like gourmet sandwiches, sausage rolls and pies to unique flavours like Mexican street food, South American tapas, organic and indigenous Australian specialties, the sky's the limit! As portals regularly source updated menus from the corporate caterers, you can hope to find the latest food trends as well as seasonal favourites all in a single place.
3. Search fast, save time
Planning food for an all-day meeting or training session requires massive coordination. You have to first do research, find the best caterers for each meal, speak to them, draw up a shortlist, seal the deal, and then follow-up until the food reaches you on the day... Phew! A catering portal, on the other hand, makes this process convenient and efficient by connecting you with hand-picked corporate caterers. Who doesn't like less admin to wade through? Plus, imagine all that time you'll save using a single portal.
4. Spend less, save more
The monetary benefits of choosing a portal are many. There's not only discounts to enjoy but also seasonal offers to stretch your organisation's catering budget further. If you have offices across Australia, a portal can help you manage everyday kitchen supplies, corporate catering, and special event catering all from a single screen. That's as easy as it gets!
5. Safe and streamlined payments
In addition to making secure payments and managing your budget, catering platforms give you detailed reports to give you visibility over how much is being spent. A leading portal also offers service-level guarantees, streamlined billing and payment, and consolidated invoicing so you can save time and processing costs. Go ahead and impress your boss!
When you order via a platform, you can also expect help from a dedicated customer support team at all stages of the ordering process.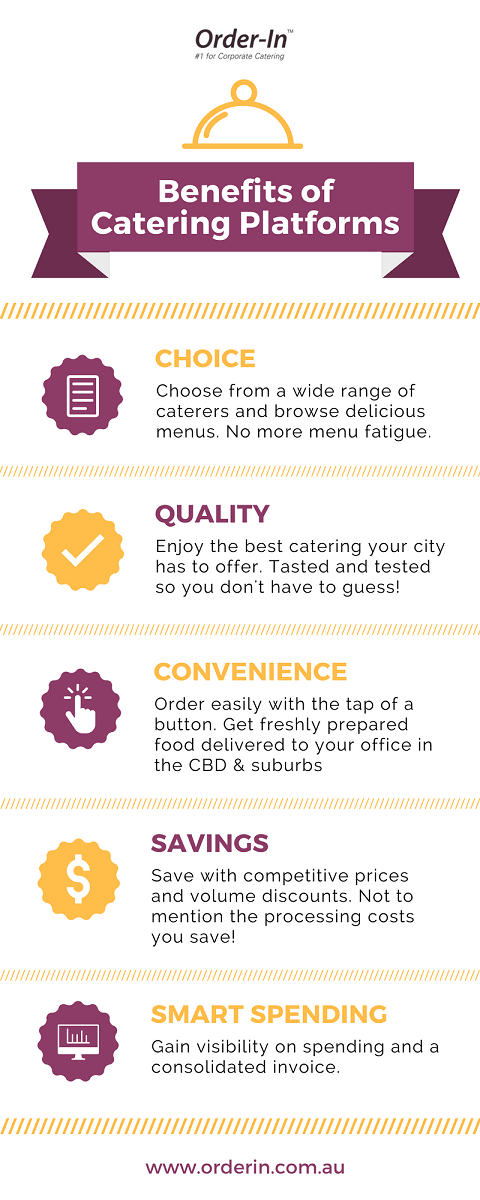 Want to share this image on your site? Just copy and paste the embed code below:
---
Catering portals benefit individual caterers too
As more consumers flock to centralised catering platforms, individual caterers are doing the same so they can drive sales.
Catering platforms allow cafes and restaurants to register with the service as a trusted caterer. They can then focus on their core function of catering while a portal takes care of many other aspects such as:
1. Growing sales
Engaging in networking and outreach is often a costly and time-consuming exercise for individual caterers. Portals help caterers gain access to a wider market all across Australia.
2. Marketing
The mass marketing and advertising efforts that a catering platform invests in help caterers gain visibility and wide market exposure.
3. Resource support
Platforms deal with everything from customer service, IT, invoicing and following up on payments so caterers can focus on what they do best.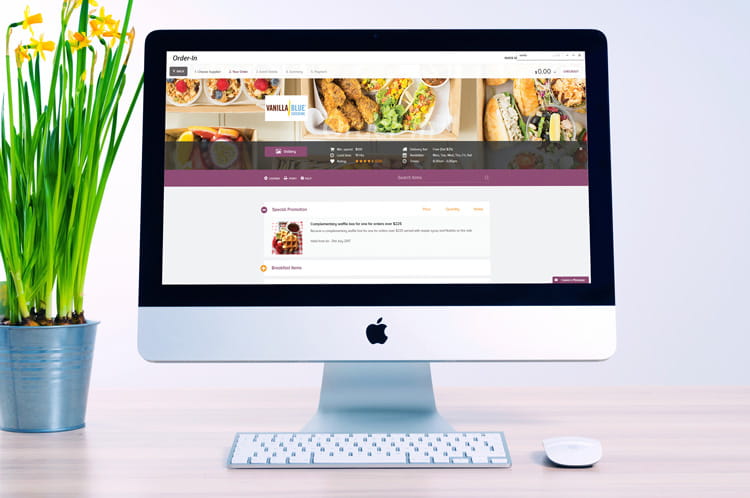 ---
Streamline your corporate catering
If the idea of saving time and money seems enticing, choose a centralised corporate catering portal for your next catered meal in the office. You'll thank yourself for finding the smarter way to order food for the office!
If you liked this post and are interested to learn more about Order-In and our services, get in touch with our friendly corporate catering team today.