How to celebrate employees' birthdays - the best office birthday ideas!
Celebrating a work colleague's or employee's birthday is a great excuse to take a short break, have some fun and enjoy a slice (or two) of cake. Birthday's bring people together and it should be no exception at work! This isn't just another stiff corporate event. Keep it light and casual, so it's something the whole office can look forward to. Here are some office birthday ideas and tips to help you celebrate at work.
Make office birthdays fun and personalised
Kick it up a notch and make your birthday person feel extra special by decorating their desk or cubicle. Go all out with colourful post-its, streamers and balloons. If you want to go the extra mile for this special occasion, why not ask your graphic designer to design a personalised birthday card. This creates fun for the whole office and makes the birthday employee feel extra special and appreciated. It's such a fun way to wish them a happy birthday and helps bring people together.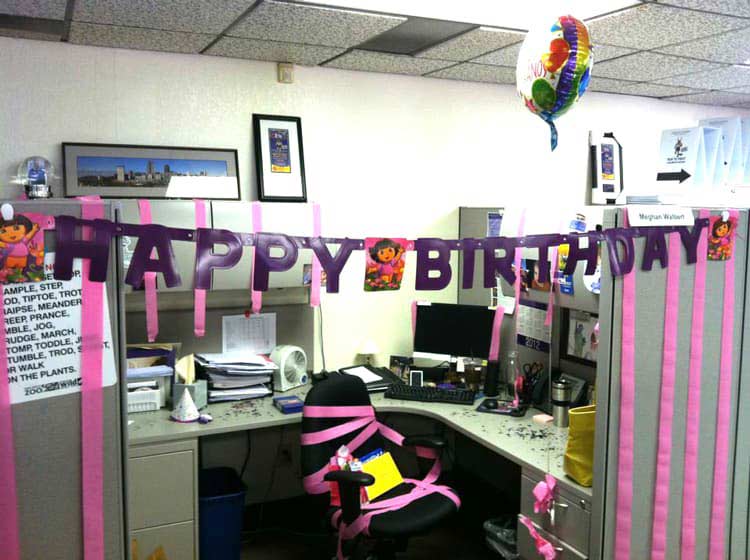 Source: Phase three of life
Celebrate everyone once a month
While acknowledging each employee's birthday is important, having a birthday cake every week (even if tempting) can get old, fast. Consider a monthly celebration for all employees whose birthdays fall in that month. A monthly birthday celebration party can save time and money, while still making staff feel appreciated and valued.
At Order-In, we celebrate with an office cake each month, that is picked out by a birthday staff member. It makes the experience feel more special and our whole team looks forward to the monthly celebrations as a chance to try new flavours and corporate caterers!
We find that a monthly celebration is a great way to bond with each other and gives everyone the chance to take a short break and unwind. It's also awesome for building morale and cements our company culture.
Try something different
A cake delivery isn't the only way to celebrate a birthday at work. Cupcakes, cake pops, ice cream bars, chocolates, donuts and other sweet treats are all great options.
Do you know what else brings people together? Food! Sharing food with other employees can help to remove barriers, build stronger relationships with other team members and encourages conversation.
If you're not in the mood for cake (we're sure it happens), why not try out a new cuisine theme each month instead? Think pizza party, finger food, fresh Vietnamese catering, flavoursome Mexican with a DIY taco bar! The list is endless. You don't even have to be limited by a lunchtime menu. Try out a breakfast celebration, morning or afternoon tea birthday celebration to keep things interesting.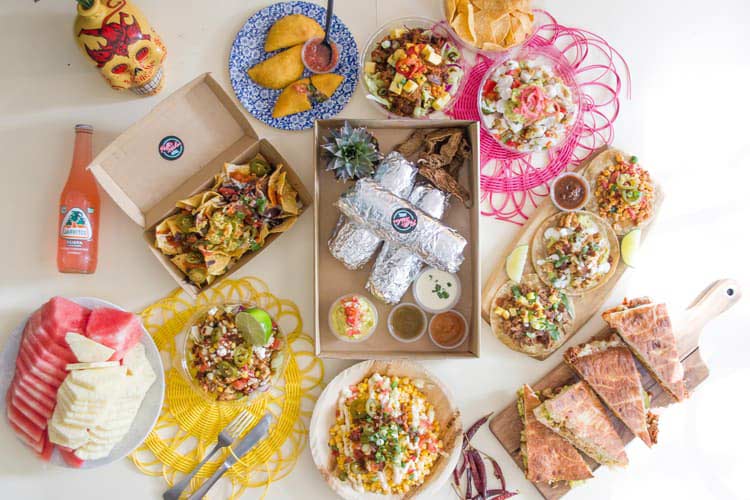 Source: Pablo's Kitchen
Happy hour for a happy birthday
For big birthday's or significant milestones, consider hosting an evening drinks in the office. Not only is this a fun way for the team to bond, it's an extra special way to acknowledge those important birthdays in the office. Office alcohol delivery and delicious finger food catering is an easy way to organise a successful and fun office happy hour.
Catering for intolerances, allergies and special diets
There's nothing worse than ordering a birthday cake for a staff member, only to find out that the recipient can't eat it. Nearly half of all our catering orders include a special dietary need, so it's best to check for any dietary requirements before getting your cake delivery. Whether it's nuts, gluten, dairy, vegan or anything in-between, we have plenty of delicious options when catering for special dietary requirements.
Birthdays aren't the only thing you can celebrate in the office
The birth of an employee's child, the launch of a new product, a great sales month, work anniversaries or promotions are all great reasons to have an office celebration. But don't go too overboard – do you have the time, budget and energy to celebrate every staff member's special life event?
According to Globoforce, 95% of survey respondents felt more positive if they were noticed and recognized during their work anniversary. It doesn't need to be too complex, but having an office cake and adding a personal touch to the celebration can go a long way to make employees feel appreciated and valued. Something as simple as a card signed by everyone in the office, or even an email from the CEO acknowledging that person's contribution can make it feel that much more special.
Tiny but mighty - cupcake delivery for that special day
While a cake is the traditional sweet treat of choice for birthday celebrations, there are also a range of delectable cupcake options that provides a beautifully simple and scrumptious twist on the classic. You also avoid the cutting and plating, so it's a breeze to serve and tidy up afterwards! Remember, if you're ordering cupcakes for your next office celebration, include a little buffer in the numbers, just in case you missed someone!
Cakes and cupcake delivery - a piece of cake with Order-In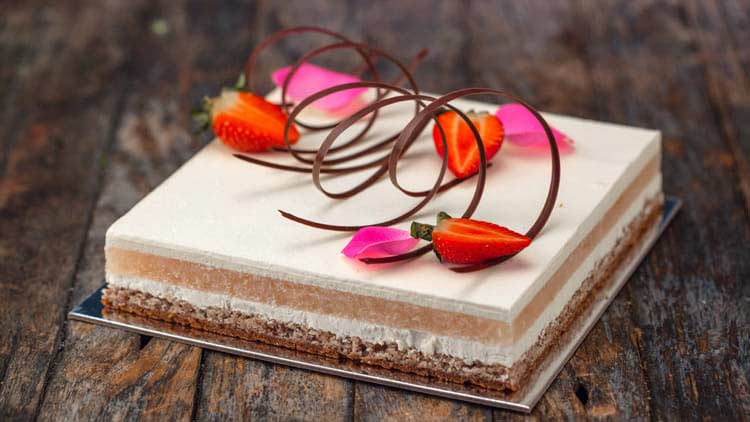 Source: Annie Makes Cakes
Now for the important part - the office cake! We have a wide variety of corporate cakes and cupcake delivery options for your next office celebration or party. We deliver to all major CBD locations, including Sydney, Brisbane, Melbourne, Adelaide, Canberra and Perth. You can check out our website to search for an office birthday cake and cupcake catering service near you.
Below are some birthday cake ideas from some of our favourite corporate caterers. If you're after something different, try a sweet treat, brownie or even doughnuts for your next office birthday party.
Vanilla Cupcakery: Freshly baked, gourmet cupcakes delivered to your Sydney office make using only the finest ingredients
Looma's: Quality, gourmet cupcakes and cake delivery in Sydney. They also have a wide selection of delicious gluten free, dairy free and vegan cakes.
Annie Makes Cakes: Sharing her love and passion for desserts with everyone!
Cakes 2 U: Wide selection of delicious corporate cakes, bakery and patisserie menu items
Cakes Online Australia: Offering a wide selection of cakes, cupcakes, macarons and other sweet treats
Little Cupcakes: Cute cupcakes that are perfect for celebrations or custom branded cupcakes for corporate events in Melbourne
Double Blessing Cupcakes: Make your next birthday celebration a hit with cupcake bouquets!
Reverie Cafe & Desserts: Irresistible creations that will impress in Melbourne
Sweet Remedy: delicious cupcake delivery that will make your next celebration the talk of the town
Cupcake Espresso: cupcakes that are to die for in Newcastle
Dolce Vita Premium Cakes: their Maltezer cake is to die for!
Ganache Cakes and Chocolate: try something different like their passionfruit and mango cake which is also gluten free
Cake and Bake: delivering tasty cakes to Brisbane offices. They also offer a great selection of gluten free and vegan options
Tonitto Continental Cakes: a family operated business based in Wollongong specialising in fresh, high quality cakes, cupcakes and other sweet treats
The French Lettuce: try something different for your next office celebration, like the Mille Feuille
The Cheesecake Shop: a mouth-watering range of cakes
The Avenue Baking Company: try something different like their assorted sweets box
Bayside Brownie Co: perfect for birthday celebrations, morning or afternoon tea or office celebrations in Brisbane
Cake Box: good ole fashioned cakes for your Perth office
Don't hesitate to view their delicious menus for more details and order something delectable for your next birthday celebration.
Final tips!
OK, you've got your date, you know the staff member is cool with celebrating and you've selected the perfect office cake, what's next? Glad you asked! Here are 6 helpful office birthday ideas and tips to make sure those special days run smoothly.
Be consistent. Workplace celebrations are about inclusion and adding value for and to your team, so getting one birthday person a card and another, a week in Hawaii does not a happy team make. Let's stick with delicious, all-inclusive cakes and cupcakes.
Avoid age jokes. HR Simple's "Birthdays in the Workplace" notes that age and the language you use can be a sensitive topic, and some gags can come off as disrespectful. So if you're planning on roasting the "oldie" or the "baby" of the team, consider their feelings first, especially if it's the boss!
Grab a card and have your team members sign it. It's a great team building practice.
Got the munchies? If you prefer to have a lunch, brunch, morning tea or after work drinks along with, or in place of a cake, you can make multiple bookings for the same day easily and reliably with Order-In. Have your cake delivered in the morning, with a beautiful working lunch arriving later that day. Easy!
Think outside the box. Why not think outside the box a little, with a celebration that's both personal to the individual but connected to the business? A "work birthday" is like a normal birthday, except that it's celebrated on the day that you started at that company. This way, you can generally avoid any personal or religious reservations associated with birthdays.
Gifts. If you're going to buy a gift as a team, keep it optional and discreet. Gift cards are also an easy option.
Ready to get started?
To order corporate cakes for your next office birthday celebration, visit our website, search for a corporate caterer and view their menus for more details and to start ordering, or feel free to call us on 1300 851 900. From slices, cupcakes and cake delivery, we have it all! We can also help provide some inspirational and super happy birthday lunch catering ideas for your business!