Morning tea ideas for work functions and events
---
Australia's Biggest Morning Tea Catering
If you're looking to get your Australia's Biggest Morning Tea catered, check out our fantastic fresh catering options for each state below:
NSW: Vanilla Blue Catering, Square Catering, Charlie & Franks, Vanilla Cupcakery, Annie Makes Cakes
VIC: Emerald Hill Catering, Top Nosh Caterers, IQ Catering, Brisk, Bay Leaf Catering, Wilton's Cookies, Little Cupcakes Bakery, Wood & Spoon
QLD: Entice Me Catering, Ecco Hospitality, Cupcake Patisserie, Bayside Brownie Co, Karma Cupcakes, My Alter Ego
WA: Sevenoaks Catering, Temptations Catering
Want an easier way to order multiple packages for your entire team at home? contact us!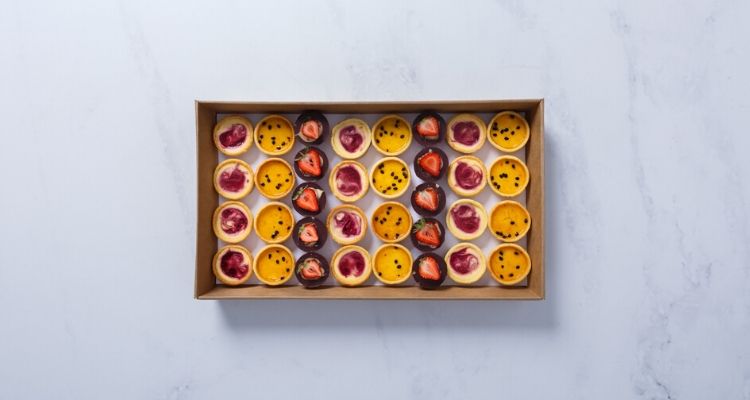 ---
Morning Tea Catering Ideas
Below are some of the best tea catering menu ideas with sugary and savoury options to help you get started, and it's just a little taste of what we can do. Whether it's for the Cancer Council's Australia's Biggest Morning Tea or otherwise, your choices are endless.
Sweet treats
Scones
It wouldn't be a proper tea party without freshly baked, fluffy scones. And don't skimp on the cream and strawberry jam use!
Pancakes
Nothing stacks up to pancakes. Whether you enjoy your pancakes smothered in butter, coated in Nutella or drowned in maple syrup, pancakes are always a crowd-pleaser.
Macarons
Delicate, delicious, mouth-watering and available in a variety of colours, include a basket or platter with different flavours and fillings.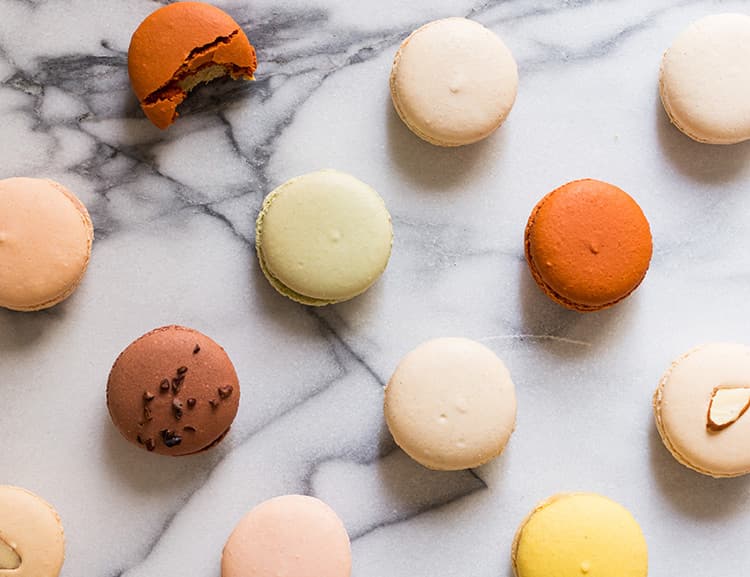 Cupcakes
Individual little cakes for your guests, these little treats will please both young and old and are easy to eat.
Check this out for the correct way to eat a cupcake.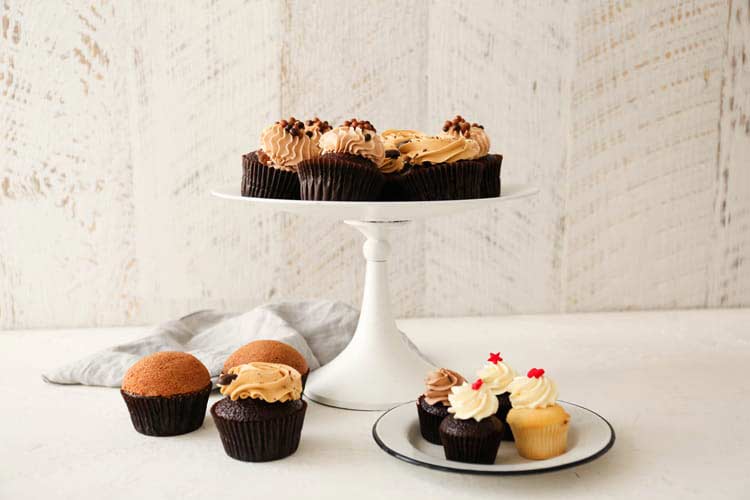 Pastries
In addition to your scones, serve some buttery, sweet treats that melt in your mouth. Have a mix of mini Danish pastries, tartlets, croissants and more for your next tea party.
Savoury morning tea ideas
Bacon and egg muffins
Treat the office to a late breakfast for morning tea. Bacon and egg muffins are the perfect mid-morning meal that will boost office morale and productivity.
Ham and cheese croissants
These pastries are a crowd pleaser and can be served hot or cold. They're perfect for serving up for a morning or afternoon tea.
Scrolls
From savoury classics, like pizza and cheese, to indulgences with butterscotch and cinnamon, there's a lot to love about scrolls. Serve it with a hot chocolate or cuppa and you can't go wrong.
Mini quiches
These bite-sized goodies will fill hungry tummies. Whether you enjoy spinach and feta or cheese and tomato, there are a variety of options to suit everyone's palates.
Cheese
A platter of cheese and crackers always gets the thumbs up for those who prefer a savoury spread. Pimp your platter with a variety of fruits, nuts, olives, dips and breads. For more tips and tricks on what to include on your cheese platter check out our grazing table tips and tricks here.
Healthy morning tea ideas
Yoghurt, berries and muesli
Not just for breakfast, bircher muesli is great as a snack too! It's a tasty and healthy alternative for people who don't want a slice of cake, but still want something sweet. The fresh berries provide a shot of antioxidants too.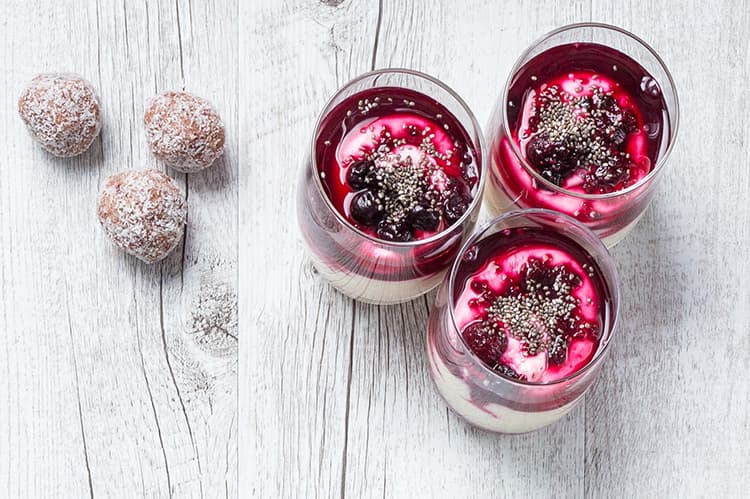 Popcorn
A surprising source of health benefits including fibre and antioxidants. Try these toppings: garlic or parmesan to take it to the next level.
DIY stations
Smoothie bowl stations, breakfast burrito line-up or on the spot omelettes can be a creative way to make morning tea fun. Handing the recipe over to your team allows everyone to really take control of their meal and get the best out of brekkie. This can also help give your staff some helpful tips for meal planning and looking after themselves for the most important meal of the day.
Wrap platters
Swap the usual finger sandwiches out for a wrap platter. This healthy alternative can include a variety of different fillings include veggies, lean meats and a mix of salads.
Fruit kebabs
Skewers of freshly cut fruit and drizzled with chocolate. Yum.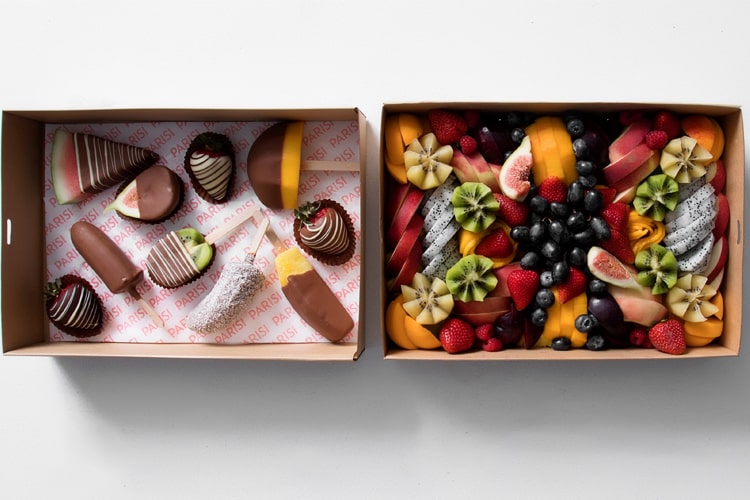 Chocolate-dunked strawberries
Seriously, people love anything coated in dark chocolate. Well, maybe not anything, but strawberries and dark chocolate are a tasty and healthy match made in heaven. You can't go wrong here.
Dips
Skip the potato chips that are full of fat and salt and offer some chopped up raw veggies like carrot sticks, celery, cucumber, tomatoes and green beans. Pair it with hummus, guacamole or an eggplant dip. Delish!
Smoothies and juices
If you want to be a little creative, consider ordering a variety of smoothies and juices to change things up a bit. Think strawberry smoothies, freshly squeezed orange juices and green juices.
Morning tea ideas for work functions
Champagne morning tea
For special occasions and for something a bit more luxurious, try a champagne menu with gourmet finger food, decadent chocolate mousse served in shot glasses, macarons and lemon meringue tarts. Offer a selection of mocktails and other non-alcoholic drinks like iced teas, juices and spritzers for non-drinkers.
The sweet life
Embrace the sweet life like an Italian with a mix of sweet treats and biscuits, including Florentines, biscotti, slices and pastries. And don't forget some dark, Italian style espresso to go with your sweets. Use your coffee machine for the real stuff, or consider hiring a mobile barista for your Italian theme.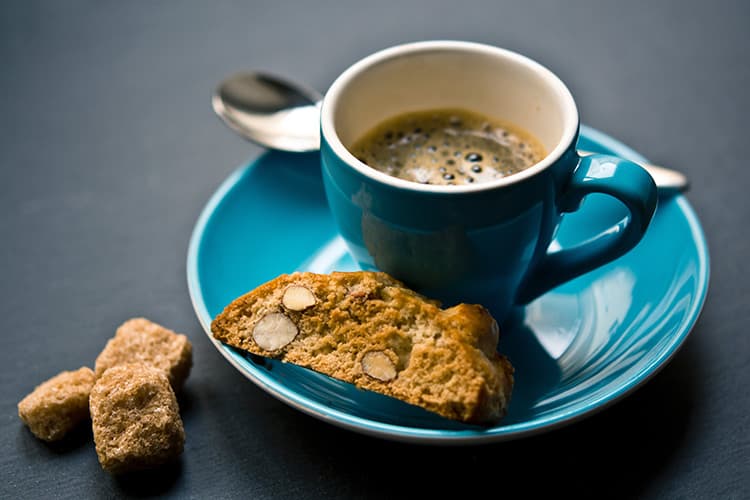 The Australia favourite
Plan a true blue morning tea event or party with platters stacked with Anzac biscuits, lamingtons, mini pavlovas, fresh fruit, scones with strawberry jam and cream, damper, Cheesymite scrolls, egg and bacon rolls and banana bread on your Australian menu, all washed down with a strong cup of earl grey.
Fusion fun
If you're after something a bit more unique and stand out, why not try some fresh Asian catering. Whether that's scrumptious rice paper rolls and salads, or fresh sushi and miso, mixing it up for brunch may be just what your team needs.
Check out some delicious Vietnamese and Japanese catering options here!
High tea
Go Downtown Abbey with some dainty finger chicken, salmon, cucumber and cream cheese tea sandwiches, a Victoria sponge cake, lemon melting moments, English muffins, petit fours, scones with strawberry jam and clotted cream, lemon curd tartlets, including a beautiful selection of teas, coffees and iced tea with your menu.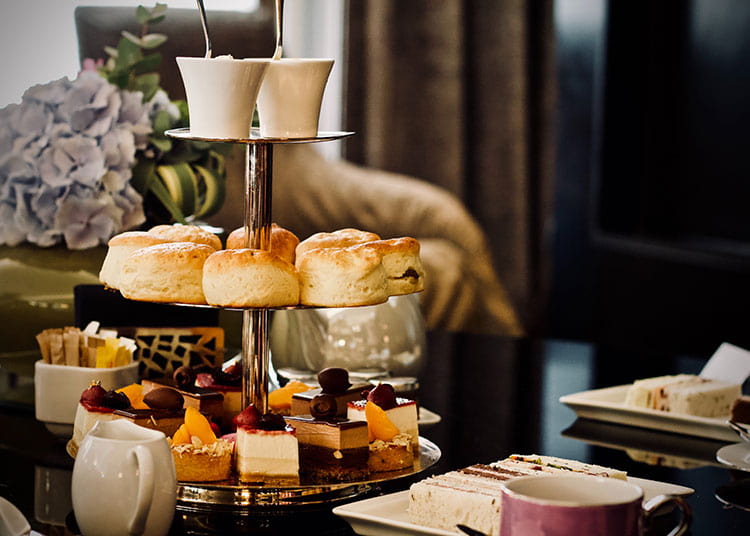 Final tips
Special dietary requirements
Make sure no one gets left out - we can cater for special dietary requirements, such as gluten-free, dairy-free and vegetarians. Include some gluten-free pastries, vegetarian sandwich fillings and cakes that are dairy-free to ensure everyone is satisfied!
Catering quantities
As a rule of thumb, we recommend the following quantities:
Cocktail/mini pastries and sweet treats – 2 to 3 per person
Large pastries and cakes – 1 ½ items per person
Platters – 1 serve of any platter per person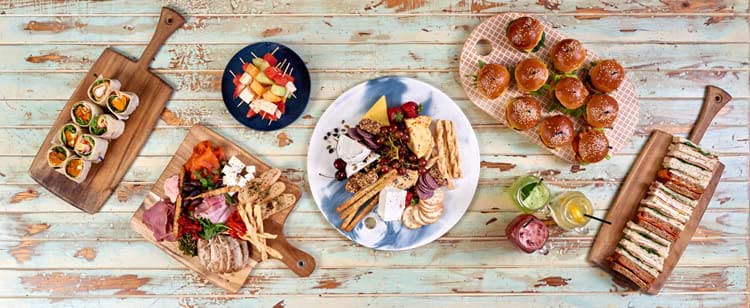 Ready to order?
Make sure everyone has a great time and the food is delicious at your next morning or afternoon tea. If you're planning a morning tea and you're not sure what to order, speak to our catering consultants on 1300 851 900 for easy office morning tea catering suggestions and inspiration.
Or check out our website to search and view the various corporate caterers and their menus. It's so easy to order online! From fluffy scones to mini cakes or finger sandwiches, we'll make your next morning or afternoon tea party a success.