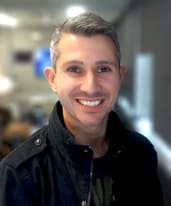 Meet the team! Supplier Relationship Manager – Will Gatzonis
Meet our Supplier Relationship Manager, Will Gatzonis. Will is focused on building strong relationships with our Melbourne corporate caterers. His objective is to add more office caterers to the Order-In family, so you, our customer can benefit from the variety on the one platform. Get to know Will a bit better as we ask him 5 quick questions.
---
Who
William Gatzonis – Supplier Relationship Manager in Melbourne.
Tell us a bit about yourself and experience
I have 8 years in hospitality with various back of house and front of house roles. This was followed by 10 years of sales and account management experience within the food service and FMCG sector.
Favorite part about working at Order-In
I love the interaction with passionate and driven business owners who take pride in their product and service. Also we get offered a lot of delicious sample food to eat on our journeys! (Not great on the waistline though…)
Favourite food
Spanish when I feel naughty and Vietnamese when I feel health conscious.
Fun fact about you
Not so much 'fun' but probably more 'funny'. My name in Greek loosely translates into the herb Basil… so food is in my name.
Hidden talent
Without tooting my horn too much (excuse the pun here), I played the trumpet in my younger years in several school bands and was pretty good at it too!
Order-In tip
The Order-In platform makes life so easy for operators of catering/foodservice businesses and customers alike! Customers have access to a variety of office caterers in one place, it saves them time, they can enjoy the convenience of a consolidated invoice and the help of a customer service team at all times.
Office catering businesses can also benefit from corporate catering portals, including the ability to grow their sales, resource support and following up on payments so they can concentrate on what they do best.