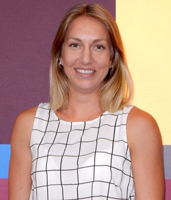 Meet the team! Corporate Events Manager - Bim Prahl
New mum Ellen Amato is now officially on maternity leave, but don't worry - you're in safe hands with Bim Prahl, Functions & Events Manager extraordinaire. Get to know Bim a bit better, as we ask her 5 quick questions.
---
Who
Bim Prahl
Tell us a bit about yourself and experience
I moved 7 years ago, from Sweden to Australia to study a Bachelor of Business, majoring in Event Management. Once I finished my studies, I was lucky enough to get a job with Order-In as a Catering Consultant, which I have enjoyed very much. I am now super happy to move in to a new role as the Event Manager here.
Favorite part about working at Order-In
The fantastic team spirit, the great clients and of course, the yummy catering we get to try. (I'm taste testing it for our customers, of course!)
Favourite food
At the moment, Japanese. But something that always works is ice cream (Ben & Jerry's naturally!)
Fun fact about you
I bungee jumped once and I will never do it again. I can barely remember it, because I was so terrified. The only way I know I actually did it, is because I have it on DVD.
Hidden talent
I am extremely good at lawn bowls. I have 3 trophies to prove it.
Note from Order-In: Anyone ready for the challenge?
Order-In tip
Get in early
Trust the expertise of the consultants
A corporate BBQ is always a good idea!
---