8 Christmas finger foods for office holiday parties
When the jingle bells start ringing, you know it's time to get out your planners and get moving with the office Christmas party. One of, or perhaps, the most important item on your checklist will be Christmas catering. The silly season is all about the food, isn't it?
Whether you're converting your boardroom into a lunchroom or arranging dinner and drinks on the balcony, you'll want to ensure a steady flow of delicious Christmas party finger foods. A delicious spread permits mess-free mingling, but without snapping hunger pangs that usher groans for the main meal.
Not sure where to start? Read on for eight delectable and easy Christmas finger food ideas you should consider for the office holiday party.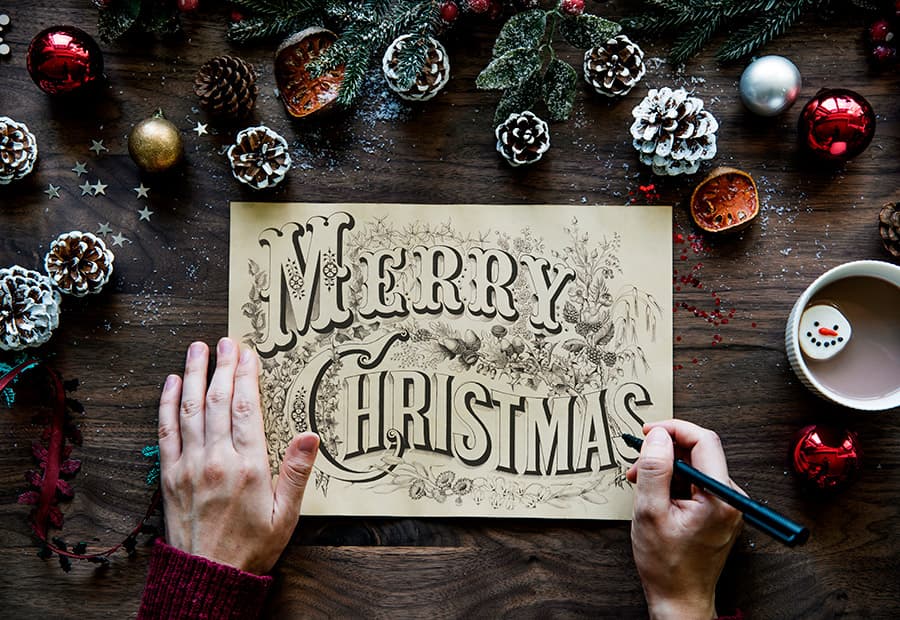 1. Mini pizzas
All the delicious flavours of a warm slice of pizza, in one bite-sized portion. Mini pizzas are great for office Christmas snacks at parties because they aren't as heavy on the stomach as a standard slice. Colleagues can enjoy the cheesy goodness without filling up, allowing them to sample other delicious food on offer.
Pizza catering ideas: For Christmas, you should choose something a little special. Try themed pizza bites, such as basil pesto Christmas tree pizzas or margarita Santa hats with blue cheese.
2. Mini pavlovas
Pavlovas are an Australian classic and holiday appetizer. Sure to add an addition palette of flavour to your Christmas catering spread. Crispy meringue that is sweet to the core and topped with seasonal fruits, this dessert will make anyone feel refreshed and impress at any summer celebration or Christmas dinner.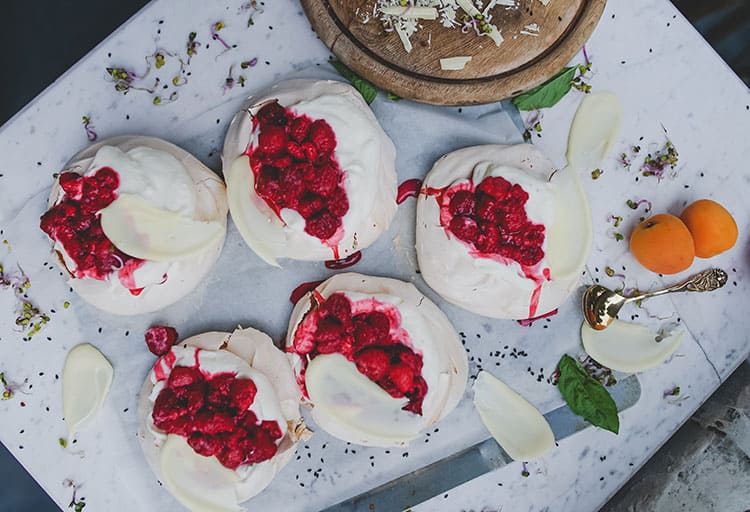 3. Christmas sweet treats
It wouldn't be Christmas food without some sweet treats to brighten your spread. Decorated cheese or bliss balls will add a pop of red and green to the boardroom (buffet!) table. Fruit mince tarts and mini Christmas cakes are also items you must include, as these classic bites never disappoint.
Sweet treat tips: Don't neglect cookies, as you can arrange a fun decorating competition to sweeten up the event.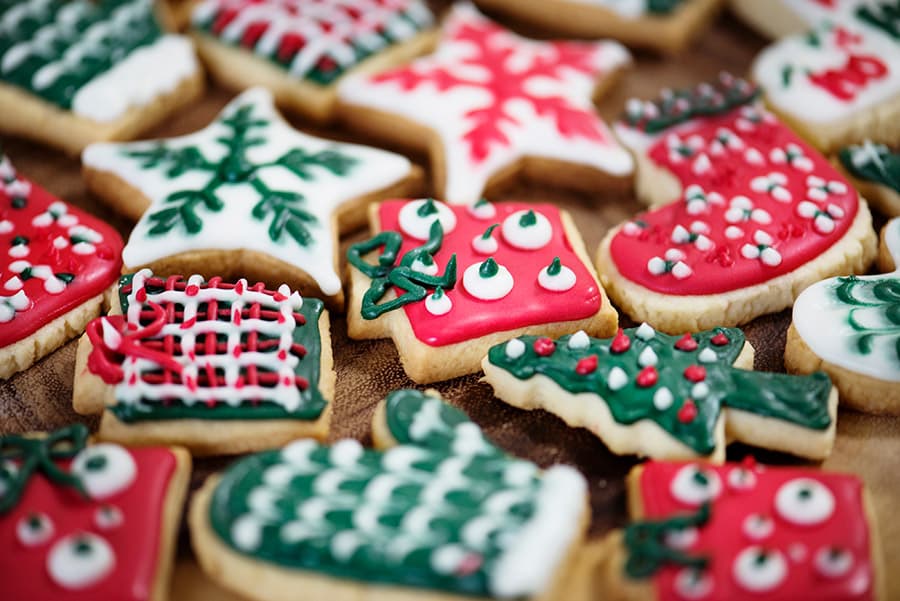 4. Burger sliders
Slide some burgers your colleagues' way. There's no need to go crazy when it comes to your corporate burger catering. A variety of cheese, beef, chicken, turkey with cranberry sauce and veggie sliders will provide you with enough options to give everyone at the office a taste of the Christmas spirit.
5. Rice paper rolls
These light and delectable morsels will bring a touch of fusion to any office Christmas event. A healthier alternative to the popular deep-fried spring roll, these rice-starch wraps come packed with a variety of fillings. From smoked salmon, grilled chicken, prawns, fresh vegetables and tofu, you can please everyone with a gourmet Vietnamese platter.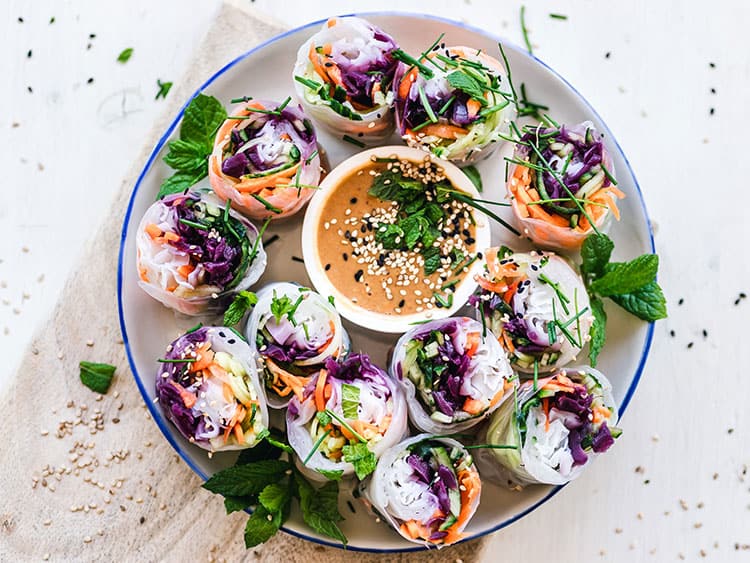 Catering tip: Rice-based treats are great for anyone with special diets, on a health kick or a small appetite.
6. Skewered foods
Put anything on a skewer and it becomes finger food for the corporate Christmas do! If you do go for food on a stick, ensure that you cater to everyone's tastes by providing a variety of protein and vegetable combinations.
It's essential that skewered options aren't too greasy or oily to avoid excessive runoff and mess. They should be able to be eaten comfortably, while seated or standing.
The classic combination of cherry tomatoes, bocconcini cheese balls and basil are a great option for the office Christmas lunch. Their fresh flavours and vibrant colours will get everyone in the Christmas spirit!
Kitchen supplies tip: If you need platters or crockery on which to serve your Christmas finger food, consider ordering them along with your corporate catering.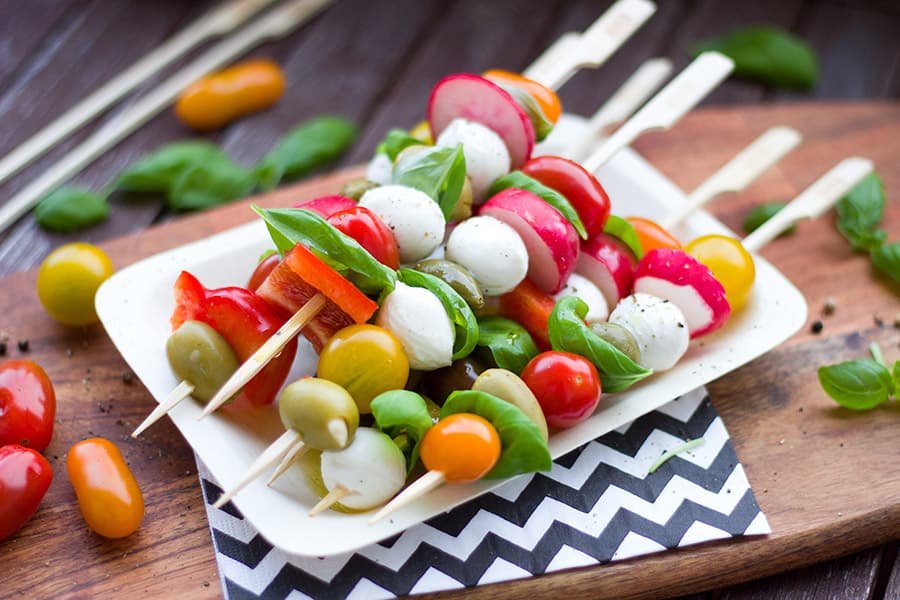 7. Mini sausage rolls and meat pies
There's no party without a side dish (or two!) of party pies and sausage rolls. These classic crowd-pleasers are well-suited to hot finger food catering and should be paired alongside a cold dish, such as rice paper rolls, to balance out the catering.
Remember to check if you need to provide gluten-free or vegetarian options as these carnivorous pastries will not fit the bill for either of these special diet requirements.
Catering tip: Add a festive twist with a delicious pork and cranberry sausage roll, turkey and cranberry sausage roll, or try serving a spiced cranberry chutney with your hot food.
8. Puff pastry
Light bites that are still substantial and yummy, you can't go wrong with puff pastry canapes with a Christmas twist. Check out some ideas below:
Caramelised onion and apple tart
Cheese twists
Puff pastry bites with stilton cheese, fig jam and candy glazed walnuts
Mini chorizo sausage rolls
Cranberry baked brie bites
Dark chocolate cream horns
Blue cheese and brie pastry cups
Raspberry palmiers
Pear, prosciutto and goat cheese cups
Mini lemon and raspberry puff tarts
Christmas party finger food catering tips
Here are some other useful Christmas event catering tips to help make your office holiday event planning a breeze:
How long should my Christmas party be?
Follow these guidelines when planning the duration of your Christmas bash.
For a lunchtime function — 2 to 3 hours
For an evening function — 3 to 4 hours
How many Christmas party finger foods should I order for my event?
Simple! Check out our quantity guidelines for more details, but we recommend the following:
1-hour event — 6 pieces per person
2-hour event — 9 pieces per person
3-hour event — 12 pieces per person
4-hour event — 16 pieces per person
What finger food should I order? Hot versus cold food?
A combination of both is best for your Christmas event. Serve the hot food first, followed by the cold.
Worried about your finger food running out?
Don't stress! Just order a selection of yummy cheese and fruit platters to serve after the finger foods have been eaten, about an hour before your Christmas party event wraps up. It's also a sensible choice when considering the responsible service of alcohol.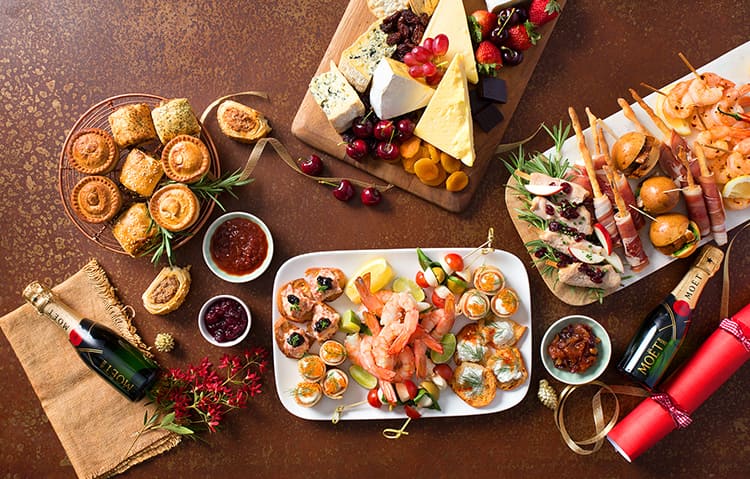 It's not a celebration without the alcohol!
How much alcohol should you order for your office Christmas party? Here are a few handy alcohol quantity guidelines for your Christmas shindig.
The first hour — allow three drinks per person, two serves of wine or beer and one soft drink
Each subsequent hour — allow two drinks per person. So that means to allow five drinks per person for a two-hour event
Remember, these are guidelines only and always have plenty of mineral water available to keep a safe and comfortable environment for all.
What mix of alcohol should I order?
Normally, a 50/50 split of beer to wine should be sufficient. But, if you know you'll have a greater number of males present at your event, try a 70/30 beer to wine ratio instead.
Now that the warm weather is upon us, white and sparkling wine tends to be more popular than heavy reds.
Always remember to serve plenty of non-alcoholic beverages as well, such as orange juice, sparkling mineral water and a mix of soft drinks — Coke, Coke Zero and Sprite are great options.
Helpful tip: There are 24 drinks in a case of beer and six glasses of wine in a bottle.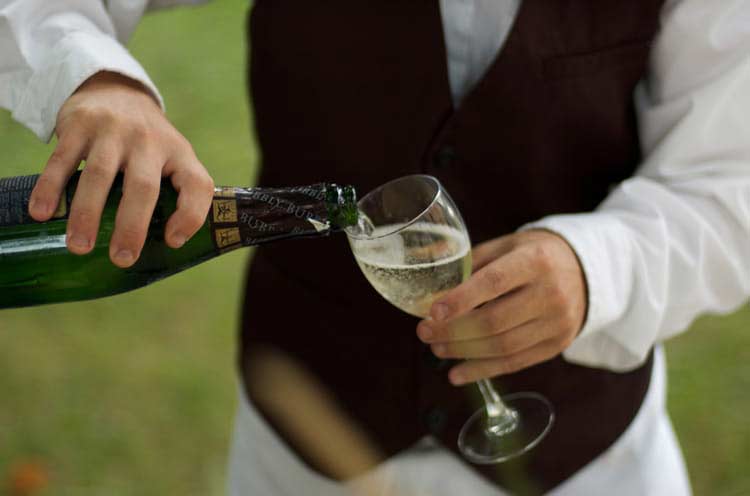 Cater for your Christmas spirit
Providing a variety of easy, yet festive finger food options for lunch or dinner is key to a successful and fun Christmas spread. Ensure you have both hot and cold Christmas party finger foods available, and a variety of flavours for a balanced palette. Getting your food menu right can make or break your holiday shindig, as when the food goes south, so does the Christmas cheer.
For more advice or inspirational food ideas relating to office Christmas party catering and delicious and fun catering that everyone will love, get in touch with the friendly team at Order-In. Alternatively, browse our online catering menus if you'd like to order finger food catering for your office Christmas bash. Don't forget that if you need help planning your holiday party, our event managers are on hand to help with themes, decorations, equipment hire, staff hire and more!