9 tips for drinking responsibly at company events
We've all been there, either at the Christmas party, Melbourne Cup lunch, a company milestone event, or even the end of financial year party, where we've witnessed some of our dear colleagues and their fervour towards the alcoholic beverages. Sure, it's kind of funny to see how 'rekt' David from sales is going to get this year, but excessive use of the bar can lead to embarrassing and inappropriate behaviour, and may cause issues between the members of your team. If you're hosting a corporate event that supplies alcohol, like Melbourne Cup or Christmas, how do you keep a safe and comfortable environment for all employees involved? Well, at Order-In, we've had years of corporate catering and events planning experience, so here are a few tips that should help.
1. Ensure the team knows any internal policies
Many companies, particularly large ones, already have a policy or policies on the responsible consumption of alcohol. If your company is one of them, ensure your HR representative sends around the info to all employees, in a friendly manner. It's not a subtle approach, but neither is it a buzzkill tactic. It can still be a fun night for everyone, but it's important that the "rules" of the event are outlined, as it's a reminder that the event is attached to the company and therefore, likely comes under the same guidelines your employees follow at the workplace.
2. Provide plenty of food
Food is imperative at company events that serve alcohol, regardless of the style of event (cocktail party or sit-down for example). It spaces out your drinks and absorbs some of the alcohol, ensuring nobody gets tipsy on an empty stomach. Further to this point, you need to ensure that special dietary requirements are catered for, so that everyone has equal opportunity to eat properly. So no matter if you order some delicious Melbourne Cup catering, tasty finger food or a few platters scattered around, it's always important to supply food.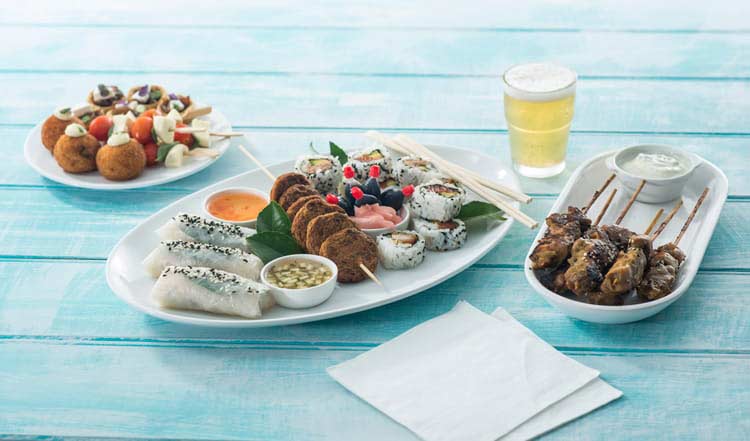 3. Don't forget non-alcoholic beverages
Offering non-alcoholic beverage options, like soft drinks, juice and water is an absolute must. It allows everyone the opportunity to space out their drinks, allows non-alcoholic drinkers a great variety of options, and gently encourages the consumption of these beverages in place of alcoholic ones.
4. Advertise the open bar time
Advertising the times between which alcohol will be served, indicates a level of pacing that the attendees should adhere to. Key to this though is to not make it sound like "last call" at the local pub, where you're encouraged to "order up". It's a great idea to close off bar service between an hour and half an hour before the event concludes, so that people have some time to taper off. Furthermore, a range of teas, coffees, and other non-alcoholic options should be made readily available for guests to enjoy before their departure.
5. Arrange alternative transport
Ensuring your team gets home safely is, or should be, a high priority when planning company events. Organising cabs, detailing local public transport schedules and stations, or providing a chartered bus or cars are all ways to deal with this. If you're at a hotel function centre, or in a busy precinct that has easy access to cabs, then ensure there is someone designated, either from the company, or a member of the venue staff that will ensure everyone leaves the venue safely.
6. Have qualified staff to serve alcohol
Servers that have completed their relevant Responsible Service of Alcohol (RSA) qualifications in your state are most qualified to dispense alcoholic beverages, and ensure that it is not served to inebriated guests. The venue staff or hired events staff serving alcohol must be RSA-qualified staff. If you're worried about "being the bad guy," then these qualified bartenders take the responsibility away from you.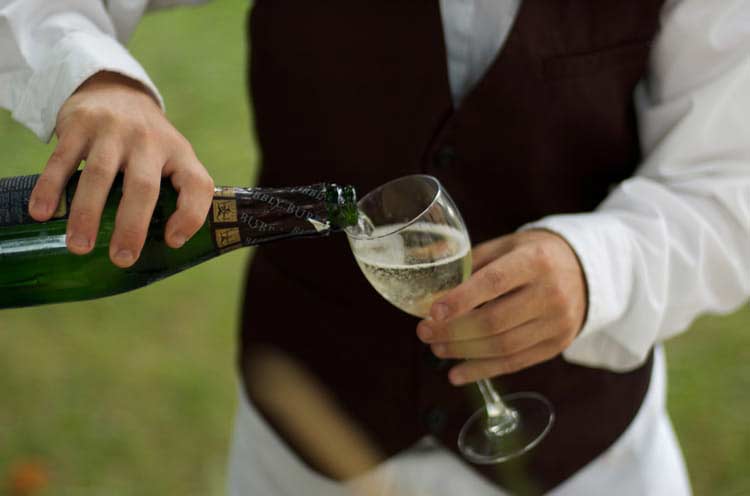 7. Water, water, and more water
Last, but definitely not least is the need for water. Water should be made freely and readily available for the entirety of the event. If you have wait staff, then they should be walking around the venue with water as well as other beverages. The importance of water cannot be stressed enough and making it easily available and located in prominent places, like near tea and coffee facilities, at a drinks table, at the bar, or at a grazing table, is a fantastic way to promote its consumption.
8. Don't make alcohol the focus of the event
If you're tasked with planning a corporate event for your office, make sure that alcohol isn't the main focus. For example, VicHealth says that Melbourne Cup celebrations are most notoriously associated with alcohol related incidents. While this doesn't mean you can't have alcohol served at your function or any office celebration, it's just important to take precautions and not make it the focus of the day.
9. Keep the event type in mind
There are certain levels of respect that need to be upheld at certain events. For instance, you'd want to remain composed if you're hosting important clients, rather than the office Melbourne Cup sweeps, where you can afford to get a little rowdier. Make sure your guests are aware of the stakes at the event and what it could mean for business to avoid any slip-ups.
Corporate functions and events
There are many benefits to using an event manager at your next event. If you want to take the hassle out of organising and planning your corporate function or event, then have a chat to our experienced event managers. We've been catering and providing professional staff for corporate events for years and we'll ensure that your company event is executed with delicious food, premium beverage and alcohol delivery and friendly staff for a flawless, enjoyable and fun company function or event. Whether you're organising a Melbourne Cup lunch, Christmas or EOFY party, get in touch with our event managers today to chat about your next corporate function or event on 1300 851 900.