How to host the perfect corporate BBQ: a checklist
It's summer time, which means it's BBQ time! And there's nothing better than getting some sunshine, cooking up something delicious and spending some time outdoors. A corporate BBQ is a great way to celebrate the New Year and get to know your work colleagues in an informal and relaxed setting, a company celebration or you just want to bring everyone together for some team bonding.
If you're hosting a great BBQ for your office in Sydney, Melbourne, Brisbane, Adelaide, Perth or Canberra, make it truly memorable with these handy planning tips and tricks. We've put together the ultimate BBQ checklist, including all the things you've got to consider when organising your BBQ, from food, plates and cutlery to the location and clean up.
Step 1: Preparation phase
Plan the perfect menu
It wouldn't be a barbecue without the grilled meats and some classic and delicious sides. Make sure you have some varied options too for all the special diets in your office, from vegetarian to gluten free, there should be something for everyone. Organising the food, style of cuisine and all your special dietary options is the first and one of the most important steps in your BBQ preparation. Still have room for dessert? You don't need to have something fancy, but a mini brownie, cupcake or fresh fruit is a great way to finish off the day.
Check out these sample mouth-watering menus for your next corporate BBQ.
Everyday BBQ
From the grill
Marinated yearling topside steak
Italian sausages?
From the salad bar
Roasted potato salad with rosemary, crispy bacon, shallots, cherry tomatoes, parsley and honey mustard aioli
Greek salad with Roma tomato, cucumber, Kalamata olives, Greek feta, red onion with lemon, oregano and dill
Sides and condiments
Bread rolls and butter
Tomato sauce
BBQ sauce
Salt and pepper
BBQ Bigshot
Canapés to start
Tomato, bocconcini and basil skewers (GF) (V)
Cured salmon with dill creme fraiche on small potato rosti
Cocktail Wagyu beef sliders with pickled gherkins, slaw and chipotle mayonnaise
From the grill
Spicy, aromatic Fijian chicken skewers
Lamb and rosemary sausages
Smokey southern style BBQ beef steak
Marinated Portobello mushrooms with pesto and crumbed feta (GF) (V)
From the salad bar
Potato salad with cauliflower, heirloom radish, sour-cream, dill and chives
Thyme roasted chickpea and carrots with sun dried tomatoes, black olive tapenade, baby spinach and sesame seeds (GF)
Something sweet to finish
Individual chocolate brownies
Fresh cut watermelon
Sides and condiments
Sliced farmhouse wholemeal bread
Tomato sauce
BBQ sauce
American mustard
Salt and pepper
Best of all, you don't need to worry about having to buy all these items yourself and lugging it to the venue, while trying to keep it cool and fresh. Make it a hassle-free and stress-free occasion by using a caterer for your corporate BBQ. They'll be able to recommend a BBQ menu option to suit your needs and budget and there is also the option for drop off BBQs where you can cook your own. Speak to Order-In for a free quote. We offer a wide range of corporate BBQ catering menus and options in Sydney, Melbourne, Brisbane, Adelaide, Perth and Canberra.
Toppings station
Your next corporate BBQ wouldn't be complete without condiments. Tomato ketchup, barbecue sauce and mustard are staples, but why not get creative and include guacamole, mayo, jalapenos, pickles, onions, salsas, chutney and Tabasco sauce or chilli sauce for the spice lovers. Relishes and chutneys can also make an exciting addition to your next BBQ menu.
Step 2: Hydration station
The decision to serve alcohol at your corporate BBQ is up to you and your company's policy, but we do recommend providing soft drinks and mineral water at your event. Supplying enough water and other beverages is absolutely key to a successful corporate BBQ. We recommend providing soft drinks and mineral water for added hydration options. We recommend 3 drinks per person in the first hour and then 2 drinks for every hour after that.
If you would like to also serve alcohol at your corporate event, we strongly recommend hiring a waiter for your function, as they come complete with a Responsible Service of Alcohol (RSA) certificate. For a fancy option, why not have someone on-site to mix some delicious cocktails for you and your staff?
And don't forget the ice to keep the drinks cool!
Step 3: Essential equipment hire and wait staff
Before hosting your corporate barbecue, make sure you have enough plates, cups or glasses and cutlery for everyone. You will also need some extra plates or serving dishes for the cooked food, and something to serve it with.
It's best to visit the BBQ site before the event to check that the facilities are sufficient for the day. Here is a checklist of considerations when it comes to equipment and staff hire:
If you are catering for a large group, will the one grill at the BBQ site be big enough to cook the food, or will you need to hire another or bigger BBQ grill?
Is someone at the office a grill master, or will you need to hire a chef? We can provide a chef for 4 hours to cook the food
If the event is a bit more formal, will wait staff be required?
Are there enough tables and chairs or shade at the venue? Renting additional tables and chairs, or even a tent or marquee might be a good option to keep everyone cool during the summer heat. If you're keeping things casual, you could bring picnic rugs or quilts to spread on the ground, so people can gather and eat picnic-style.
Equipment hire can be a hassle-free, stress free and easy option. You may even be able to rent coolers, speakers and tableware at the same time. Best of all, many vendors can drop off and pick up, so you don't need to worry about trying to fit everything in your car.
Planning for a successful corporate BBQ takes time and there are a lot of logistics to think about, including but not limited to staff, equipment, keeping the food cold or warm, garbage disposal and permits. To ensure that nothing gets forgotten and the day runs smoothly, speak to our event professionals on 1300 851 900.
Step 4: On the day
Keep bugs at bay
While some people don't seem to be affected by mosquitoes, others are not so lucky. Make sure everyone is comfortable and don't forget to bring some citronella candles or insect repellant.
Keep everyone entertained
Cricket, touch football, bocce, croquet or a game of Frisbee is a great way to bond with your colleagues and have some fun.
If you are going to have music at the barbecue, take your guest list into consideration and customise accordingly. Your playlist should reflect, and enhance the barbecue's vibe.
Munchies
Chips, salsa, carrot and celery sticks with hummus or other spreads and dips, crackers with cheese and other finger-friendly foods are great for guests to munch on at the start of the BBQ and allows them to easily mingle while they're waiting for the food to cook.
Whose drink is this?
This has happened to everyone, but we love this simple idea of adding some tape to your glass or cup and writing your name on it. You already have masking tape and a marker pen at your desk, so put it to good use at your corporate BBQ.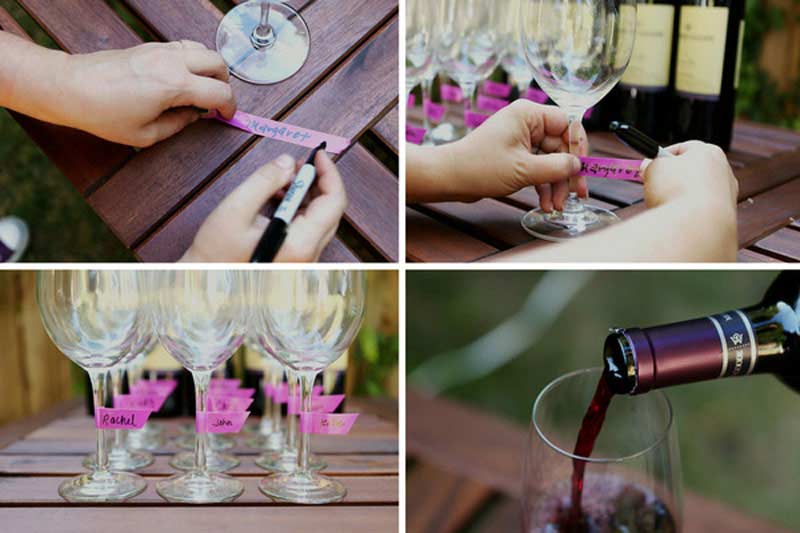 Photo: ManMade
The tools of the trade
There's nothing worse than getting to the venue and realizing that you've forgotten the essential cooking tools.
Don't forget to bring these essentials:
Aluminium pans and foil to place the cooked food in
Paper towels/napkins
Cooking spray
Cutting board
Tongs
Spatula
Apron
Garbage bags
Check out our essential BBQ tips to make you the King (or Queen) of the grill.
Hand sanitizer/sanitizing wipes
Always handy to have during the meal and for wiping down areas after the event.
Keep sun smart
Always wear sunscreen and bring a hat and sunglasses for the day. We recommend bringing a travel-sized sunscreen for everyone to use.
Step 5: The clean-up
It's important to clean up the area and the barbecue grill after your corporate event. Rinse the grill with dishwashing liquid mixed with warm water and scrub it with a stiff-bristled brush.
Provide trash cans or garbage bags in designated areas to make clean up easy. If you're using disposal plates, cups and cutlery, having a garbage bag handy will make clean-up a snap.
To avoid any waste put all the leftover food in containers or aluminum foil trays. Put them in the communal office fridge and they won't be leftover much longer.
Don't forget these items to make clean-up easy:
Water
Garbage bags
Paper towels
Storage containers, Aluminium pans, foil or plastic wrap for any left-over food
Plastic bags or reusable bags to store any extra or un-used utensils for your next corporate event
Dishwashing liquid
Spray and wipe
Your guide to the BBQ
Ready to get started? Check out our infographic below on and be the king or queen of the BBQ at your next event.

Want to share this image on your site? Just copy and paste the embed code below:
A corporate BBQ checklist overview
Last but not least, don't forget to consider these important items ahead of your corporate BBQ:
BBQ and gas bottles - very important not to run out
Chef and wait staff - size dependant
Tables - are they needed to cook on? Is this a sit down or casual stand-up function?
Cutlery, crockery and glasses - these can be disposable or ceramic depending on how casual the event is
Mobile bar - glasses, ice, alcohol and soft drinks
Responsible Service of Alcohol - very important to ensure the safety and enjoyment of all staff members
Permits for gatherings at public spaces - an important detail. Check out some of the amazing locations for your next BBQ event.
Marquees or tents - for shade if the day is going to be hot, or shelter if it's going to rain
Access to toilets - be sure that your guests don't have to walk too far
Garbage - make sure you have a plan to where you will dispose of the rubbish
Ready to get started?
Don't forget anything with our handy BBQ checklist - download and print yours now.
Download your corporate BBQ checklist here!

Hosting a BBQ and feeling stressed out, or need some inspiration for your summer BBQ party? Don't fret! Speak to our experienced corporate events team on 1300 851 900 about our events services and let us handle all your corporate BBQ catering and party event details for you.