Boost your productivity with these tools
Are there too many things to do and not enough hours in the day? There are some great tools and tech available to help enhance your productivity, get more done and collaborate better with other staff. Check out some of our favourites below.
Productivity tools
Trello
Trello is an awesome productivity tool that helps you manage your time, tasks and projects effectively. It allows you to organize your to-do list or projects on boards and lists. Tasks can be recorded on cards, which can be dragged and dropped to other lists to record progress. You can also invite your co-workers to collaborate on projects and add checklists, due dates, documents and comments to the cards.
It's a great way to visualize all your tasks and projects at a glance – like post-it notes on a corkboard, but digital.
Check out the Trello website to learn more >>

Image source: Trello
---
OneTab
When it comes to checking tasks off your to-do list, focus is key. One tool that helps you find focus is OneTab. This extension takes all of the tabs opened in your browser and combines them into just one list, on one tab. Don't get distracted with all those opened tabs!
Check out the OneTab website to learn more >>
Another alternative is Toby, a Chrome extension that organizes your browser tabs the way you want.
---
Google Keep
This nifty little note-taking app lets you quickly take and save notes, photos, to-do lists, voice memos and checklists and syncs it with Google Drive, so you can access them again, wherever you are. It's a great organisation tool if you're on the go and is available on Android, iOS, as a Chrome extension or web version.
It's super easy to use and has some great features to help you stay organised. For example, Google Keep lets you create voice notes –simply tap the microphone and speak. Once you've finished speaking, it will automatically transcribe what you've said, but it will also attach the voice recording with the note so you can play it back when needed.
Learn more about Google Keep here >>
---
Time management apps
According to a recent Deloitte survey, approximately 81% of Australians check their smartphones within an hour of waking. The survey also found that Australians look at their smartphones more than 30 times a day on average!
Australians are serious multi-taskers and the Deloitte survey found that 31% of survey respondents 'always or very often' check their smartphone while at work. Constantly checking your phone can be a major productivity killer and there are many time management apps to help you stay focused. Check out some of them below.
---
Offtime
Offtime lets you set time blocks where you can temporarily turn off phone notifications, so you can stay focused. It also provides analytics on your phone usage, giving you a better perspective on how it could be hurting your productivity. You might be surprised at how much time you're spending on Facebook or playing Candy Crush!
Check out the Offtime website to learn more >>
---
Flipd
Do you get easily distracted by messages and social media updates on your phone? Similar to Offtime, Flipd allows you to turn off your phone notifications for a set period of time. It initiates a custom lock screen with a timer to prevent you from opening your phone. You can even complete productivity challenges with the Flipd community if you're competitive.
Check out the Flipd website to learn more >>
---
Moment
According to Deloitte, 16% of Australians look at their phones between 26 and 50 times a day, while 7% look at their phones between 52 and 100 times a day! Do you feel like you're using your phone too much? Then Moment is perfect for you. It provides you with data on your smartphone usage and you can even set a daily limit on yourself. It's currently available only on iOS.
Check out the Moment website to learn more >>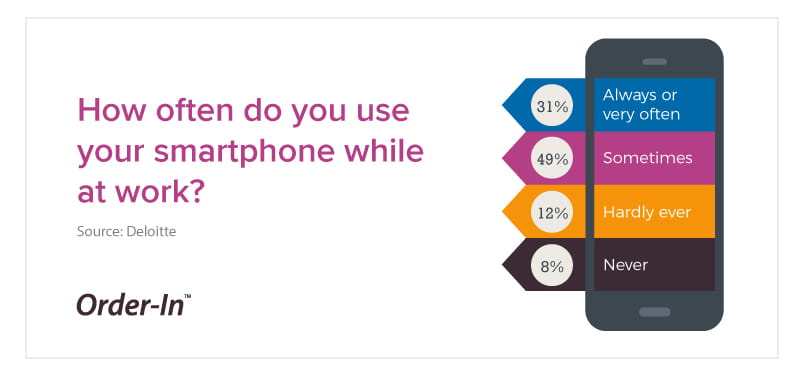 ---
Harvest
Harvest lets you keep track of how long you're spending on each task. A Harvest Power-Up is also available for Trello so you can start timers directly from Trello cards.
Check out the Harvest website to learn more >>
In addition to the above tools, did you know that providing office catering can also help increase employee productivity? Check out our blog to learn how.