Sharing is caring: Why you should share food with others
There's an abundance of benefits to be reaped when you share food with others. Breaking bread can remove barriers and helps us explore new cultures and build stronger connections with others. Whether it's sitting down to dinner with your loved ones or a simple working lunch with your colleagues, it can lead to a happier and healthier you.
Food brings us together, so here are some reasons why you need to grab your bestie or your team and get eating together!
The benefits of sharing a meal
Stay connected
Whether you're grabbing lunch with your work colleagues, having dinner with family and friends or networking at a conference, eating with other people helps strengthen bonds and build relationships. A 2015 study by Cornell University found that eating together can help establish stronger connections with their peers and boost job performance. Food brings people together, regardless of age and social class and lets you share stories, laugh and enjoy each other's company.
Healthier eating habits
Studies have shown that adults tend to make healthier food choices when they're in a group. Another study also found that children who ate with their family were more likely to eat healthier.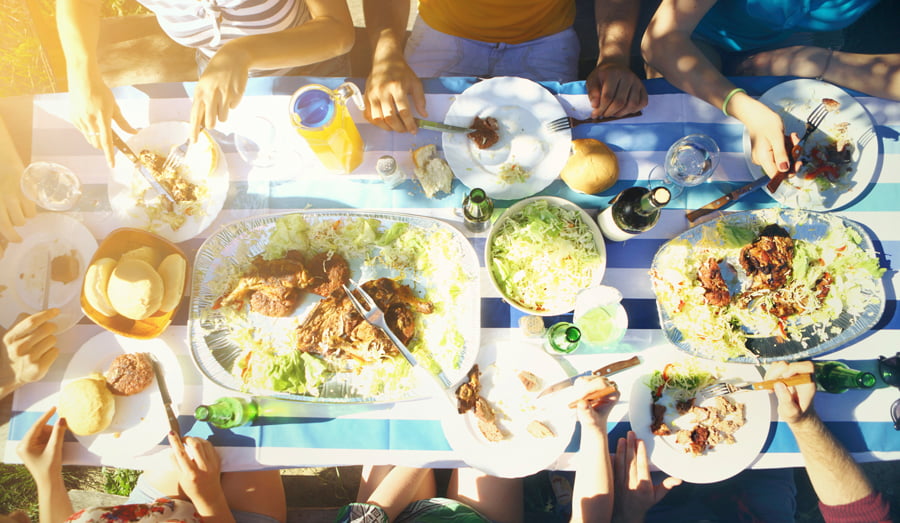 Eating together releases positive emotions
Having a meal with others can boost your mood and some studies have even shown that it can help alleviate depression.
Learn something new
Whether you're with family or with new friends, eating together is a great way to expand your horizons. Interact with colleagues from other departments, establish stronger bonds with your team, learn about new cultures – food is the universal language that brings everyone together.
Build trust
Taking a step back to our instinctual roots, sharing the same food with people is one of the best ways to build trust. It sends a subconscious signal to our brains that lets us know the food is safe and the people you are sharing it with can be trusted. This is a part of our brain that is relied upon to build relationships and trust within our tribes or teams.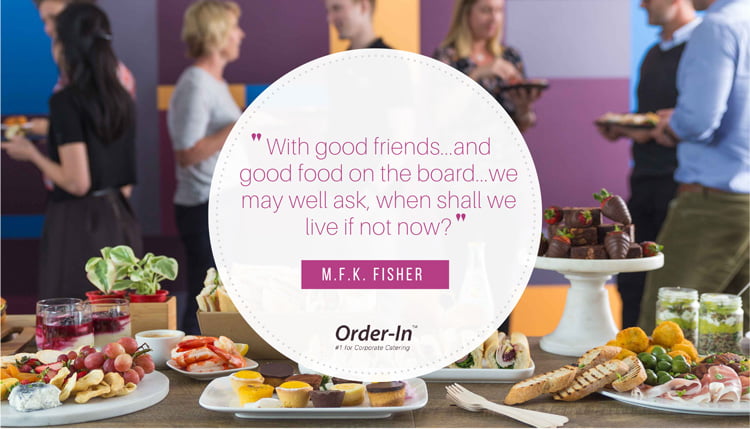 What are the best foods for sharing?
Here are some delicious food options that are ideal for sharing, whether it's on 'eat with a friend' day on 25 November, or any other day of the work week.
Rice paper rolls. We love Chao Catering in Sydney
A Lebanese platter – everyone can help themselves to tasty koftas, flatbread, hummus, dips and tabouli. We love Agraba
Spaghetti – we love the classic pasta - spaghetti alla puttanesca, which is infused with garlic, capers, anchovies and chili for a spicy kick. Bring a fork everyone!
Food platters – a roast chicken platter, charcuterie platter or antipasto platter with mixed olives, bocconcini skewers, dolmades and feta
Sushi - perfect for special diet catering. Try The Rice Cooker, Sushi Jones, or Sea Salt for authentic sushi platters
Delicious, heart-warming paella from Paella del Mar
Little cocktail pies and sausage rolls from The Catering Department - an easy crowd pleaser
You can't go wrong with a fresh slice of cheesy pizza
Skewers from Vanilla Blue Catering. There's something for everyone, from tasty marinated meats, to tender vegetables.
Quiche
Nachos. Crunchy, cheesy and spicy, the ultimate trio from Pablo's Kitchen or Guzman Y Gomez resturants across Sydney CBD including; Australia Square, Central Park, Newtown, North Point, Top Ryde and more!
Hearty burritos from Zambrero in Waterloo, Subiaco, Newcastle, Wollongong, Canberra, Kelvin Grove and Adelaide.
Dumplings - the ulitmate sharing meal! Try Family Tea House or Lily Li dumplings and Bao Bar in Melbourne
Fresh cinnamon donuts, or tasty glazed donuts from Dr Dough Donuts, Bistro Morgan or Uncle Donut
Comforting, family-style Indian catering - butter chicken, tandoori chicken, naan, lamb biryani and more. We love Bombay Bliss, Beyond India and The Colonial
Sharing a meal around the world
There are so many benefits to be reaped when you eat with other people. Check out our infographic below to see what sharing a meal around the world looks like.

Want to share this image on your site? Just copy and paste the embed code below:
Order-In has perfect sharing options
We think that food is the key to happiness and helps build a happier life. If you'd like to host a team lunch or provide delicious corporate catering to help build team morale and productivity, speak to the office catering experts at Order-In today on 1300 851 900 for a free quote or visit our website to order today. Whether you're in Sydney, Melbourne, Brisbane, Adelaide, Canberra or Perth, we have a corporate catering solution for you!