Australia Day party catering ideas
Christmas and New Year might have come and gone, but the fun's not over yet. Whether you're by the beach, at the park, at a mate's house, entertaining the family at home or hosting the ultimate Australia Day lunch or party at the office in Sydney, Melbourne, Brisbane, Adelaide, Canberra or Perth, be the Australia Day hero this January and celebrate with some of the best classic Aussie Day sweet and savoury food options and ideas.
Savoury
Shrimps on the barbie
There's nothing quite like standing around the barbie on a scorcher of a January summer's day with the blokes playing backyard cricket and Triple J's Hottest 100 on the radio. To make it even more Australian, "chuck another shrimp on the barbie mate!". Except that they're not shrimps mate, they're prawns! Aussies love a good BBQ lunch at any time, but for the ultimate Australia Day party, it just isn't the same without one. Prawns are a great staple, but to get truly 'strayan, you need to combine some of Australia's other famous seafood, gorgeous beef and of course a decent helping of tender lamb. Try the simple classic of barbecued king prawns livened with a simple squeeze of lemon or a retro prawn cocktail in a martini glass. Perfection. Check out our essential BBQ tips to make your BBQ a success.
Meat pies
If you haven't done the juggling act of the meat pie, you can't seriously call yourself Australian. For the uninitiated, that means biting just the right amount of hot meat and crispy pastry smothered in tomato sauce all while doing the Aussie salute to the flies and trying not to burn your tongue. As a source of much embarrassment and first degree burns, it's another example of "everything in Australia is trying to kill me" and Australia Day wouldn't be the same without them.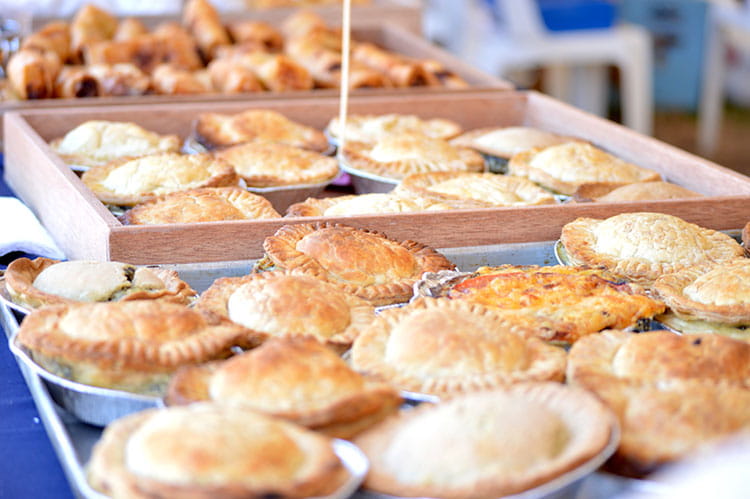 Sausage rolls
We can't forget about the sausage rolls on Aussie Day! No one can resist the temptation to bite into these deliciously fluffy pastry treats. They're great as a snack, a light lunch or as a midnight snack after a few beers.
Lamb
This is the first year we haven't had Sam Kekovich telling us to eat lamb for Australia Day. Whether he's telling us to or not, who can say 'no' to lamb? (Vegetarians don't count, you don't win friends with salad). It's a delicious crowd pleaser and the best way to celebrate Australia Day. So go on, fire up the barbie and cook up some lamb chops, backstrap or ribs. Tip: Grill your lamb chops to create tender meat with a flavourful crust.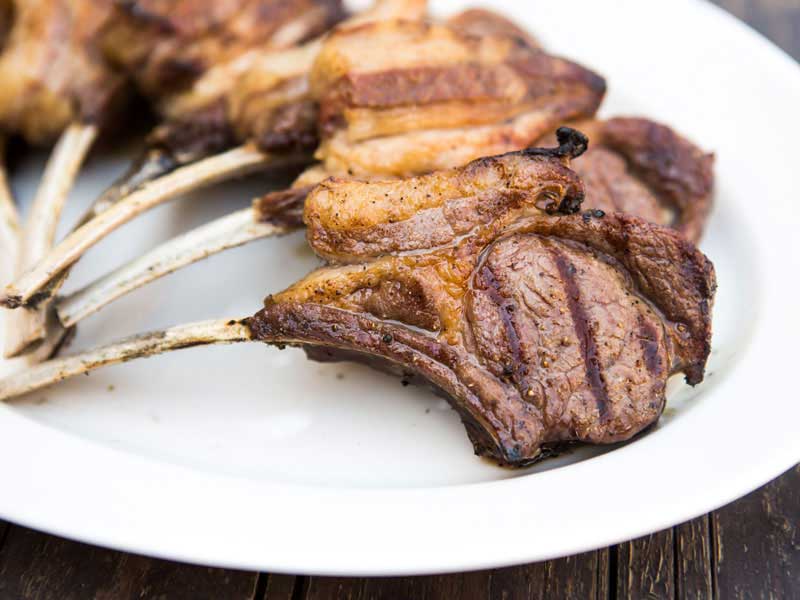 Source: Serious Eats
Sausage sanga
It doesn't need to be election day to treat yourself to a sausage sandwich. Get some onions on the grill, butter up that white bread and don't forget your drizzle of tomato sauce. Cook up as many as you can fit on your barbie and you're dreaming!
Put a damper on it
Dig into some classic bush tucker with some great Australian damper bread. Easy to make dough, roll it on a stick and on pop it over the barbie or fire for a few minutes. And you're done! Why not add some herbs, garlic or even cheese to take to the next, delicious level.
Sweet
ANZAC biscuits
It's hard to not love rolled oats, sugar, syrup and butter. The first Anzac biscuits were long-distance messages of love and care. While the exact origin of the recipe might be vague, the Aussies have adopted it as their own and the emotion behind it hasn't diminished over the years. Dunk them in your tea to warm and soften them!
Lamington
We learnt as little ankle biters how they helped Hush get his head back in the Aussie classic book, 'Possum Magic', and today Lamingtons continue to help us satisfy our sweet chocolatey/coconutty craving. Enjoy it with a cuppa for morning tea, afternoon tea, dessert, or just because… treat yourself!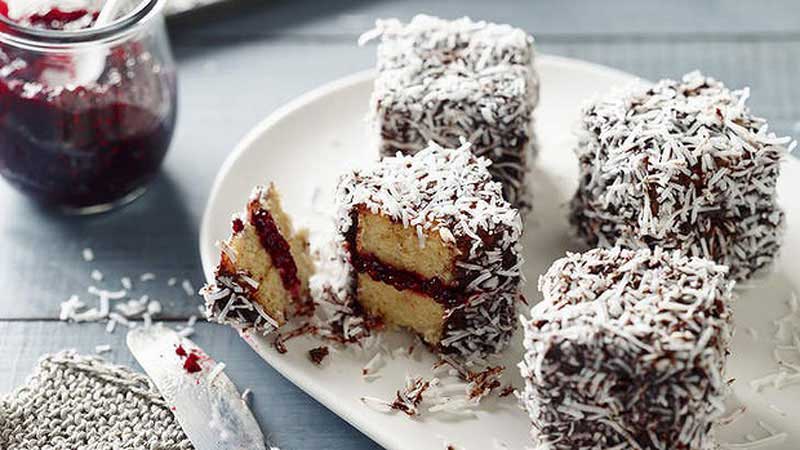 Source: Discover English
Pavlova
The Pavlova may come from the Americans and English, and the Kiwis may try to adopt it as their own, but no one quite does a pavlova like the Aussies. Crunchy, sticky meringue base, loaded with fresh summer fruit and drizzled with cream, it's enough to get anyone out of the pool for a bite…or two… you know what? Just give us the whole thing and a spoon.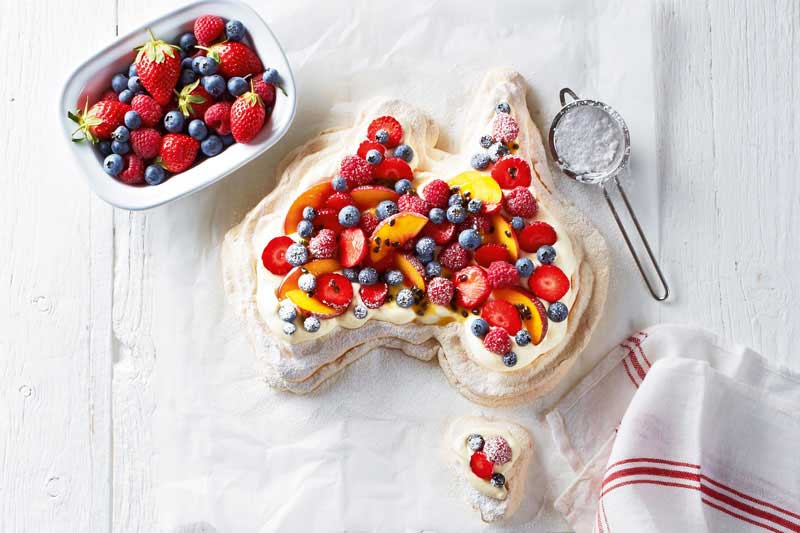 Source: Bmag
Fairy bread
White bread, hundreds and thousands, butter, what's not to love? Every Aussie gathering should have a plate of fairy bread on the table. It's probably the law at this point.
Caramel slice
Chewy and crisp, the caramel slice is a staple at Australian bakeries and barbecues alike. Featuring a dense biscuit base, a thick layer of buttery caramel and topped with a nice spread of chocolate. A rich and classic Australian delicacy.

The ultimate guide to Australian BBQ
Check out our infographic on how to be the best barbecue king or queen around. Impress everyone at your next corporate barbecue!

Want to share this image on your site? Just copy and paste the embed code below:
Australia Day Party Catering for Your Office
Hosting a fun Australia Day party at your office in January and need some tasty food ideas to celebrate? Get in touch with our foodie experts to find out more about our quick, easy, and delicious catering ideas and food options. Whether you're after a simple platter of pies and sausage rolls, a corporate BBQ or a unique bush tucker range from Kallico Catering, First Food Co and Street Feast Melbourne. We have a great range of some of the best corporate catering menus in Sydney, Melbourne, Brisbane, Adelaide, Canberra and Perth to help you celebrate Australia Day in style.