How to organise a corporate golf tournament
Considered by many as the ultimate pastime, golf is a great way to escape the office for the day, grab some sun, argue over who gets to drive the buggy, and catch up with your colleagues in a low intensity sports setting. Don't know anything about golf? Not a problem! Read on to see how to go about organising a great corporate golf event for your company.
Start an event committee
Organising company golf events like this can be tricky, particularly for large groups, so before you start to work out the details, make sure that you have appointed a person or group of people that are the organisers, and keep a shared tournament planning folder online so information is stored together and is accessible on computers and mobile devices. This keeps collaboration focused and decision making more streamlined. For larger groups, delegate particular duties to different members so that more can be achieved in a smaller amount of time.
Setting goals
Similar to many corporate events, deciding what the goals of your corporate golf tournament is of principal importance. Are you organising this golf outing as a team bonding exercise? A fundraiser for charity? A day event for a special client? Answering these questions will hone your focus and keep the event appropriate to the audience. Once you've decided on the main goal of the tournament, begin to answer the questions that arise, like budget and who's going to pick up the bill, if you will have prizes and if so, what they'll be, who and how many guests are you going to invite, and where you're going to host the golf tournament. A great idea to research and gather the necessary data you'll need is to send an email questionnaire to the desired parties asking them:
If they have an interest in golf
If they play regularly and if so, what's their handicap
Are they, or do they know anyone that's a member or on the board of any local golf courses
If, on the other hand you're looking to entertain clients with a golf event, it may be better to casually mention golfing in conversation to ascertain answers to the above questions. If they have no interest in golf whatsoever, then it's unlikely it will be a successful business endeavour. However, if they are keen golfers, then maybe you'd like to find out their favourite course, or somewhere they would love to play on.
Charity tournaments
With charity golf events, there are a few more factors to consider. Golf tournament fundraisers can be incredibly lucrative for charities and many brands and business love to be a part of it as it aids their business image. If you're planning to host a fundraiser, then consider who may cover the costs of your course hire as a primary sponsor. It's also worth considering getting other brands on board to invest prizes like holiday packages, vouchers or even something really special like winning a huge prize (for example, a car) for hole-one-shots on certain holes. No sponsorship level is too small and the more costs you can get others to account for maximises the donation exposure for the charity.
Matching the player to the game
Golf has a fanatical following and it's quite likely that many of your employees and/or clients have an interest in golf, and may even play regularly. During your planning, you should consider these levels of expertise and group people with similar experience. This generally makes for a more enjoyable day, as the more experienced players can move along a little quicker, while the newbies work out their swing. If you're taking some clients out on the green that you know are keen golfers, consider imposing challenges like having to hit with a training club, to set a more lighthearted mood. For the pro players though, it may be best to keep it straightforward, so as not to dilute their favourite game.
If it's a team outing and everyone's an amateur, discuss training and instruction options with the club to see what they can offer. You'll get a lot more out of the game if you have some of the basics down. Chasing the ball into the woods gets old, fast.
Choosing the location and the date
As you'll no doubt find out, a golf course is a very busy place and as the game takes the better part of the day, you'll need to look at dates months before you plan to hold your corporate event. When looking to book, check your work calendar with the boss and decide on a handful of dates that would be appropriate for your golf event. If it's for a charity, it's best to consult with that charity when date searching, so as not to conflict with other promotions that they're holding. For a team golf outing, remember to explore off peak dates and tee off times as it's usually a great way to save some money.
Once you've got some dates, consider your options. If it's for a client, then see if there's a particularly great golf course that they've always wanted to play or one that holds significance to them. If it's for a charity, get the best course you can for what your sponsors will allow you in the budget. The sponsors will also be likely to attract more significant interest from persons paying to take part if the course is more prestigious. On the other hand, if it's a small team bonding event, then the level of prestige is less significant, but more about having fun on the day. So look for local options that allow for a wide range of skill level and save some dollars (to spend on catering, for example).
Rules and regulations
Regardless of the location, there's likely to be some rules for the day and there will definitely be some differences depending on where you play, so be aware of:
Registration of players and teams
Assignment of tee off holes
Dress code (important particularly with more prestigious locations)
Where you can and can't place promotional material and marketing collateral (for charity tournaments)
Decide on a format
The golfing format you choose for the tournament will depend on how experienced your players are. If you have lots of avid golfers attending, then a shotgun tournament, where your participants each start from a different hole on the course and play their rounds simultaneously, will ensure you have a maximum number of golfers playing in the shortest amount of time. If there are lots of newbies on the course, a scramble or best ball format may be the way to go. This is where all golfers tee off and take their shots from where their ball landed.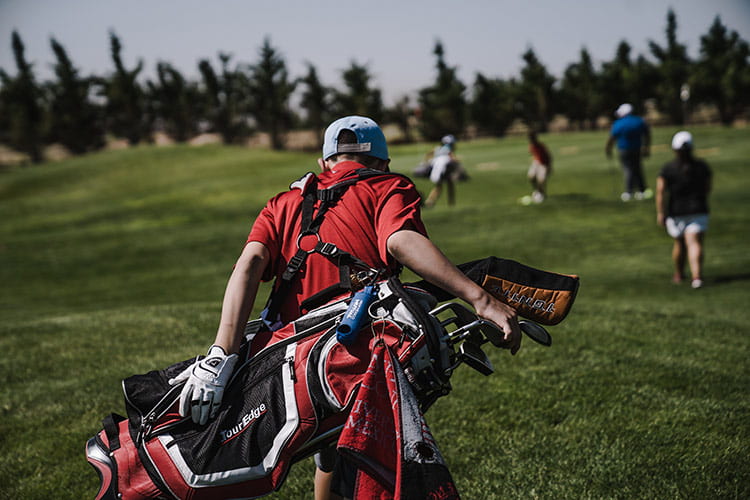 Contests or events
There are a number of contests or events, both on and of the course that can make your tournament more fun and engaging, even for those who aren't keen golfers. You can decide on 'closest-to-the-hole' competitions or selling mulligans and silent auctions to raise money if it's a charity event. There are tonnes of great ways to make the day interesting!
Invitations
When it comes time to issue the invitations, ensure that the above rules are included and that you mention them specifically so everyone reads them. It's also an excellent idea, particularly when organising people outside of your organisation, to send reminder notes leading up to the corporate golf event. Include the rules, regulations and primary details, even attaching the original invitation and details just to be 100% sure everyone's on the same page. Should your event require media attention, ensure that these details are passed to the relevant agencies to ensure the event receives optimal coverage.
On the day
Ensure that signage and directions are made for patrons to easily guide them to the correct locations. Staff at the country club or can help arrange this for you. Arrive an hour or so earlier than your guests or team members, so that you can organise any final details and get a lay of the land.
How to speak golf like a pro
If you're not too familiar with golf yourself, here are some key golfing terms to break out on your tournament day.
Birdie: A score of one under par on the hole played
Buried: When your ball has landed in heavy rough or the sand in a bunker
Daisy cutter: An accidental shot, barely skimming the ball, and it hardly leaves the ground
Drive: A shot played from a teeing ground
Eagle: A score of 2 under par
Hacked: The name given to an unstylish, but effective shot
Inward nine: The last nine holes you play
Marking your ball: Applying a unique mark on your ball to easily identify it from others. It also means marking your ball on the putting surface with a flat disk
Mulligan: When you get to take a shot again without adding a penalty
Over/under par: The amount of strokes over/ under the par of the course
Tee: The first meaning is the teeing ground where you play your first shot. The second is the the wooden or plastic platform object that you balance your ball on to play this shot from
Taking a drop: When you have to move your ball from a hazard and have to "take a drop" to get back into play
Uphill lie: A shot to be played uphill
19th hole: The name given to the bar at the clubhouse - the place you often end up at the end of the game

Want to share this image on your site? Just copy and paste the embed code below:
Golf makes you hungry - don't forget to book your corporate events catering
Spending 8 to 10 hours on the green can work up a serious hunger. Plus, it's important to keep your fluids up. Some golf courses and country clubs will offer some level of catering, but if you have the option to enlist an external caterer, then it's best to speak to the catering experts and through their consultation, ensure that you have enough food and beverages, evenly spread throughout the day to keep everyone fuelled and focussed during your event. Another idea is to organise a corporate BBQ and a few alcoholic beverages for the end of the day. Just ensure you check with your particular venue whether they have the facilities and allow BBQs.

Order-In have a spectacular range of endless menu options from best-in-class corporate event caterers to provide the absolute best solution for your corporate golf tournament. Remember that we're here to help with all your event and tournament planning needs, and particularly with larger events, it can be best to contact and chat with one of our friendly event consultants, so we can help guide you in the right direction. If you're not convinced, here are some reasons why you should use a professional event manager for your next event or function.