It's summer BBQ time!
With our love of outdoor dining and our beautiful sunny climate, why not consider a relaxing BBQ for your next corporate event? It's a fun twist to the standard corporate party and it's the perfect excuse to get out and enjoy the fresh air and sun!
Here are some tips to help you get started and to ensure your next corporate BBQ is a success and everyone has a great time – including you.
Location, location, location
There's no shortage of amazing locations for your next BBQ event. Here are our top picks for your next corporate BBQ in Sydney, Melbourne and Brisbane.
Sydney
Bradfield Park

Located: Milsons Point

Best for: Plenty of space so you can relax and enjoy views of Sydney Harbour Bridge, the Opera House and the harbour itself

Toilet access? Yes

Centennial Parklands

Located: Moore Park

Best for: Covering approximately 360 hectares, you can spread out and laze on the grass

Toilet access? Yes

Clifton Gardens

Located: Mosman

Best for: Includes a large grassy park, bushland, a netted swimming area and a pier, which is suitable for jumping off, or fishing

Toilet access? Yes

Rosherville Reserve

Located: Mosman

Best for: A quiet and serene alternative to Balmoral Beach with an abundance of large trees

Toilet access? Modern shower and toilet facilities available
Melbourne
Edinburgh Gardens

Located: Fitzroy

Best for: Plenty of open lawn areas, shady and sheltered spots, a free skate park and free table tennis (BYO equipment). The North Fitzroy Bowls Club is in one corner if your group is keen for a game of barefoot bowls

Toilet access? Yes

Alma Park

Located: St Kilda

Best for: Great for the kids! Includes a flying fox, tree house, unusual structures and a playground with junior and senior play areas

Toilet access? Yes

Flagstaff Gardens

Located: West Melbourne

Best for: Enjoy your surroundings, including beautifully maintained gardens featuring Moreton Bay figs, avenues of elm trees, rose beds and sculptures. For the active, there is a bowling lawn, tennis courts and volleyball courts

Toilet access? Yes

Studley Park Boathouse

Located: Kew

Best for: Enjoy some lunch before hiring a canoe or kayak and explore the Yarra River

Toilet access? Yes
Brisbane
Captain Burke Park

Located: Kangaroo Point

Best for: Located below the Story Bridge with city and river views. It also features a maritime themed playground and its own tidal beach

Toilet access? Yes

New Farm Park

Located: New Farm

Best for: Sit back and relax on the soft grass or under the shade of the fig trees and enjoy the river views

Toilet access? Yes

Roma Street Parklands

Located: Brisbane

Best for: It's a visual feast everywhere you look! There are subtropical forests, unique artworks, colourful flower displays, misty fern groves and more

Toilet access? Yes

Mowbray Park

Located: East Brisbane

Best for: Located just behind a croquet club and bowls club, it is shaded by Moreton Bay figs and there's plenty of lush lawn to spread out and take in the views across New Farm

Toilet access? Yes
We recommend booking a BBQ site so you won't have to arrive early to save a space. If you need any venue assistance or recommendations for your next corporate BBQ, please speak to our corporate events team on 1300 851 900.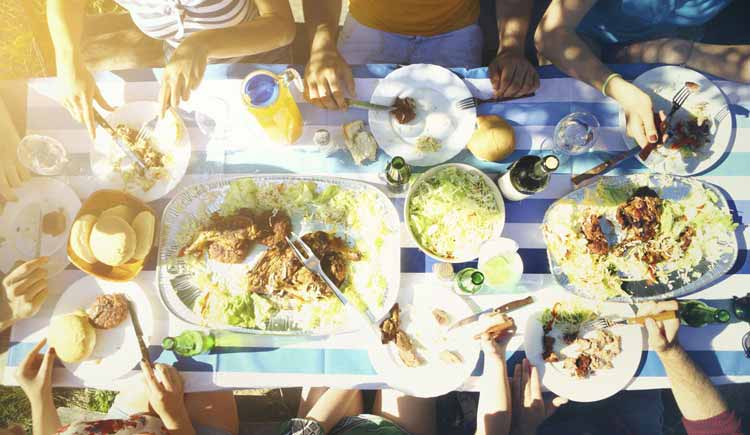 How to pull it off
Choose a theme
Establishing a theme will help make your corporate BBQ event more memorable and helps set the mood. It will also help you to develop the menu, invitation, decorations, music, drink and everything in between.
Send an invite, not a memo
Once you've settled on a theme, you can design an invitation and get your co-workers excited. Create a fun invite (electronic or paper) and mention the delicious food on offer, door prizes etc. Don't forget to include all the necessary information (where, when, RSVP info etc). This is also a great opportunity to ask about food allergies or other dietary requirements.
Keep everyone entertained
Plan activities for everyone to participate in, like bocce, croquet, cricket or Frisbee. Award prizes to the winners to enhance competition. NOTE: company branded pens do not count!
Renting equipment
Some venues may already have a gas grill, but don't forget the other essentials like extra tables or chairs, plates, cups, cutlery and tablecloths. Speak to our Events team on 1300 851 900 or email orders@orderin.com.au as we can look after all the planning for you, including BBQ hire, staffing, equipment hire, tents and marquees.
Stay hydrated
The decision to serve alcohol is up to you and your company's policy. We have a wide range of alcoholic and non-alcoholic options to complement your summer BBQ menu and our Events team can help provide more information on your options.
Serve fabulous food
That's where we come in. From simple sausage sizzles to a gourmet spread, we'll have a mouth-watering menu to suit your needs and budget. We've got BBQ catering options to suit every dietary need.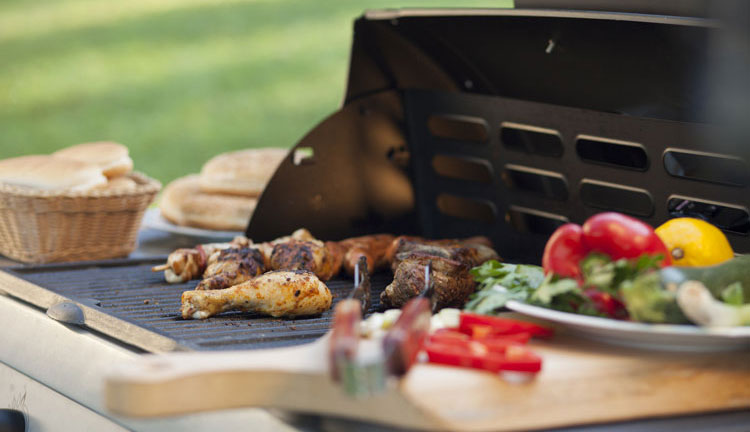 What's cooking?
Nothing beats a barbie with fresh ingredients ready to go. Check out some of the sample menus we have available below. We can also tailor a menu to suit your theme.
DIY sausage sizzle

Pork and fennel sausages
Chilli beef sausages
Soft bread rolls
Mustard and tomato sauce
Grated cheese and slices onions

Surf and turf BBQ

BBQ garlic tiger prawns
Grain fed scotch fillet
Herbed beef sausages
Tomato and Bocconcini salad
Greek salad with grilled
Haloumi
Freshly baked baguettes

Take it easy BBQ

Soy chicken skewers
Thick beef sausages
Tender lamb chops
Home style beef patties
Mixed leaf salad with vinaigrette
Potato salad
Penne pasta salad
Fresh fruit salad with cream
Bread rolls with butter
Mustard and relish
Ready to get started?
Download our BBQ checklist to ensure nothing gets forgotten on the big day.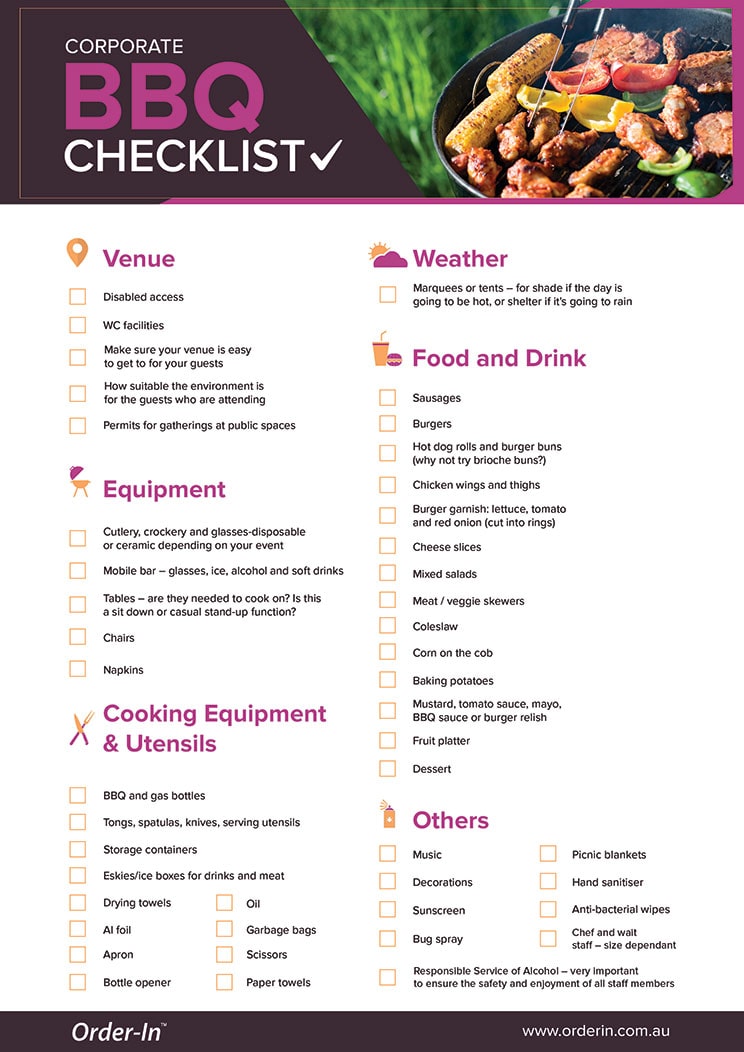 Share this Image On Your Site
Remember, your company BBQ is a time for fun and to enjoy the good times with your co-workers and we can help make it a stress-free event. We have a range of corporate BBQ catering options in Sydney, Melbourne and Brisbane. Contact us now to get an obligation free quote by emailing orders@orderin.com.au or call 1300 851 900, or visit our website to learn more about our corporate BBQ catering options. Don't forget to check out our checklist of things to consider when hosting the perfect BBQ event.