Working lunch catering tips and ideas
Between budget constraints, dietary requirements and trying to satisfy all the diverse tastes across your office… catering for a working lunch can easily seem overwhelming. But, it can be easier than you'd expect! Using the services of an experienced corporate caterer can take the guesswork out of the menu planning, working out how much food to order and what would work best for your office.
We've put together some easy office working lunch ideas that we believe can inspire productivity and positivity in the boardroom.
Get their attention and keep the energy going
Food at a business meeting should leave the crowd energised, awake, and focused. Make sure your work colleagues and clients are able to perform at peak level by providing plenty of fresh, nutritious office lunches. It's important to remember that healthy food doesn't have to mean bland or tasteless.
Keep the sandwich and wraps for your business meeting or working lunch small, light, and delicious. We recommend thinking of a gourmet cooking magazine for inspiration – check out some of these tempting lunch fillings and ideas to help you get started:
Garlic, rosemary and thyme chicken with sage, walnut and cranberry stuffing crunch with baby spinach
Smoked salmon with dill and caper sour cream, pickled radish and fennel with rocket
Pea and mint smash, soft feta, honey and cinnamon carrots with baby spinach
Roast capsicums, char grilled zucchini, eggplant and tahini dip with butter lettuce
While white bread is a very popular option for sandwiches, but consider adding options like sourdough, rye, brown-bread, or wholemeal. Artisan bread can elevate a sandwich and give it plenty of wow factor.
If you're in need of some more inspiration check out how to make the perfect sandwich here.
By avoiding foods that are high in sugar or trans-fats, everyone in the office can stay energised, awake, and ready to tackle the issues of the day.

Go low and go slow with a healthy office lunch
We've also seen a trend towards low GI dishes that are packed full of yummy ingredients and vibrant colours. Unlike high GI foods that tend to create a spike in energy, low GI foods release longer lasting, slow burning energy. If there is a slower, steadier rise of glucose in the blood, they will keep you full for longer and encourage the body to burn fat. These healthy office lunches are often gluten free, vegan, and vegetarian friendly.
Consider serving your work colleagues and clients trays of thinly sliced roast chicken, roast beef and a side of mustard, hummus, spiced beetroot and bulgur, roasted eggplant, a mozzarella platter, olives, a delicious mix of lentils and roasted capsicum, and a pumpkin, watercress and barley salad. Superfoods like sweet potatoes, quinoa, broccoli, pomegranate, and mixed nuts are also fantastic meal options to serve on a buffet tray. Lean meat is a great example of a healthy twist on a traditional crowd pleaser.
From necessity to delicacy
From the humble beginnings of sandwiches and fruit on a London to Paris Handley Page Transport Flight in 1919, to the stir-fried lobster in black bean sauce enjoyed by Emirates' first class passengers today, in-flight meals have evolved from a necessity to keep passengers nourished on transport flights, to a culinary specialty involving monumental bulk food preparation. Your meal doesn't need to be restricted to the simple sandwich and wrap anymore for office lunches. We have so many tasty cuisines to try for your next working lunch. From Indian catering to Moroccan, healthy Vietnamese catering to Italian, you'll never get bored! Check out these other exciting and super easy office lunch ideas below.
For your next corporate lunch, try :
Check out more tips and ideas for the best cuisines to try for your next working lunch.

Boxed lunches for those on the go
Modern workplaces can be incredibly mobile and flexible, so depending on the meeting and the event, we suggest the option of boxed lunches and food that your guests can grab and go. Your packed lunch box could include a sandwich, muffin, pasta salad, fruit skewer and drink or noodles with spring rolls. The options are endless! Another packed lunch option are bento boxes which are hugely popular in Japan, and are another beautiful and fun way to present lunch. Best of all, you can easily dispose of the boxes and cutlery after - no cleaning up required!
Grab a slice of pizza
Sometimes, you just need to treat yourself, and what better way to do that then with a steamy, cheesy and delicious slice of pizza? Try out some authentic Italian cuisine or pizza catering for your next working lunch for an affordable and easy option. Add some antipasto platters, salads, hearty pastas, fresh seafood and gourmet finger foods to complement as sides and watch as your staff happily fill their bellies. Pizza catering can be just what your team needs to perk up, come together and get some work done.
Try pizza catering from these awesome pizza caterers:
Finger foods and platters
Keep everyone satisfied all day long with platters and finger foods displayed beautifully in the boardroom. Think succulent, grilled meat and veggies skewers, fresh cheese and crackers, mini sandwiches and rice paper rolls, with some flaky pastries for good measure. There are endless menu options here! This is a great solution for a smaller scale working lunch, as there's enough food to go around, but without you having to set up an entire buffet. If you're unsure of how much to order, check out our handy catering guide here.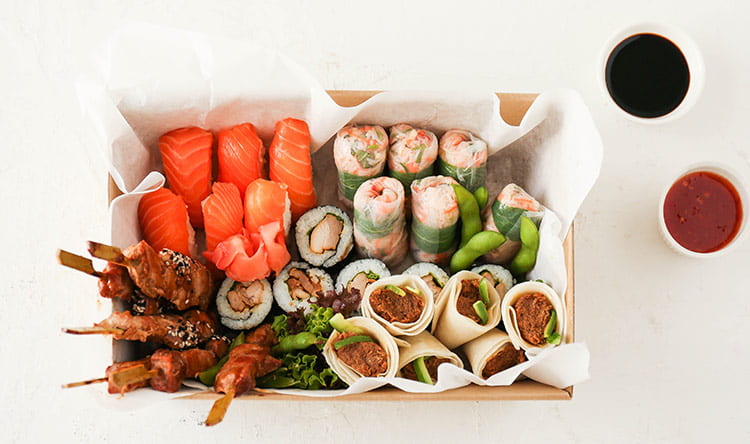 Line up, line up! Buffet catering
If you've got an office on the larger side, buffet catering may be the way to go. Not only are they a time efficient and affordable way to cater for large groups, there is sure to be something for everyone! It's easy to account for special diets and guests will love the opportunity to sample several dishes as they make their way down the line. Plus, there's always the chance to go back for seconds.
There are many catering menus to choose from when it comes to a buffet spread, whether you want a modern feel, or home cooked style, there's delicious hot and cold food for all. Oh, and don't forget dessert!
Drinks and dessert
The beauty of having an office lunch that is healthy and filling, means that your guests won't feel the need to gorge on desserts. However, it's always nice to provide something sweet to bookend a boardroom lunch. A simple platter of brownies and some fruit salad can often do the trick. While it's important to serve coffee and tea, offer some bottled water and fresh juices so there's plenty of options for your guests to stay hydrated.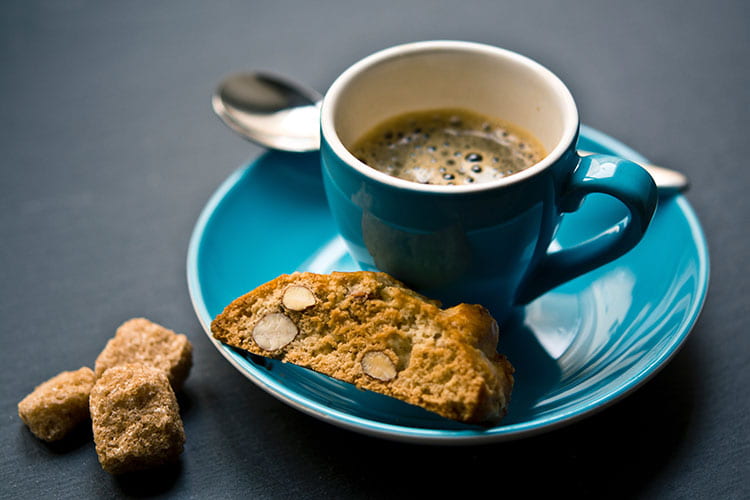 Remember, food is fuel, so it's important to nourish your guests and keep them energised throughout the day.
Contact Order-In today and draw upon our corporate catering expertise to deliver you a fantastic and professional working lunch that's delicious and tailored to your needs. Save time by ordering it online and having it delivered to your office. Feel free to call our catering experts on 1300 851 900 for more working lunch ideas. From gourmet sandwiches to healthy poke bowls, we have a range of delicious corporate lunch catering menus to suit your budget and tastebuds.