Catering for all day training sessions
All day training sessions are a great way to educate the team in a social and team-bonding environment. Giving everyone a day's break from normal duties to better their sales knowledge, learn about new products, or discover new processes, all while mingling with their colleagues, is a great way to strengthen your company's culture. Another thing everyone looks forward to at all day trainings, is the catering. If you're wondering what the best options are for training sessions, then you've come to the right place. Below, we'll highlight some of the most popular options, and what experts think are the best foods to keep the team motivated and productive throughout the day.
Pacing your catering throughout the day
One of the best tips for all day catering is pacing. Providing small refreshments in between main meals is pivotal to keeping everyone focused on what they're there for, otherwise you'll have a team that's focusing on their stomach and its present emptiness instead of Jeff's 10 tips for sales success. The first step is to plan out what meals the team will be present for. For example, let's say breakfast and lunch will be the primary meals of the day. Here's what to provide for those meals, and what to serve in between.
Conference catering for breakfast
If you're having an early start, then providing breakfast for your training session is a great way to ensure punctuality, and is the best way to start any day that's going to require a high level of focus. Eggs and fresh fruit like blueberries, and bananas both help boost concentration, while green tea is the perfect choice for refreshments with its modest amount of caffeine and abundance of amino acid theanine.
Morning teas
Evenly spaced between your breakfast and lunch main meals should be a morning tea. Generally consisting of small gourmet finger foods, it provides the perfect opportunity to soak in the information from the first session of the day and discuss with your team. Freshly cut fruit is a winner here as well, but you'll be excited to hear that dark chocolate has high serotonin and endorphin levels that greatly improve concentration. That's right, chocolate is actually recommended (don't say that we never did anything for you!) Mixed nuts and dried fruit is also the perfect snack to better your focus, but also get a dose of the good fats found in nuts, and the natural sugars in the fruit. While tea and coffee are practically necessities, and certainly offer a boost after your first cup, we'd advise not overdosing on the caffeine hits as it can lead to headaches, which will deliver the exact opposite effect of what we're trying to achieve. As stated above, switch to green tea.
Working lunches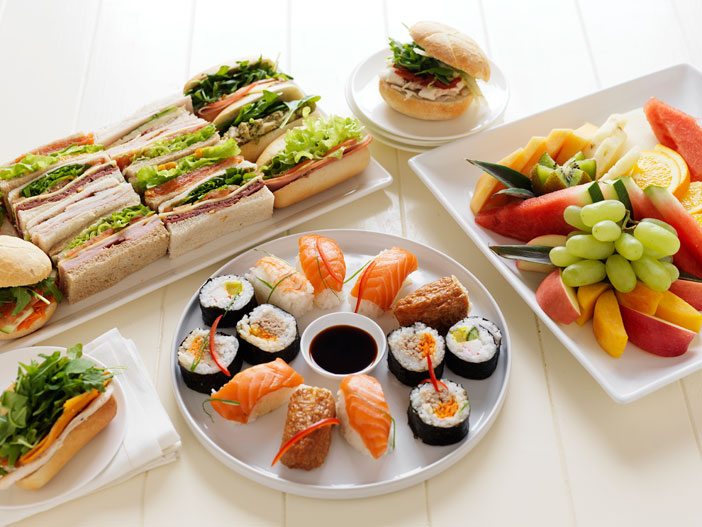 There's a couple of great options for training day lunches that are always popular. The first is the buffet option. This allows the team to create their own meals by making selections of the beautifully prepared food. We'd strongly recommend selecting fish, particularly the varieties that are oily/fatty, like salmon. Due to the high levels of omega-3, fish like salmon and trout "aid memory, mental performance and behavioural function." The other popular options are sandwich platters. Again, smoked salmon sandwiches are perfect, but the range of sandwiches should include a range of proteins and plenty of fresh vegetables and salad, particularly spinach, carrot and avocado. Small sweeter morsels are great too for a little sugar energy boost. Beverage wise, avoid energy drinks, particularly if you're a heavy coffee drinker, and opt for green tea, water or fresh juice.
Afternoon tea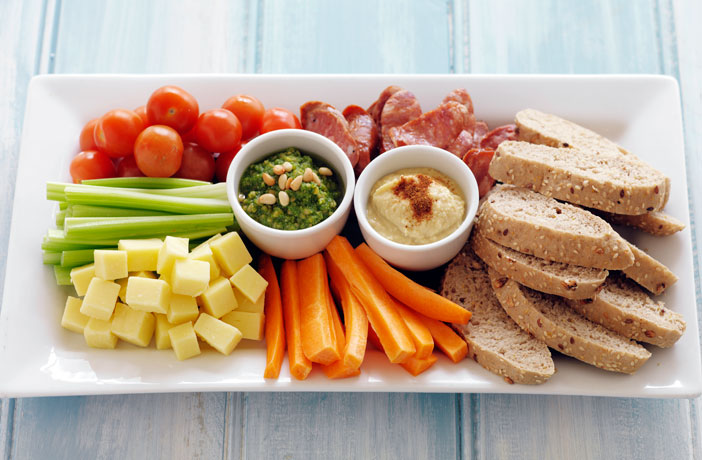 Similarly to morning tea, your afternoon tea should be served equidistant from the end of lunch and the end of the day's session. Just like morning tea, eating freshly cut fruit, finger food, vegetables like carrot and celery sticks, and small pieces of sweet slices, and cakes provide the focus, concentration and cognitive function ammunition you need to tackle the last part of the day. If you've been good with your coffee intake, then you've earned another cup now, otherwise green or caffeine-free herbal tea is always beneficial, and remember to always drink water!
All day training
At Order-In, we're the corporate catering experts and provide an extensive range of corporate function and events catering options. We specialise in a range of delicious all day training food and beverage catering. Offering hot buffets, working lunches including sandwich platters, and breakfasts and teas, we'll provide everything you need for a culinarily successful training session. Book your next corporate catering easily online now, or call us on 1300 851 900 to speak to a consultant.