Inventive ways to quit your job
Deciding to leave your job for greener pastures is a big decision, and it can mean weighing up the pros and cons. Going the standard, formal resignation route can be a little boring, so we've put together a handy list of the most inventive ways to quit your job.
1. A letter goodbye
Spicing up your letter of resignation is a simple, yet effective, way to quit in style. You can tailor the letter to the workplace, manager and yourself. Adding a little humour can take the edge off an unexpected resignation, and it's certainly an opportunity to say everything you've always wanted!
2. With a song and dance
Music is the ultimate medium, so why not showcase your hidden talents with song and dance? Queen's 'I Want to Break Free' or Craig David's 'Walking Away' speaks volumes. Or you could go one step further and write your own song.
3. Sorry for your loss
Presenting your soon-to-be ex-boss with a 'sorry for your loss' card is the perfect way to let them know what they're missing out on!
4. Cause a (movie) scene
Show off your flair for the dramatic by reenacting a famous movie scene. Click here for some cinematic inspiration.
5. A dish best served fresh
One of the most inventive ways to quit your job is through the use of food. Use corporate catering to appeal to the sweet-tooths in the office and quit with a cake, cookies or cupcakes. Or for a savoury twist, pizza. Spelling out your message nice and clearly is the way to go!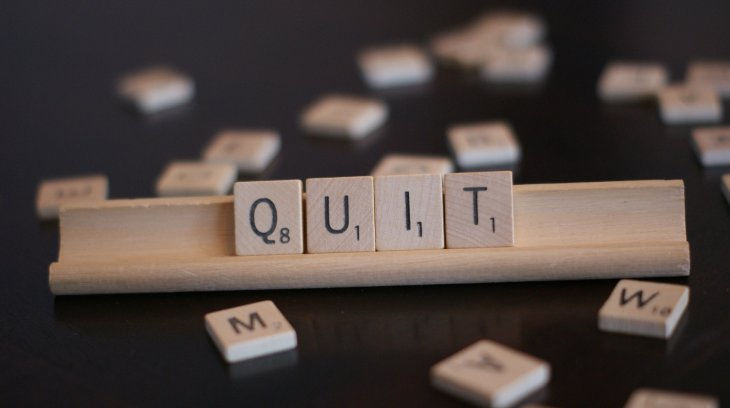 Source: airpix - Flickr
Need more inspiration? Here are some other bonus creative ways to quit your job.
6. Through interpretive dance
Bust a move and use the format of interpretive dance to quit your job. Rehearse your performance, schedule a meeting with your boss for your final act. End on a big note and put your letter of resignation down on your boss' desk.
7. Just tweet it
Post your news of departure on social media and then just play the waiting game… Wait for someone from work to bring it up and say "oh, haven't you heard?"
8. Say the Ministry of Magic called
For all the Harry Potter fans, this one is for you. Craft your resignation letter around the idea that the Ministry of Magic got in contact and needs you immediately. The Hogwarts Express is calling!
How to gracefully quit your job
Now we have all the ways your probably wish you could quit your job, but realistically won't because you need a positive reference, here is exactly how to gracefully leave your job.
1. Give enough notice
Give as much notice as your contract instructs, or time allows. Giving adequate notice shows respect for the position and also allows your employer to re-fill the role or make preparations to re-shuffle.
2. Write your resignation letter
Think of your resignation like a brief thank you note. It should explain your gratitude for the position and the opportunity for having worked at the company. Don't forget to include the date of your last day on the job and perhaps why you have decided to move on.
3. Tell your manager first
Your manger is your first port of call and this should be no exception. This will also mean your seniors aren't hearing secondhand information and show them you respect them.
4. Do it face to face
If possible, quit in person and bring your resignation letter in. It's always best and most respectful to resign in person and can also provide closure and helps maintain a positive connection. If you work remotely, schedule a call with your boss before handing your letter over.
5. Remain professional
Leaving your company on a positive note is best. Not only does this leave the door open for future employment, it also means they will be more likely to recommend you for a new position.
Order-In won't quit on you
You can always rest assured knowing you're getting the best of the best every time when you order office catering through Order-In. If you're leaving on a positive note, hosting an office farewell with yummy corporate catering is definitely the way to go. Whether you're in Sydney, Melbourne, Perth, Brisbane, Adelaide or Canberra, we have the solution for you. Give us a call on 1300 851 900 or get a quote online.